As the name suggests, Victory Lodge No 6238 was formed on conclusion of the second world war and was consecrated on 11 October 1946. Interestingly, one of the founder members, Captain Edward S Dunn, who was at sea during WW I and retired prior to WW II had, as his last command, the SS Huntsman. This vessel was later captured in October 1939 by the German battleship Admiral Graf Spee and scuttled.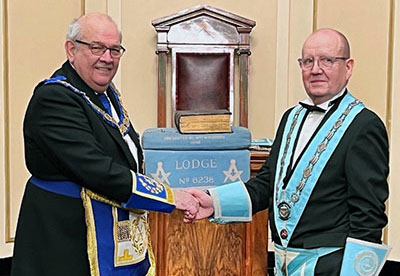 For the year's annual installation ceremony of 2022, Victory Lodge met in the Roman Suite at Liverpool Masonic Hall, Hope Street. The lodge was opened in due form and ceremonial by the WM Peter McCarthy, ably assisted by his fellow officers. Peter welcomed the many visitors to the lodge, feeling assured that they would have an enjoyable evening, both at the ceremony and the festive board.
After completion of standard business Provincial Deputy Grand Director of Ceremonies Gary Smith announced the admittance of the principal guest of the evening Philip Gunning, Deputy Provincial Grand Master. Philip was accompanied by Assistant Provincial Grand Master Mark Mathews and Liverpool Group Chairman Dave Johnson.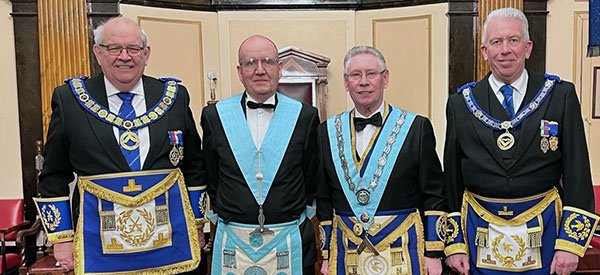 Following the greetings and formal salutations, the installation of master elect Alan Maddocks began. During the ceremony the address to the master, and also that to the wardens was delivered by Michael Van Gordon, both recitals performed in exemplary manner. During the perambulations, the working tools of each degree were presented; those of a master Mason by Brian Mitchell, with those of both a fellow craft and an entered apprentice performed by Brian Leatherbarrow. The address to the brethren of the lodge was delivered by Deputy Provincial Grand Master Philip Gunning.
Following his enthronement into the chair of King Solomon, Alan Maddocks had as his first duty the very pleasant task of presenting three cheques totalling £450 to be distributed equally between the West Lancashire Freemasons' Charity, the Autistic Regeneration Scheme and the Liverpool Masonic Hall Building Fund.
Following the completion of the ceremony, the brethren retired to the banqueting suite for a well-deserved festive board. Here Philip, in response to the toast given to his health, congratulated the lodge on its installation, also including his congratulations to the two members of the lodge who will be awarded Provincial honours at the meeting on 9 May at Blackpool. They were both first appointments, that of Past Provincial Senior Grand Deacon for David Jones, who unfortunately was unable to be present, and a well-deserved Past Provincial Assistant Grand Sword Bearer to the newly installed master Alan Maddocks, who previously had gone into the chair in 2013.