Brethren and guests of Toxteth Lodge No 1356 met at the Geoffrey Hirst Masonic Lodge within Woolton Golf Club to help Alan Dean celebrate his achieving 50 years in Freemasonry.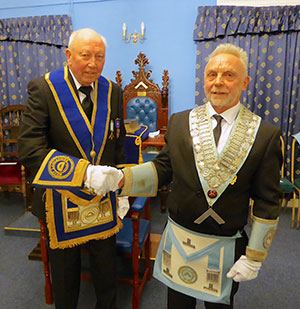 WM of the lodge Stephen Robinson, accompanied by his officers opened the lodge in the three degrees so that Provincial Deputy Grand Director of Ceremonies Mark Barton could be admitted to announce that Assistant Provincial Grand Master Kevin Poynton stood outside and demanded admission. Kevin, accompanied by the Chairman of Woolton Group Andrew Whittle, along with the Provincial deacons entered the lodge in due form and Kevin, after being welcomed by the WM was offered the gavel of the lodge which on this occasion, he accepted so that the celebrations could begin.
Mark Barton requested the brethren to salute Kevin, following which he responded in the usual manner. Having taken the chair of the lodge Kevin outlined the reason for the evening's celebrations and his full text can be read by clicking here: Woolton Alan Dean marks 50 years in Freemasonry – Kevin Poynton's presentation
After Kevin had spoken about Alan, he asked Andrew Whittle to read the commemorative certificate that the Provincial Grand Master Tony Harrison, who had telephoned Alan that morning, had commissioned and then had great pleasure in presenting it to Alan.
Alan responded that he felt humbled by the words that Tony had said to him and thanked Kevin for leading the celebration.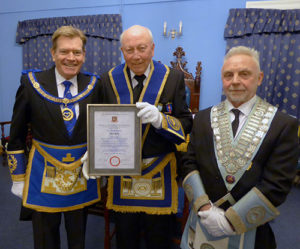 Kevin requested the WM to resume his seat and Stephen presented Kevin with a cheque for £175 for the Masonic Charitable Foundation 2021 Festival.
Alan Dean is a quiet unassuming Mason who quietly does much good and wants no praise for it. He was born on 1948 and attended Parkhill County Primary School before moving on to Wellington Secondary Modern, after which he took up an apprenticeship with Chadburn Limited as a silk screen artist and printer. This was where his talents were to be rewarded.
His father, a marine diver, was a Mason and a member of Toxteth Lodge and Alan asked him if he could become a Mason. After conducting some research and speaking with Masons from the lodge Alan decided it was right to become one and was initiated at the age of 21 into Toxteth Lodge in Hope Street and quickly progressed through the three degrees. He was soon to be asked to become a steward of the lodge.
In what became a first for the Dean family and Toxteth Lodge, the WM in 1976 James Day asked that Alan's father respond on behalf of the toast to the ladies at the lodge's ladies evening and that Alan respond on behalf of the lodge. James wrote the speeches and directed the Deans to follow them closely!
In 1980 Alan was installed as master of the lodge and the first candidate he initiated was his twin brother John.
Also in that year, Alan was offered the position of sales and marketing director with a company based in Worcestershire and a condition he put upon the acceptance of the job was that he be able to attend all the duties of his lodge, which he did. In fact, towards the end of his year as WM he had the pleasure of having his mum as the principal lady at the Ladies Evening which was held at the Central Hotel in Liverpool. In recognition of his mum acting as first lady, Alan designed and had made a piece of jewellery which his brother John presented.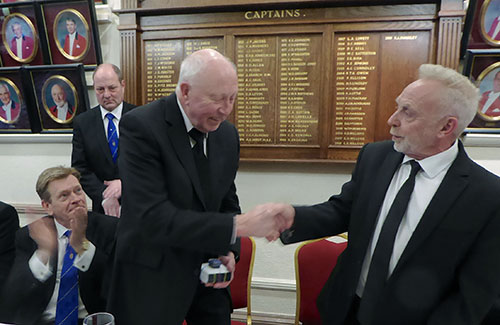 In 1992 he met Gillian and they have been together ever since with Gillian being a constant strength and support, assisting Alan through some difficult times.
Alan says that throughout his life he has been blessed with kind loving parents whose upright intentions and strict morals he has been happy to follow in conjunction with the principles and tenets of Freemasonry which has made him a better person. Although it is fair to say that he does hide his light and good works.
Eric Binks, a long-standing friend, informed the brethren at the festive board of one of those kind deeds. The lodge Bible was in a poor state and enquiries had been made to refurbish it but the cost was prohibitive. Eric on speaking with Alan was told not to do anything as he, Alan could restore it for the lodge, (just one of his many skills). Alan drove from his home down south, collected the Bible and immediately returned home. Needless to say the Bible has been beautifully restored.
During the festive board a raffle was held which raised £130 for Masonic charities. In responding to the toast to his health Alan thanked the principal guest for the manner in which he conducted the proceedings in the temple and asked that all Freemasons engage with other brethren to encourage members to attend their lodge and bring in new members so that Masonry could flourish. He said that it was a humbling moment in his life, tinged with some sadness that his father and brother could not be present. However, he had brought with him several artefacts of the lodge which the brethren could view, including the piece of jewellery he had had made for his mother.
The WM had great pleasure in presenting Alan with a Hunter pocket watch and lapel pin badge to celebrate his achievement. There was one final thank-you of the evening; the WM thanked Kevin Poynton for all the support given to the Woolton Group, wishing him well on his retirement and presented him and group chairman Andrew Whittle with a bottle of their favourite tipple.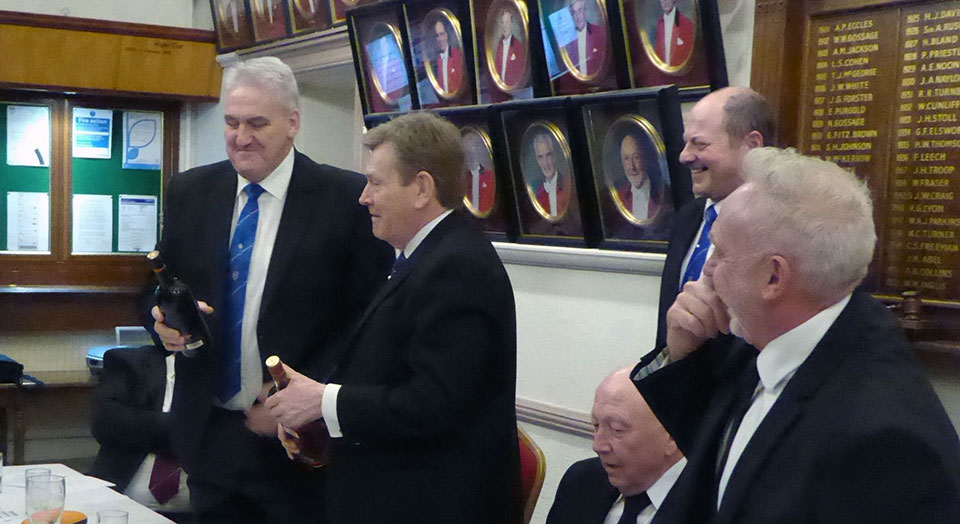 Article and photographs by Colin Roberts.