A meeting of Ingol Lodge of St Margaret No 8544, saw lodge member, Alan Dargie, celebrate 50 years in the Craft. The lodge was honoured by the presence of Assistant Provincial Grand Master David Winder, who was accompanied by Provincial Deputy Grand Director of Ceremonies Barry Fitzgerald. They were supported by the Preston Group Vice Chairman Geoff Saul, acting Provincial grand officer Peter Ledder and grand officer Norman Thomas.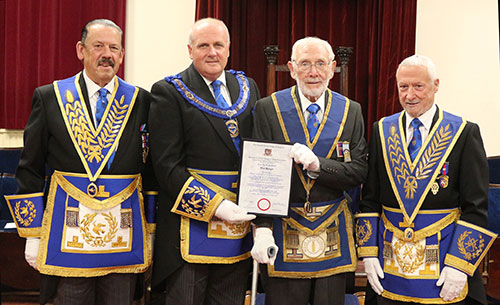 In attendance were Gordon Clarke, Stan Harrison and John Watson, a contingent of special friends, who were there to be part of the celebration and to welcome Alan into the '50 years Masonic membership club'.
The lodge was opened in due form by the WM, Gowan O'Hagan. Following the administrative business of the lodge, Barry Fitzgerald entered to announce the presence of David Winder who duly entered, accompanied by grand and Provincial grand officers. Following his entry, Gowan had the pleasure of formally welcoming David on this special occasion. David responded in kind by thanking him and the lodge members for their warm welcome and concluded by accepting the gavel of the lodge.
On taking the master's chair, David began by congratulating the evening's celebrant, Alan Dargie, on his celebration of the amazing milestone of 50 years as a Freemason. He commented that his research had revealed nonagenarian Alan's name went back more the 11 centuries to Irish descent although, of course, not Alan himself.
Having ensured Alan was seated comfortably, David began by recounting Alan's early life living in Preston where, with his father being in the military, he was born at Fulwood Barracks. His father soon had another posting overseas and Alan at the age of one, moved with the family to a different life in India. There he travelled to many places before, after five years, his father sadly passed away after contracting enteric fever. As a result, the family returned to England to the harsh reality of no income and living in rented accommodation.
He continued by referring to Alan's start in education at Moor Park Methodist Primary and the problems of getting up to speed when his only prior schooling was from officers' wives and German nuns. School life at that time was draconian with Alan remembering entering the school assembly wearing the chosen footwear of the day, the clattering Lancashire clog, to be followed by the shouted command, 'tip toes'.
Completing his schooling at the age of 14, Alan started a seven-year apprenticeship at R Park and Sons, plumbers and decorators. David mentioned the day Alan received a timely pay rise bringing his wages to the princely sum of 12s 6d per week or 65 pence in today's terms. However, the benefits of the pay rise were short lived as, two weeks later, Alan received his call up papers to report to Carlisle and join the 2nd Border Regiment.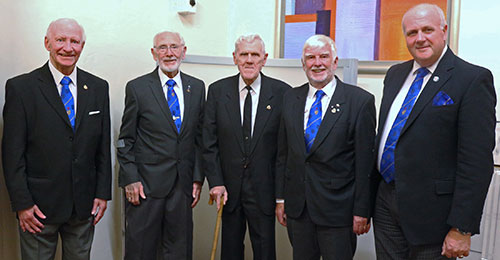 Continuing, David described Alan's basic training in the Trough of Bowland and the arduous exercises that resulted in him being as 'fit as a fiddle and ready and able to walk through a brick wall'. That is, until he jumped over a wall unaware of the eight-foot drop on the other side. Marching the 20 miles back to barracks with a broken ankle resulted in a three weeks hospitalisation during which time the regiment departed for Germany and the Battle of the Bulge.
Having recuperated and regained his fitness, Alan was posted to Burma, via India. However, the Japanese in Burma, on hearing of his arrival immediately threw up their hands. Undaunted, Alan spent time learning the finer points of the three-inch mortar and the Bren gun with training on seaborne assault craft; his greatest worry was remembering which way up to drop the mortar bomb down the tube. However, prior to his deployment to Malaysia, the Japanese on the peninsula equally got wind of his imminent arrival and immediately surrendered.
David then referred to Alan's time in India following the cessation of hostilities, particularly mentioning the dubious quality of the local food with rehydrated meat that wriggled as the water was added and bread was made up more of flour bugs that actual flour. Alan rationalised the situation by considering the bugs as a protein supplement to his diet. He went on to complete his service in India as a member of the Manchester 'Machine Gun' Regiment based in Madras.
Moving on, with a twinkle in his eye, David's words turned to romance. When, following Alan's demobilisation in 1948 and his return to R Park and Sons he had a chance meeting with Enid, a lady Alan had known through youth club events. The rest as they say, is history and just one year later, having gone to see her father for permission, the couple were married at Emmanuel Church. Alan had confided in David saying that having seen her, his thoughts immediately turned to 'that's the girl for me'. He admitted that the one-year speed to marriage was solely due to Enid being a fast worker! The marriage has been blessed with a daughter, Hazel, a pharmacist and past Mayor of Wigan and Leigh who unfortunately was taken by cancer in 2009. Alan's son, Ian, who is employed by BAE Systems on the new F35 fighter project, has provided two grandchildren, Rose and Isaac. Alan and Enid have now been married for a remarkable 68 years with a platinum celebration rapidly approaching.
David concluded Alan's working life by mentioning his time in business on his own. It was a business that resulted in long hours and the continuous pressures of work. After several years, Alan returned to paid employment as a painter and decorator, initially covering Preston Royal Infirmary and then the Royal Preston and Chorley hospitals before finally retiring 32 years later.
He then acknowledged Alan's outside interests, particularly concerning the local churches where son Ian, was involved in the choir at St John's and Alan became a sidesman, a position he also held at Emmanuel Church where he was a member of the Parish Council and bell ringer.
Turning to Freemasonry, David invited the secretary of the Ingol Lodge of St Margaret, Ellis Wilkinson, to read the minutes of the meeting of Olympia Lodge No 6812 at which Alan was initiated.
Resuming, David continued with Alan's journey into Freemasonry that started whilst Alan was self-employed as a painter carrying out work for John Smith at his home. He noticed Masonic regalia left out by John's wife who stated that John was off to a meeting that evening. This stirred Alan's interest which resulted in him knowing and approaching near neighbour and Freemason, Syd Lucas.
Being aware of what commitment was required, Syd 'interviewed' Enid to see how she felt about Alan being out possibly three nights per week. Receiving an affirmative answer and an understanding from Alan that the second Thursday of every month would be taken up with a lodge meeting, the ball was set rolling. Syd would act as his proposer with John as his seconder following which Alan was initiated into Olympia Lodge on 1 February 1968. At that time, Olympia was possibly the first lodge in the Preston Group to hold 'Junior' nights where the regular meeting offices were occupied by the junior brethren. So, it was that Syd was able to act as WM and as a 'junior brother' on the night.
Alan inevitably joined the ranks of the existing eight stewards, eventually arriving at the position of head steward. This was a position that gained him the responsibility of serving the top table and organising the other stewards.
Mentioning the inevitable practice nights, David reported that at that time, ritual books were most definitely not allowed to be present. But the time spent did provide invaluable practice and an opportunity for great camaraderie and lifelong friendships to be developed. These were friendships that were further honed by attending the tremendous social occasions that were prevalent at that time.
Moving on, David was pleased to note that, having taken Freemasonry with both hands, in 1974 Alan readily became a founder member of the evening's lodge, Ingol Lodge of St Margaret. In doing so he did not forget his allegiance to Olympia and completed every office including that of secretary, finally attaining the chair of that lodge in 1978. With 36 lodges based in Preston at that time it was a busy period with Alan forming many friendships, amply demonstrated by the presence of John Watson and Gordon Clarke at his celebration. During his year, Alan and Enid attended 16 Ladies Evenings and many additional socials, meaning almost every weekend was pre-booked.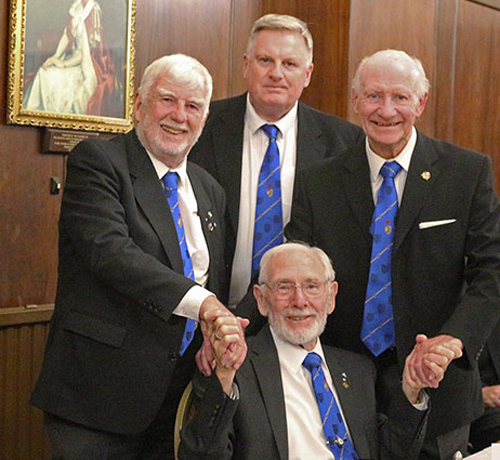 He also took the time to expand his Masonic interests by joining the Royal Arch as a member of Royal Preston Chapter No 333 in December 1976. Having attained the first principals chair, in 1989 he was appointed to the rank of PPrGSoj. He extended his interests by also joining another Masonic Order.
Turning to more modern times, David referred to 9 May 2005 when Olympia Lodge amalgamated with its daughter lodge, Ingol Lodge of St Margaret and Alan's term as secretary, which when combined with his time as secretary of Olympia, totalled 14 years in the service of the quill. Not content with sitting still, Alan introduced into the lodge several new members in the form of Ted Lowes, Peter Cornwell and Norman Arder.
Alan's commitment to the Craft was recognised with his appointment to the Provincial rank of PPrSGD in October 1986 and promoted in October 1995 to the very high rank of PPrJGW with both ceremonies being held at the Winter Gardens, Blackpool. In 2013 he was made an honorary member of the lodge in recognition of his almost 40 years commitment to the lodge.
David concluded his resumé of the life and times of Alan Dargie by informing everyone that the Provincial Grand Master Tony Harrison was aware of Alan's celebration and though he could not greet him in person, he sent his personal greetings in the form of a celebration certificate. He then called upon the group vice chairman, Geoff Saul to read the certificate.
David closed with the following words: "Alan Dargie, you now stand as you did all those years ago as a just and upright Freemason and you have built a superstructure honourable to the builder and one of which I know your father would be very proud. You have in many ways fulfilled your father's ambition to become a mason. You were tutored by Syd Lucas, a fine Mason and a brother who expected the highest effort and commitment and indeed which you have met with aplomb. You have been supported throughout by your wife and life partner Enid. All these people by your commitment and demeanour you have reflected honour upon. You have made many friends and have honoured your own rubric of value by honouring your position and giving of your best. Many congratulations to both you and Enid. Please thank Enid for her support and best wishes to you both for your forthcoming platinum celebration of 70 years of marriage."
The assembled brethren added their contribution to the celebration with resounding and sustained applause. Prior to the festive board, Alan joined his special friends who were pleased to welcome Alan into the '50 years Masonic membership club'.
Later in the evening, in his response to the toast to the grand officers, David thanked the grand officers and acting Provincial grand officers for their support on this important occasion. He again congratulated Alan on his achievement wishing him well for the future. As a memento of the occasion David presented Alan with a booklet containing a copy of what he had said earlier in the lodge.
Long-time friend of many years, Jim Gibson, proposed the toast to Alan's health, reminiscing about earlier times in his contact with Alan and closed by presenting him with a 50 years commemorative jewel to wear with pride. The presentation was made Alan's visiting colleagues John and Gordon.
In his response to the toast to his health, Alan thanked everyone for their support; it was an occasion he found most enjoyable. He expanded on some of the items David had disclosed earlier in the lodge and closed by turning to the younger brethren present, and offered the following advice, which was to honour every office they held on their journey to the master's chair. The occasion ended with Gowan presenting Alan with a menu card that had been signed by all present.