Brethren of Egerton Worsley Lodge No 1213 along with their guests were delighted to join in the celebration of 50 years in Freemasonry of Alan Cooper OBE at Eccles Masonic Hall.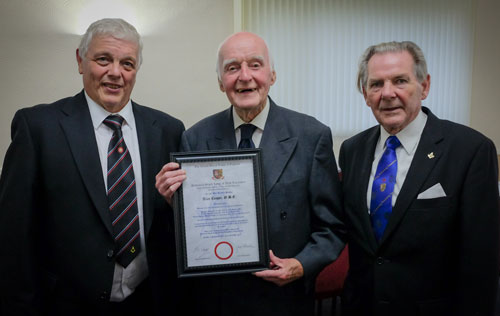 Leading the celebrations was David McCormick PSGD, PPrAGM. Also in attendance were grand officers Stuart Shea, Alan Wolstencroft and Brian Everall from Egerton Worsley Lodge along with John Hutton, Tony Edden, Alan Gemelt and Malcolm Roberts. Representing the Eccles Group was Patrick Walsh (Eccles Group Vice Chairman).
After opening the lodge, the WM Paul Webster invited David McCormick to occupy the WM's chair. David started by saying: "Presentations such as these are usually made by the APrGM for the group. I am grateful to David Walmsley for agreeing to my coming out of retirement to take the chair this evening."
Alan was born in 1927 to Mary and Walter Cooper at Church Street, Eccles. He was the youngest of five brothers. Alan's father was a steel worker and they lived on Church Street. Alan attended St Andrew's School before taking a job at 16 as an office boy for the Co-operative Wholesale Society in Manchester. At 18 he was conscripted into the army and joined the East Africa Corps, serving in India and Kenya rising to the rank of sergeant. On demobilisation he decided to train as a teacher attending Didsbury College and Manchester Poly Technical College being awarded the Degree of Bachelor of Education.
He started teaching at St Simon and St Jude's School in Bolton before returning to his roots where he became deputy headmaster and in due time headmaster of the school he attended as a pupil, St Andrew's School in Eccles. He eventually was appointed as headmaster in a new school which was opening in Bury where he taught until retirement.
In 1968 Alan married Maureen and they have two children, Duncan and Emma. Needless to say, Maureen and Alan have lived all their married life in Eccles.
Alan's lasting memorial, however, will be his many years of outstanding service to the community of the Borough of Eccles for a period exceeding 50 years and his commitment to the Anglican Church particularly to St Andrew's Church in Eccles.
At an early age Alan became interested in politics and joined the Liberal Party going on to become the Chairman of the Eccles Group, an interest he has maintained. In 1958 he became the first Liberal Councillor for 26 years when he was elected as the Councillor for the Irwell Ward in Eccles in May 1970. In addition to his duties as a Borough Councillor, Alan served for 35 years as a Magistrate at Eccles Magistrates Court. He was respected by all who appeared before him and always showed patience. You could never tell from his face how he was thinking but you always knew he would be just.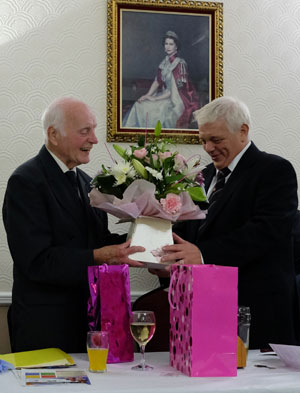 For most people, Alan's service to the community in Eccles Borough would be enough. Alan, however, for all his life has been a keen supporter of the Anglican Church, in particular St Andrew's Church in Eccles where he is now the Vice Chairman of the Parish Church Council. He had been the headmaster of the school attached to St Andrew's Church where he had been christened and later married and for many years a member of the choir. He was also a keen member of the Church Lads Brigade.
Alan's service to the Anglican Church is exemplary. He has for over 40 years been a Church Commissioner and is also a member of the Grand Synod of the Church of England where he is now the Elder Statesman. He chairs the Board of Finance at Manchester Cathedral and for over 25 years has been a Governor of St Martin's College in Lancaster. In 2003 Alan was honoured by the Bishop of Manchester by being appointed to be one of the first Lay Canons of Manchester Cathedral. When asked what was involved, his reply was: "Dressing up and walking in procession."
It is no surprise when you consider all the years that Alan has served his church and community, that in October 1981 her Majesty the Queen appointed him as an Officer of the Most Excellent Order of the British Empire in the ballroom of Buckingham Palace. He was accompanied by his very proud family.
When Alan was jokingly asked what he did in his spare time he replied he loves music, playing the piano and supporting the church choir. Add to that, gardening and walking. Also, an interest in hockey, taught by an Indian soldier he met in the army. He is a keen film buff, particularly John Wayne westerns.
Alan was initiated into Paragon Lodge No.5815 in East Lancashire on 23 March 1966, passed in May and raised in October of the that year. He became the master of Paragon Lodge in 1973. In 1982 he resigned from that lodge due to clashes with other meetings. In 1984 he was persuaded by the father of our WM to join Egerton Lodge No 2216 in West Lancashire. Alan became WM in Egerton Lodge in 2013.
You may think that Alan has not achieved very much in Freemasonry, but when you consider his service to our community, it should come as no surprise. He is not someone who would take on a task to which he could not give 100%. There are not many who could equal, never mind exceed his record of service both to church and the community. And yet it is doubtful that you could meet a more unassuming man.
David then presented Alan with a certificate signed by the PrGM Tony Harrison to commemorate his 50 years in Freemasonry.
When asked why with all his other commitments he has continued in Freemasonry, he replied that the friendship he enjoys is above rank and honours. For him what matters is the friendship of all equals in our brotherhood, irrespective of politics and religion.
To conclude Alan's celebration, he was presented with gifts from the lodge members and a bouquet for his dear wife Maureen.