At a meeting of Preston Guild Lodge No 4408, senior member of the lodge Alan Jackson, celebrated his golden jubilee. The lodge was honoured by the presence of Assistant Provincial Grand Master David Winder, who was accompanied by Assistant to the Provincial Grand Director of Ceremonies Peter Littlehales and grand officer and Preston Group Chairman, Steve Bolton. Others in attendance included grand officers, Ian Greenwood, Stan Rigby and Preston Group Vice Chairman, Geoff Saul. They were supported by acting Provincial rank officers Peter Ledder and Ben Gorry.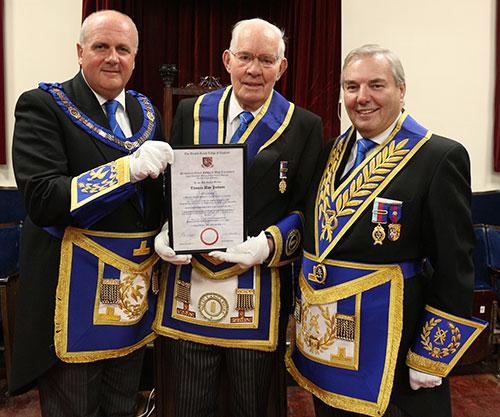 The lodge was opened in due form by the WM David Parker and after the administrative business of the lodge was completed, Peter Littlehales entered the lodge to announce the presence of David Winder. David duly entered, accompanied by grand and Provincial grand officers, to be warmly welcomed by the WM. David responded by thanking him and the lodge members, for their warm welcome and concluded by accepting the gavel of the lodge.
On taking the master's chair, David began by congratulating the evening's celebrant Alan Jackson, on his celebration of the amazing milestone of 50 years as a Freemason. To set the scene of how long 50 years was, he reminded the brethren of it being a time when a person's word was his bond; a time when a handshake was a token of that bond and could be trusted. It was a time when life was perhaps more straightforward, but nonetheless no easier. Quoting Alan, David said it was a time when, if you didn't have the brass, you didn't buy what you wanted. He went on to mention some of the events that occurred all those years ago, beginning with the opening of the musical, 'Oliver', it was also the year Apollo 7 was launched and the United States of America was at war in Vietnam. Jacqueline Kennedy married Aristotle Onassis and Manchester United won the European Cup for the first time. Turning to the evening's celebration, David asked Peter Littlehales to place the celebrant in a comfortable chair before him. He invited celebrant, Alan, to relax and imagine himself sat by his fireside wearing a comfortable pair of Masonic slippers ready to enjoy the evening to the full.
Having set the scene, David began by recounting Alan's early life that began with his birth at Read Hall Farm in 1931 and his time spent learning about the land and all aspects relative to it. He intimated that as far as Alan was concerned, understanding livestock and learning how to repair farm machinery was more important than schooling. However, he did admit that learning to read and write was important with a clear understanding of 'adding up' being most essential. His father's words: "The first thing to learn as a farmer, is how to count your brass" was still ringing in his ears. David went on to mention the practical skills Alan had to learn with regards to farming. In particular, he learnt how to avoid potential barn fires by making sure the hay was at the correct temperature, a hand on the hay and experience learnt over time being the essential components.
Continuing with this early life, David mentioned Alan's normal day beginning at sunrise, as milking had to be done by hand before 6:00 am, a quick half mile dash home for breakfast before setting off to school. He returned home at lunchtime, making it a journey he completed twice each day. It was usually at the run, wearing his trusty Lancashire clogs. In Alan's terms, it was a great day when snowfall caused the cancellation of school and he could stay on the farm helping his dad. Adding to the occasion, the wearing of clogs, with the associated clog irons, made ice skating great fun.
Turning to Alan's home life, David noted that each day Alan would drink a pint of full fat milk with two raw eggs mixed in and no mention of cholesterol. In winter, the drink was supplemented with a scoop of Horlicks. David also referred to tales of homemade bread and salted hams that were shared between adjacent farms.
He went on to mention Alan's love of village cricket in the summer and Saturday morning visits to the Padiham picture house in winter to watch the latest episode of the 'Lone Ranger'. Alan, being careful with his 'brass', would save the sixpence bus fare to Padiham by spending two hours walking there and back. Sundays meant church and the wearing of short pants and jacket, travelling to and from in a horse and trap. On arrival, Alan's task was to pump the organ and sing in the choir.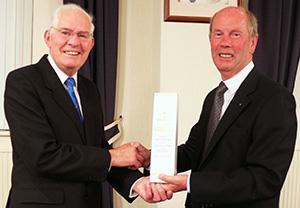 At the age of eight, Alan's life changed dramatically when his father passed away as a result of a farming accident and the farm had to be sold. After spending time continuing his education at Townley Secondary Modern School, Alan and the family moved to Penwortham to be near his mother's sister. There, Alan completed his education at Middleforth School until, at the age of 14 he left to gain meaningful employment.
In moving on to Alan's working life, David mentioned his first job working for Remington Typewriters, where his prowess carrying heavy equipment came to the fore when making deliveries. However, at the age of 16 Alan's love of farming resulted in him gaining employment on a farm in Jepps Lane. Working for 'peanuts', that job didn't last long, and Alan's next period of employment came when he took up a successful joinery apprenticeship.
David continued by adding that, much to his mother's dismay, some six months after qualifying, Alan's itchy feet came to the fore and he tried to sign up for 21 years in the Fleet Air Arm. Unfortunately for Alan, being under 21, the forms required his mother's signature; a signature that was not forthcoming. Alan did say his mother had a 'cob on' for about a month after that escapade. Not to be outdone, he later managed to sign up for the RAF when his mother's signature was not required.
Posted to Germany, Alan's thirst for sport was met by participation in water polo, football and cricket for which he represented the station. His military service was first as a drill instructor and then as a physical training instructor. After three years and reaching the rank of Sergeant, Alan's feet started to itch again, and he left the RAF for new adventures. He did say his time in the services had taught him a lot about discipline.
Continuing with Alan's working time, now in 'civvy street,' David appraised the brethren of his time as a delivery driver for Danish Bacon delivering to shops in East Lancashire and acting as a representative for the company. It was a job that lasted eight years before Alan, not enamoured with the prospects, moved jobs again. This time he would be working for an estate agent when, after a few months and much to his surprise, he was offered the position of assistant manager at the company's newly opened premises in Chorley. Three years later Alan was promoted to manager and while discussing a pay rise for his staff was offered an opportunity to rent the business and pay a retainer to the company. At this point, Alan's savvy as a former farmer came to play and his thoughts turned to thinking he might as well start up in business himself.
Concluding Alan's working life, David informed the brethren that three weeks after the offer to rent the business, Alan bought it lock, stock and barrel. For the following 20 years he built it up into a very successful business, and finally sold out to retire at the age of 57.
Turning to Alan's other interests, David noted that Alan was a keen cyclist and able to cover great distances with ease. Equipped with his bag of sarnies, a ride would usually start at 7:00 am when, off he would go for most of the day. Alan confided in David that his best time was 218 miles in 12 hours. Fate must have played a hand, as his riding skills came in very handy when he met a certain lady called Moyra.
Having mentioned Moyra, David added some detail by revealing that they had met at a dance in Preston when she invited Alan and his friend to a dance at Lindale near Grange. Having travelled there, Alan, red faced, finally plucked up the courage to ask Moyra for a dance. As a result, he was asked to see her at her home in Lindale the following Sunday. Taking up the invitation developed into Alan cycling every Sunday, come hail or shine, from Preston to Lindale and back, to see her for the next 3 years!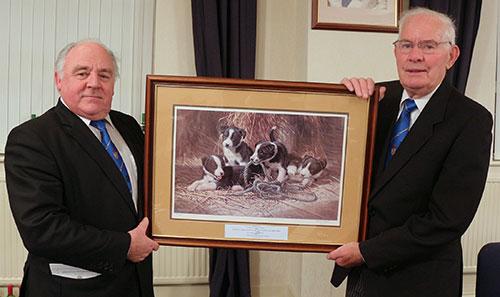 They were married at Lindale Church and honeymooned in Edinburgh for the first week before going on to tour in Scotland for the second. They set up home in Preston and after a few moves in the area finally ended up in Pedders Lane. The marriage was blessed with three children, Lynda a cook, Michael a highly acclaimed painter of fine art who lives in an eight-bedroom chateau in France and Louise a physiotherapist who lives in New Zealand. Sadly, after being together for a marvellous 58 years, Moyra was to pass away. It was 58 years during which, they were totally devoted to each other and enjoyed many wonderful times together.
Returning to hobbies, David, being a keen golfer himself, was pleased to note that Alan had taken up the sport. After messing about on the pitch and putt on Ashton park between cricket matches, Alan joined Ashton and Lea Golf Club where he achieved a single figure handicap and collected most of the silverware. He had a great interest in Barbers Shop Choir and Red Rose Chorus raising large amounts for charity.
Turning now to Freemasonry, David invited the Preston Guild Secretary, John Baron, to read the minutes of the lodge meeting at which Alan was initiated.
David continued with Alan's progress into Freemasonry when, following a discussion with his sports colleague, next door neighbour and Freemason, Bob Greenwood, Alan's interest in the Craft became known. In January 1968, Alan was initiated into Forest of Fulwood Lodge No 6388, adding to the existing 120 members of the lodge. Those were days when smoking of clay pipes, cigars and taking snuff was popular, at the festive board, the air was a thick haze of blue. It was a time when the practice regime was strict; brethren who did not turn up did not progress and, of course, junior brethren dare not speak to a grand officer unless spoken to.
Passing through the offices Alan achieved the master's chair in 1978 and went on to serve in the offices as assistant DC before taking on the role as the lodge DC. As lodge numbers declined, Alan returned to the chair in 2003 and 2004. Following the subsequent lodge amalgamation with Commercial Travellers Lodge No 3493 and Preston Guild Lodge No 4408 in 2004, he made a further visit to the chair in 2012. He continues to serve the lodge where his wide-ranging Masonic knowledge means he can slot into any position at short notice should circumstances demand it.
Alan's contribution to the Craft was recognised in 1989 by an appointment to Provincial Grand Lodge with the rank of PPrAGDC. His continued commitment was further recognised in 1997 with a promotion to the very high rank of PPrJGW.
Alan was exalted into the Royal Arch as a member of Salwick Chapter No 9115 in October 1990, becoming its first principal in 1995. His contribution to the Royal Arch was recognised with an appointment to Provincial Grand Chapter with the rank of PPrGSoj, to be followed in 2009, with promotion to PPrGScN. Not resting on his laurels, Alan also holds positions in other Masonic Orders.
Drawing his resumé of Alan's life both inside and outside Freemasonry David reminded everyone that the Provincial Grand Master Tony Harrison, was aware of Alan's celebration and though he could not be there to congratulate Alan in person he sent his personal greetings in the form of a certificate. David then asked the Preston Group Chairman Steve Bolton to read the certificate concerned.
He concluded his remarks, by mentioning Alan's many attributes in a humorous manner that, judging by the laughter, was well received by the brethren. The event closed with sustained applause from all present.
Later in the evening, in his response to the toast to the grand officers, David thanked Steve Bolton for the toast to his health and Peter Littlehales for his excellent support during the evening. However, as the evening was about the celebrant, David turned to Alan and congratulated him on his achievement, wishing him well for the future. He closed by presenting him with a copy of what he had said in the lodge as a memento of the occasion.
The toast to Alan's health was given by the lodge secretary and long-time friend, John Baron. As David is renowned for covering everything in his, 'This is your life' address to the celebrant in the lodge John knew full well he would be in trouble with regards to repetition. However, he stuck to his own dealings with Alan over the years. Dealings that ranged from organising Olde English Nights complete with members singing practises at John's home to an invitation to one of Alan's barbecues complete with 'rocket fuel' homemade wine. His closing remark was that Alan was one of life's 'good eggs' and, turned to Alan, saying: "Like your eggs, that's 50 years cracked," and wished him well for his next milestone. On behalf of the lodge, John had the pleasure of presenting Alan with a bottle of malt whisky to celebrate the occasion.
In response, Alan thanked David and the members of the lodge for what had been a tremendous evening. He admitted to being determined rather than stubborn in his dealings through the many changes that had occurred during his life. He closed by thanking his personal guests for their support and everyone who had a part to play in the organisation of what had been an unforgettable evening.
He then had the pleasure of presenting the hall chairman, Terry McGill, with the £125 proceeds of the festive board raffle held in support of the Masonic Hall. He also made his own personal gift to the hall of a painting, created by his son, that he hoped would be put to good use.