The Provincial Food Bank Appeal has been well supported throughout West Lancashire and the Liverpool Group has proved to be, as always, a substantial contributor. The nominated foodbank for the Liverpool Group was MICAH which is based quite close to the Anglican cathedral in Liverpool city centre.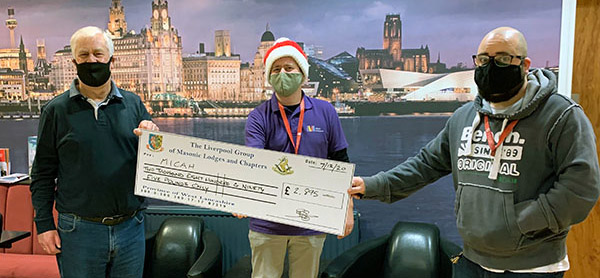 Micah aims to achieve justice, fairness and wellbeing for Liverpool residents by working in partnership with Liverpool Cathedral and the Liverpool Metropolitan Cathedral of Christ the King, as well as their vital employer partners and local churches; St Bride's and St Vincent's.
The representative from MICAH, Paul O'Brien, and his staff, were simply overwhelmed by the number of items donated. They expressed their sincere gratitude on behalf of those families that would ultimately benefit. Liverpool Group Chairman Dave Johnson thanked the brethren by saying how this was a truly remarkable amount and is a fantastic example of the great work we, as Freemasons, do for the greater good of society.
In his Christmas letter sent to all the members, Dave further thanked all those lodges and chapters that contributed to this very worthy cause. Dave said: "Christmas for a lot of families in Liverpool just got a whole lot better due to your generosity." He particularly expressed his gratitude to those brethren who acted as buyers, collectors or co-ordinators throughout the appeal

Gratitude was also given to those brethren who turned out on delivery day to transport items; it certainly was a heart-warming sight to see a flotilla of vehicles arriving at MICAH. Almost 350 bags, boxes or cartons of food, and sanitary items were donated. The overall total value of food and cash items donated was £4,000 which is quite remarkable. Generous donations to the appeal were also received from the lady Masons of Liverpool, and West Lancashire Freemasons' Charity; these too were very much appreciated.
A special thank you should go to the management team at Garston Masonic Hall. They gladly provided facilities for the three Masonic groups based within the city of Liverpool (namely the Liverpool Group, the Gladstone Group and the Woolton and Garston Group) to store food items there during the Appeal.
They certainly went out of their way to make everyone feel so welcome and to ensure that all social distancing and sanitation requirements were met. A tremendous effort that exemplifies everything we as Freemasons do for the greater good of society.