The North Western Area Director of the ABF The Soldiers' Charity (formerly known as the Army Benevolent Fund), Colonel Philip Naylor OBE, attended the meeting of Liverpool Mercantile Lodge No 4319 to give a slide show presentation, that gave an insight into their varied fund-raising activities as well as the grants made to deserving ex-servicemen, many of whom have received horrific injuries and loss of limbs whilst carrying out dangerous combat duties.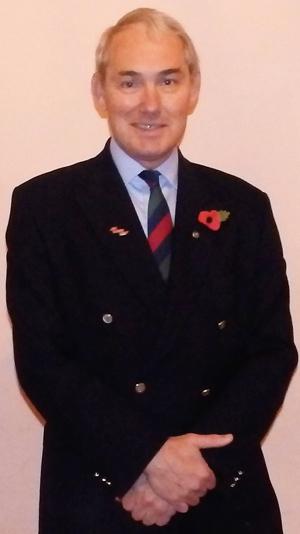 The meeting was opened in the first degree by Ian Walton, lodge treasurer, charity steward and on this occasion also standing in as WM. His first duty was to appoint John McKay as junior warden. Elections then followed with David Evans being declared as master elect and Ian Walton declared once more as treasurer. Paul Shepherd then rose to propose that the lodge make a donation to ABF The Soldiers' Charity. The brethren voted unanimously in favour.
The lodge was then called off and Colonel Phil Naylor was admitted together with visiting non-Masons. Phil began by introducing himself and gave a brief resume of his time in the army, his advancement through the ranks and his postings during his 30-year career. He has served in the Falklands, Bosnia, Croatia and had undertaken several tours of duty in Northern Ireland. After retiring from the army, he was appointed Northwest Area Director for ABF The Soldiers' Charity.
Phil related to his audience, the many tragic cases of badly injured soldiers who had received life changing injuries. The charity gives grants to soldiers, veterans and their families in time of need. Grants can be made for simple things; for example, a burglar alarm was installed for one soldier who had been burgled and spent sleepless nights on a sofa in order to protect his family.
Grants totalling almost £10,000,000 are made annually. Various kinds of fund raising activities are undertaken, including for example, a 94 year old ex-soldier, despite having lost both his legs, regularly making sponsored sky diving jumps.
At the end of Phil's slide show presentation, he was greeted with thunderous applause from those present. Ian presented a very generous 'community chest' payment to Phil for the magnificent sum of £1,000. Phil thanked Ian and the members of Liverpool Mercantile Lodge for their generosity. Ian then called the attention of the brethren and visitors, whilst fellow Mason Michael Collins, reflected on the approaching 100-year anniversary of Armistice Day.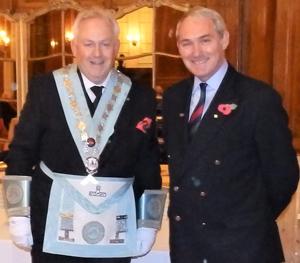 Michael told of his own father's involvement and how he had enlisted with many of his friends and work colleagues in 1914. He talked of the conflicts his father had been involved in and of the wounds he had received. He spoke of the many 1,000s who did not return from what was to have been the war to end all wars. Michael concluded by calling for a one minute's silence as a mark of respect. Everyone present was visibly moved by his sincerity, mentally thanking the brave souls who lost their lives during the war.
Phil and non-Masonic visitors then retired to be served refreshments and the lodge resumed labour to conclude the business. All members and guests were invited to enjoy a pre-dinner drink by command of the DC Paul Shepherd. As there were non-Masons dining, many of the toasts during the festive board were curtailed.
Finally, Paul called upon the tyler Paul Hartford, to propose the last toast of the evening. Visitors and guests having enjoyed a very interesting and informative evening.

Article and photographs by Phil Marshall.