Abercromby Chapter No 3699 celebrated its 2023 annual installation ceremony within the Egyptian Rooms at Liverpool Masonic Hall. The Chapter was opened on the evening by first principal Andrew Beddeson ably assisted by his fellow principals.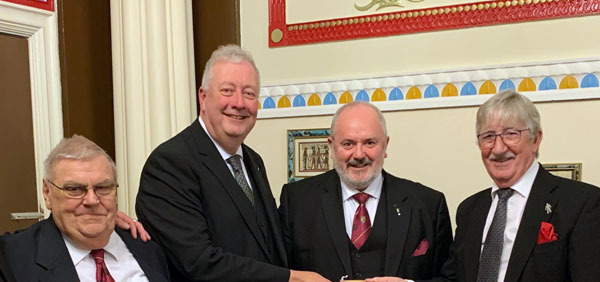 Andrew had the pleasure of warmly greeting the official representative of the Grand Superintendent Mark Matthews, which on this occasion was Bill Culshaw, who was accompanied by Dave Johnson the Liverpool Group chairman.
For the ceremony of installation, Andrew remained as first principal as John Shaw, the first principal elect, was sadly unable to attend, but Barry Fletcher stood in as installing second principal with Dave Aitken in his correct position as third principal. The ceremony ran beautifully with Dave Aitken being installed as second principal and Bob Paterson being installed as third principal.
The three robe addresses were delivered by Barry Fletcher, then Tony Fennell, with the third address tremendously performed by a junior companion. Ray Mundy. Tony also gave the address to the principals and Barry that to the newly installed officers for the ensuing year. The addresses were rounded off by Dave Johnson giving the traditional address to the companions of the chapter.
Bill Culshaw gave warm greetings on behalf of the Grand Superintendent, and congratulated all who had taken a part in the ceremony. Andrew Beddeson took the opportunity to present benevolent gifts in the form of two cheques, the first in favour to West Lancashire Freemasons' Charity for £100, the other to the Liverpool Masonic Hall Building Fund for £50.
On completion of the meeting, all retired to the festive board where Bill Culshaw was in good form and gave a brief but interesting insight to the history of the Royal Arch and its relationship with the Craft.
He congratulated everybody for a fantastic meeting and festive board. He said he really loved being in the Egyptian Suite and said it is probably the most beautiful Royal Arch room in the country and hopes to attend as a private guest at the next meeting to see John Shaw being installed
 Although numbers attending was below the normal for an installation, this was due to a lot of companions being absent due to work commitments, illness or other matters, it really was a special night.  Everybody had a good laugh and the camaraderie and banter were off the scale.