Not many long serving Freemasons enjoy the experience of two 50th anniversary celebrations, but such will be the case for Norman Deakin of Euxton Lodge No 7192 as his fellow members decided that the event should go ahead now and then again when meetings permit.
On 11 March 1971 Norman Deakin took his first steps into Freemasonry and in the same month 50 years later, the brethren of Euxton Lodge, despite the constraints which COVID has placed on all of us, were determined to make Norman's celebration as special and enjoyable as possible.
Norman, like many of us, lives on his own; his dear wife Joyce having recently needed to move into special care. So, again like so many people, Norman has found social contact terribly restricted. However, at the age of 90, Norman has embraced the technology of lodge Zoom meetings like a teenager eager for the next release of the latest game. In all seriousness, he enthusiastically affirms that remote lodge meetings, even with their limitations, have been a most positive contribution to his continuing good health.
So, his 50th celebration needed to be something special and the lodge were sincerely grateful to Peter Lockett, Chorley and Leyland Group Chairman, who arranged to join them to make the virtual presentation of the certificate. Also in attendance was group vice chairman Peter Allen, who added his very welcome congratulations to Norman.
Naturally there will be the proper and real celebration in lodge as and when this can be arranged. Euxton Lodge secretary, Norman Cox commented: "Although we put on a good show for Norman, I can assure the visiting officer to the main event that he will lack no amount of material!"
Norman's life has been paved with amazing exploits. Born shortly before the depression of the 1930's Norman, like many of us, played cricket in the back streets using a painted dustbin as wickets. But unlike most, he showed remarkable skill and ability from an early age. Winning a place at Ashton Grammar School, his sporting talents developed and earned him a regular place in the school first teams for football, cricket and tennis.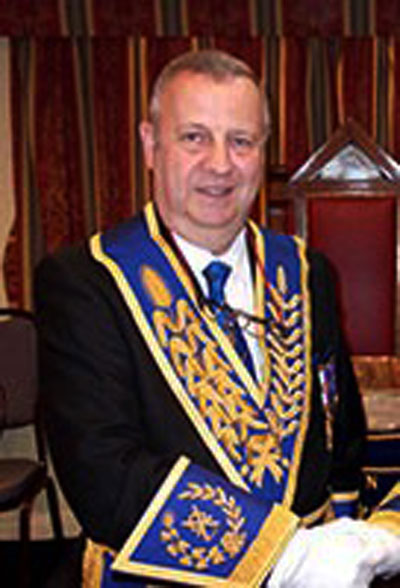 Then, just after the end of World War II, it was time for National Service and after basic training in the UK he was posted to Austria to play a role in the post-war reorganisation. A particular episode of note was that he was selected to train as a mountain ski trooper! In addition, and highly unusual for a National Serviceman, Norman was promoted to sergeant. On leaving the army he pursued his chosen role in civvy-street as a teacher at Wigan's Scot Lane Junior School.
Many of us may recall, hopefully with affection, a teacher from our own school days, but it is likely that not very many teachers can have made such an impression on their young charges that nearly 70 years later two of them would turn up for that teacher's 50th Masonic anniversary. That is what Ray Pye and John Walters, two of Norman's former pupils and fellow brethren did! They treated those on the Zoom meeting to a fascinating collection of memories and tales about Norman as a taster for when the actual event can take place.
Norman Cox concludes the story: "There is a saying in show business that you should 'always leave them begging for more' and this was very much the order of business for this event. The best is yet to come and will be reserved for the official celebration. Suffice it to say that since Norman joined us in Euxton Lodge he has been a dear and valued member. He very kindly speaks well of the brotherhood and companionship he has gained, not only from the lodge itself but also from associated activities such as the Fellowship. It is gratifying to hear from him that this companionship has helped him through the challenges of the pandemic and the sadness of Joyce's illness. Norman, you are welcome, in every sense of the word, and long may you remain with us and we look forward to part two of your celebration as soon as possible."