The brethren of Lodge of Truth No 6235 in Leigh Lancashire held a brilliant first degree ceremony meeting with Mathew Jones taking on the roll as WM, Andy Connell as SW, Adrian Edwards-Clark as JW, Anthony Miller as SD, Craig Topping as JD, Alex de Lucchi as IG, and Nigel Isherwood as the director of ceremonies.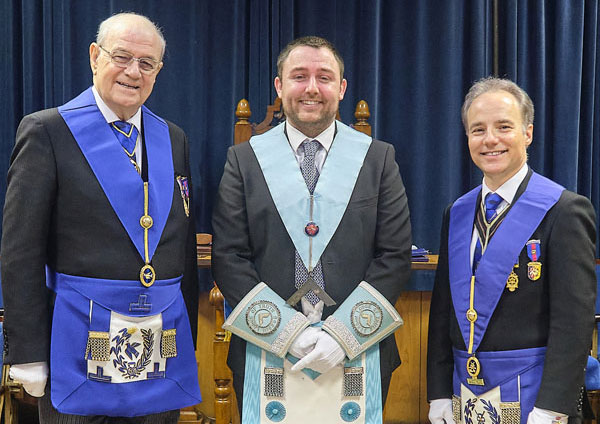 The guest on the evening came as a huge surprise for the juniors when Antony Bent PAProvGM arrived unannounced to show support for the junior Brethren, also a grand officer, Malcom Parr came as a supporting role, Johnathon Heaton the Group Chairman is also a member of the lodge.
The ceremony was done in superb style, Mathew did a highly commendable job as WM and notably flawless in his command of the gavel, the principal officers played a wonderful supporting roll, as did the deacons, not forgetting Alex, who held the fort so to speak as IG, well done Alex.
Andy Connell did a splendid example on how to do the first degree apron, Adrian Clarke did the working tools and an exemplary rendition of the first degree charge after initiation, all in all, a superb event to be proud of, as the saying goes you reap what you sow.
A brief history of a few of the junior officers, starting with Mathew, age 31 is a welder by trade, has been in Masonry since 2019, he was raised to the third degree and didn't get into a position on the floor until we came back after Covid. He got in to Freemasonry through his father-in-law Simon Isherwood, a senior member of Lodge of Truth, by going with his family to many social gatherings as his brother Nigel Isherwood is also a senior member of the lodge, he really has enjoyed his Masonry up to now and looks forward to many more years in the Craft.
Alex de Lucchi, the reason he became a Mason was he had always had a keen interest in history and tradition and an organisation as ancient as Freemasonry was a calling he couldn't ignore. As the generations have changed, he feels that people are losing sight of the very foundation, which we as a modern society, are built upon. The values in Freemasonry will always attract good men, he always wanted to be a part of an organisation who come together to uphold these traditions and ethos for the common good. His journey to becoming a Mason was quite straightforward, he looked for a lodge close to where he lived, which led him to the Leigh Masonic Hall. From there he went online and found out and how he could apply to join, which he did and achieved aspirations that have been with this life long journey, to see his passion and understanding of Masonic teachings grow and to be an ambassador and example for future junior brethren.
Adrian was introduced to Masonry by Jonathan Heaton and Gary Jones. He had spoken with them regarding what it was like on a number of occasions and it sounded interesting. He visited an old English evening and met some really interesting people, from that point on he decided it was the right thing for him. He lives in Crewe, Cheshire, so it is a 70-mile round trip for him to get to the lodge, despite this he likes to try and make every practice, so he can be prepared as possible for each and every ceremony.
The evening was a tremendous success with all the juniors excelling at their respective duties within the lodge. The social board was equally as successful with all the brethren having an enjoyable meal and making new friends. A raffle raised a goodly sum for Masonic and Non- Masonic charities.
Having asked the large numbers of visitors for feedback, the answers were anything from fabulous, incredible, never seen anything like it, best they have ever seen. The future is bright, the future is the juniors