Companions of Grange Chapter No 1715 were delighted to welcome the Grand Superintendent Mark Matthews to their installation ceremony. Mark was accompanied by a vast array of grand and acting Provincial grand officers.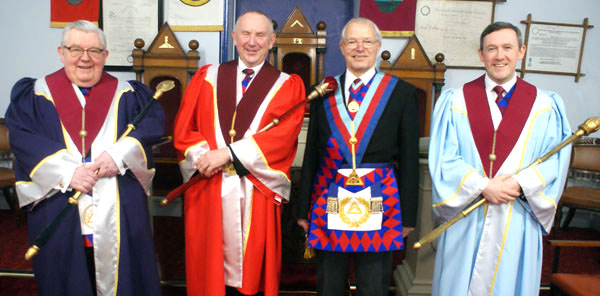 The grand and acting Provincial grand officers were announced and led into the temple by the Provincial Grand Director of Ceremonies David Thomas, they included Deputy Grand Superintendent Chris Butterfield, Second Provincial Grand Principal Mike Threlfall and Assistant to the Provincial Grand Principals Barrie Crossley.
In what was an extensive Provincial team visit, David Thomas was assisted on the evening by Provincial Deputy Grand Director of Ceremonies Barry Fitzgerald and they both lent their best organisational skills as they were also accompanied by Norman Thompson, the Past Grand Superintendent for the Province of Cumberland and Westmoreland. Also attending were Furness and South Lakes Group Chairman Gary Rogerson and grand officers David Grainger, Rowley Saunders, Malcolm Alexander, Colin Rowling, Peter Schofield and Alan Jones.
There were several acting Provincial grand officers, led by Provincial Grand Scribe Nehemiah David Jopling, a member of Grange Chapter, Ken Needham, Barrie Bray, Graham Lloyd, John Cross and Alan Pattinson. Indeed, the reason for such a fine array of senior officers was to honour David Jopling for the fine work he is doing in the Province this year.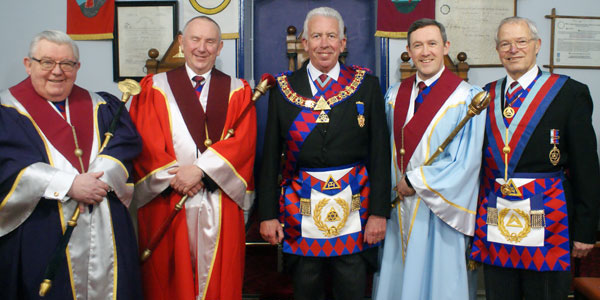 Just under 50 companions were there to witness the excellent ritual carried out in a very cosy Grange-over-Sands Masonic Hall, which David Thomas described as having a 'fantastic ambience'. They were there to witness first principal Chris Band (himself a Past Second Provincial Grand Principal) install John Martin as his successor.
John followed suit, installing Bob McMillan into the second principal's chair, and Bob had the privilege and pleasure to install his son Scott into the third principal's chair. Nigel Higginson, the director of ceremonies, kept proceedings running beautifully in what was a first class installation ceremony.
The robe addresses were given by Chris Band to the first principal, Brian Ogden to the second principal and David Ozanne to the third principal.
Donations totalling £500 were made to the West Lancashire Freemasons' Charity, including £200 through Grange Chapter's Relief Chest. Mark Matthews thanked the companions of Grange Chapter for their generosity, as many needy people would benefit from their gifts.
Following the meeting, the companions retired to a fine festive board, after which the usual toasts were observed. In responding to the toast to the grand officers Barrie Crossley thanked the companions for an excellent evening before proposing the toast to the Grand Superintendent. Mark Matthews in his reply congratulated the chapter on a fine display of Masonic ritual and then went onto thank David Jopling for the fine work he was doing in his capacity as Provincial Grand Scribe Nehemiah.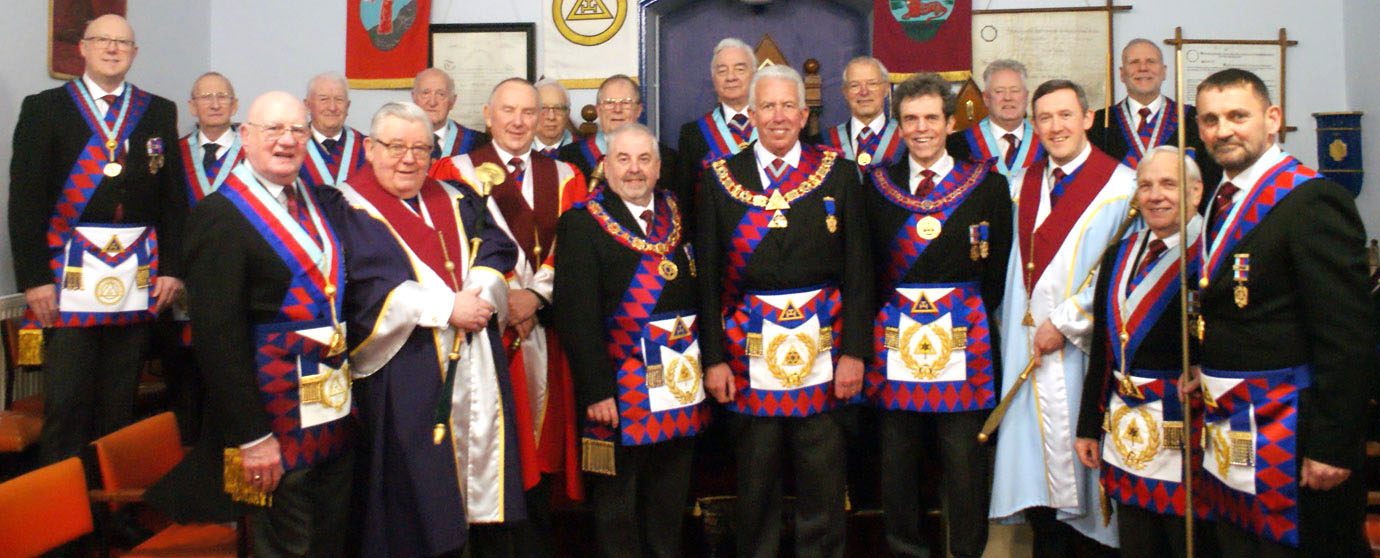 David then responded to the toast to the Provincial grand officers by thanking Mark for the great honour he had felt in being invested into this most prestigious position and thanked the many Provincial team members for their attendance on this special occasion.
Very shortly afterwards the companions made their way home from what had been a unique installation meeting. Gary Rogerson, speaking on behalf of the group members said: "It was lovely to see the Grand Superintendent, supported by so many Provincial grand officers visiting the Furness and South Lakes Group and Grange Masonic Hall in particular." David Thomas added: "What a wonderful meeting and such a warm welcome was given to all the visitors.