Walking into the Masonic Hall in Barrow on the evening of a lodge event, one can sometimes feel the electricity in the air, as the expectation and focus mounts for the ceremony. But, walk into the same building when the 'Fellowship Group' meets is totally different.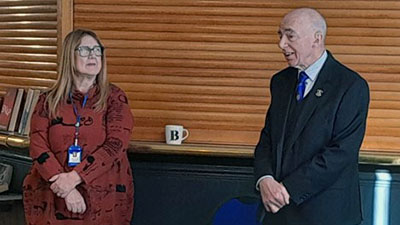 The group meets once a month in the early afternoon and the atmosphere could not be any different. There is a warmth that is almost tangible as they meet to chat, relax and have a 'cuppa', as they ready themselves for the next talk. Retired they may be, but they are full of life and ready to join in with all sorts of activities. The Furness and South Lakeland Group Fellowship meet for a programme of diverse topics and events, which are organised over the year.
Being wholly retired is the sole criterion necessary to come along and have a cup of tea/coffee and a biscuit.  At the moment approximately 28 men and 29 ladies go along to spend a most pleasant hour or two. Eligible men can bring their wives and of course widows of Masons are most welcome, along with ladies aged over 60 with Masonic connections.
The hard-working committee is made up of 12 members and have David Smith from Dalton-in-Furness Lodge No 6828 at the helm and with his secretary Janet Ridal, have organised numerous activities which include afternoon teas; a trip to Liverpool 1 shopping centre plus tea on the return journey. At the latest meeting Tony Nevinson gave a fascinating talk about his 'Malamute' breed of dog.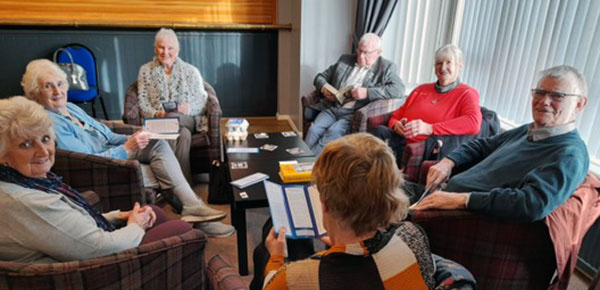 Apparently, the breed can survive in temperatures down to minus 40 degrees and are used to looking after the human being in extreme environments. Other talks that have taken place recently include 'Old buildings of Barrow' and the role of the 'Furness Carers', all of which have proved a hit with their audience, as they now look forward to their Christmas lunch together on 15 December 2021.
The Fellowship Group have been in existence since the 1980's and in January 2022, when they hold their AGM, the committee are looking forward to each lodge in the group sending along their representative to listen and perhaps have an input into the programme for the next year, as fresh ideas and suggestions are always needed.
The Fellowship Group provides an excellent opportunity to meet and keep up friendships that have been formed over many a year. A £1 allows entry and with it comes a raffle ticket and a free cup of tea and a biscuit.  Another great way to use the Masonic hall!