Retired group chairman Jim Wilson was delighted to attend, as principal guest, the installation ceremony of Warton Lodge No 8411 held at Kerneforde Hall, Carnforth. Jim was very warmly welcomed by the brethren and went on to witness Keith Lowson installed into the chair of the lodge in an enjoyable and delightful ceremony conducted with decorum and style.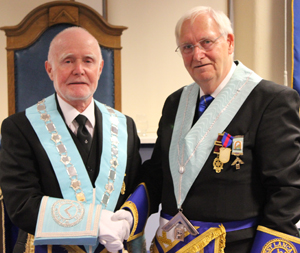 Accompanying Jim were grand officer Raymond Firth, acting Provincial grand officers Paul Mason and Ben Yates and Lancaster and District Group Secretary Chris Larder.
The master-elect was presented for installation by Philip Newby before installing master Evan Beswick conducted the ceremony in a very accomplished fashion, bringing great acclaim from the assembled brethren.
After Keith had been installed in the chair of King Solomon there followed superb renditions of the working tools; the working tools of a master Mason were delivered by Fred Fox, that of a fellowcraft by M. J. Yeadon and the first degree working tools by Frank Senior. In a similar vein the addresses to the master, wardens and brethren were splendidly enunciated by John Heaton, Bill Manderson and Fed Frobisher respectively.
The conclusion of the installation ceremony marked the opportunity for Jim to bring the greetings and good wishes of the Provincial Grand Master Tony Harrison to all the brethren. On behalf of the PrGM, Jim congratulated Keith on being installed into the chair of this fine lodge. Jim later referred to his mother lodge, Carnforth Lodge No 4951 and its sponsorship of Warton Lodge, together with his first visit when he attended Warton Lodge's consecration in 1972 at Lancaster Town Hall.
Jim finished by wishing, on behalf of the PrGM, all present the health and happiness to enjoy the year ahead. Keith thanked Jim for his kind words and presented him details of the very generous disbursements that the lodge had made to both Masonic and non-Masonic charities to a total value of £3519.58. Donations included MCF 2021 Festival £848.70, MCF Festival white envelope scheme £848.70, Morecambe Food Bank £100, Gallway's Society for the blind £300, Warton Scouts £200, Serenity Community Café Carnforth £250, Warton School IT project £1000, Carnforth Masonic Hall £250, Warton Lodge Widows £250, Group walk and sporting charities £130, WLFC envelope scheme £190.88. Jim was expansive in his praise for the effort taken to collect such a large sum of money and thanked everyone on behalf of the eventual recipients.
The festive board was held in the banqueting suite of Kerneforde Hall where Jim was delighted to have the opportunity to offer his own congratulations and best wishes to Keith, his officers and brethren of the lodge wishing them the best of health to enjoy what he hoped would be a busy year.
During the festive board a further £275 was raised for charitable purposes, a veritable marker on what had been a great day for all the brethren present.
Article written by Paul Thompson. Photographs courtesy of Bob Skelly