The members of Old Huttonian Lodge No 7614 were back together in their traditional meeting place of Hutton Grammar School for the first time since the disruption to Masonic activity first began. Together with a good number of visitors, what better way to celebrate could there be than the diamond jubilee of 60 years in the Craft by John Richardson, Past Provincial Grand Superintendent of Works?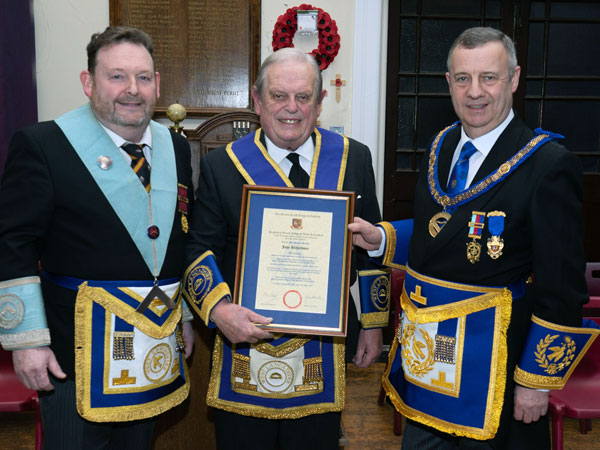 WM of the lodge David Topping, opened the lodge and welcomed all visitors and after the initial business matters were completed, the lodge was opened in the second, then third degree, after which it was reported that Assistant Provincial Grand Master Peter Lockett demanded admission.
Peter, who was accompanied by numerous grand and Provincial grand officers, including the Chairman and Vice Chairman of Chorley and Leyland Group, Peter Allen and Dave Bishop, were greeted by David and as is the custom, Peter Lockett was offered the gavel, which on this occasion he took and proceeded with the next order of business.
With John comfortably seated front and centre before the master's chair, Peter began what was an enjoyable and comprehensive review of the celebrant's life story.
Peter's address then covered the notable events of John's year of birth when the reigning British monarch was George VI, Pope Pius XII was head of the Catholic church and Neville Chamberlain was Prime Minister at the outbreak of the Second World War. Peter also noted that John shared his birth year with John Cleese, Ian McKellen, Tina Turner and Dusty Springfield.
After leaving school, John went to study at the Turner Dental Hospital at Manchester University from 1957 to 1963. On qualifying he worked at a dental practice in north Manchester. Shortly after completing his studies, John attended a ladies evening at Preston Masonic Hall, where in 1964, he had his first date with his future wife Judith. In 1966 John purchased a dental practice in Preston where he remained until retirement in 2004.
John and Judith were married in 1967 at St Mary's Church in Penwortham and as a nod to their first date had their wedding breakfast at the Masonic Hall in Saul Street, Preston.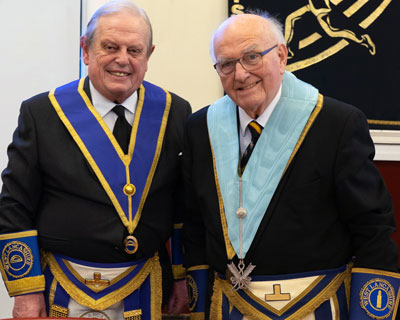 John has always enjoyed sport and played cricket and rugby at school and later at university. In cricket he was a fast bowler and in rugby his position was hooker, the latter sport he played for Preston Grasshoppers from 1956. In addition to sport, both John and Judith have a love of classical music, frequently attending concerts by the Royal Liverpool Philharmonic Orchestra as well as various musicals, plays and ballet performances.
John was introduced to Freemasonry by his father who was WM of Winckley Lodge No 5438 in 1966 and 1967. John was initiated into Winkley Lodge in 1961 and raised on 15 May 1962. He served as master of his lodge in 1973 to 1974 and was secretary from 1975 for 10 years. After the lodge surrendered it's warrant in 2011, John, together with other members, joined Old Huttonian Lodge.
Provincial honours were conferred on John in 1982 with the rank of Past Provincial Junior Grand Deacon followed in 1994 by further promotion to Past Provincial Grand Superintendent of Works.
Peter told the brethren that there was no doubt that through his entire life John has been an example of what makes a good Freemason, as well as a good citizen, a good husband, a good parent and in every way a contributor to society as a whole. Peter also remarked that he had no doubt that, during the last 60 years, anyone who happened to learn that John was a Freemason, could not fail to see him as anything other than an ambassador for our Order.
On conclusion of Peter's address, he then asked Peter Allen, Chairman of the Chorley and Leyland Masonic Group to read and then present a certificate from the Provincial Grand Master of West Lancashire, Tony Harrison.
The main order of business being concluded, Peter handed the gavel back to the WM, who swiftly dispensed the rest of the lodge business so that all could retire to the dining room to continue the evening in the more relaxed setting of the festive board.