Members and their guests were summoned to a very special meeting of Astley and Ellesmere Lodge No 730 to honour and pay tribute to Bill Carr, who has served the Craft loyally and faithfully for 70 years, and to share in Bill's special occasion, that wonderful milestone on his Masonic journey. He can now add 'sapphire jubilee' into his portfolio.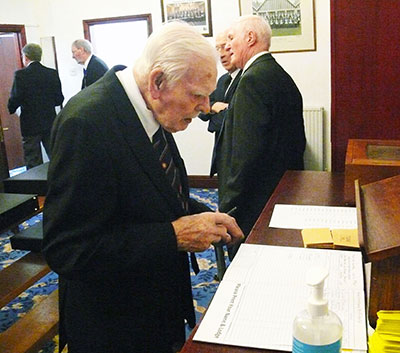 Not many people can say they have attended a celebration of 70 years of Masonic service and at the same time as sitting in lodge with the Deputy Provincial Grand Master, an Assistant Provincial Grand Master and four Past Assistant Provincial Grand Masters!!!
Andy McMath stood in for the master who unfortunately couldn't attend and presided over a very emotional ceremony. He was joined by the Deputy Provincial Grand Master Philip Gunning, Assistant Provincial Grand Master Peter Lockett and four Past Assistant Provincial Grand Masters; Bill Huck, Frank Wilkinson, Stewart Seddon and Ray Martland.
It was Peter Locket who took the chair to relate a potted history of Bill's Masonic and non-Masonic life. He told everyone that Bill was born in 1928. As a boy Bill attended Duke Street Council School, starting in 1933 and remaining there for a period of around eight years. He then won a place at Horwich Technical Junior College around the period 1941-43, during the Second World War. He enjoyed two years of engineering technology and from 1945 he went to work in the building industry where he joined his father. He undertook all kinds of work and became an apprentice bricklayer. Like many in those days, he began day release attending building courses and went to night school three evenings a week for a period of five years. He graduated with the National and High National Certificates in building construction, all at Harris College, Preston. Later he went on to teaching building construction to apprentices attending evening classes.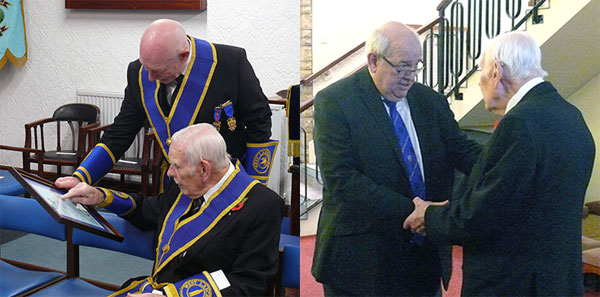 In the period 1948-1950 he became Clerk of Works on development of property for Adlington UDC with architect Bill Mayor in control. Then in 1950 he was employed as junior surveyor at Leyland Construction Company whose managing director was Sir Thomas Hargreaves, who was an Assistant Provincial Grand Master. He stayed for 10 years, moving to Leyland Motors as building surveyor and remaining there for six years. At Leyland, in his position as building surveyor, he was involved in work to extend the factory; building a new vehicle repair shop and constructing a concrete cooling tower for engine blocks. He then returned to Leyland Construction under a new managing director until the company finally folded.
During this time, he had a full social life, being very involved with Trinity Methodist Church where he met and eventually married Barbara Taylor in 1952. Times were still tough and he recalls drinking the toasts at his reception with Ribena. He was choir master for 26 years, besides being the property steward. He employed many of his professional skills when he built his own house in 1954/55, moving in at Christmas 1955. He had two children, Vicky and Andrew, who both went into the NHS and after successful careers, are now retired.
Sadly, there were dark days when Barbara became ill with leukaemia and she passed away in 1987. He enjoyed 35 years together, including their silver wedding. He endured a period of redundancy but went to work again for Chorley Borough Council as Building Surveyor, part of a government scheme to get people back into work.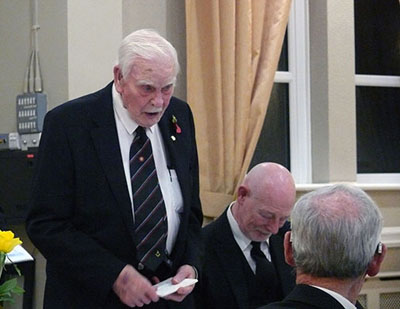 On an occasion in 1988, he was in the 'St Nicholas Singers' based at St George's Church. Audrey, a soprano, was missing rehearsal. She had been involved in an accident but fortunately was not hurt. Bill volunteered to bring her home! She had recently returned from Chalfont St Giles where she had tragically lost both her husband and 24-year-old son in quick succession. Audrey also has a daughter called Hilary living in Bury. They took a 'shine' to each other and were married in 1989, just one year later. They have been happily married for 32 years. Audrey has three grandchildren, Lauren, Tom and Louis. They recently became great grandparents to Mason, who was born in Scotland
Bill's Masonic history makes interesting reading. He was proposed into Ellesmere Lodge and initiated on 11 April 1951. He was passed to the second degree on 5 September 1951 and raised to the sublime degree of master Mason on 12 December 1951. Having progressed through all the floor offices he was installed as master on 11 October 1967, the year Ellesmere Lodge celebrated its 150 years existence. Some years later, in 2005, Bill served the lodge again as WM for a second time (2007-2008) aged 79, and some 40 years after he was WM for the first time!
He was honoured by the Province in 1980 when he was appointed Past Provincial Junior Grand Deacon. Promotion to Past Provincial Deputy Grand Superintendent of Works followed in 1994 and he was further promoted in 2002 to the high rank of Past Provincial Junior Grand Warden.
The evening came to a climax as the Deputy Provincial Grand Master Philip Gunning stood and proceeded to promote Bill to the very high rank of Past Provincial Senior Grand Warden – a great surprise to everyone, especially Bill, crowning what was a very unique evening at Astley and Ellesmere Lodge.