Several famous people were born in August 1937; Barbara Windsor, Dustin Hoffman, Jim Bowen and Willi Rushton to name but a few.  However, there was one very special birth, which was that of a person who would grow up and make an enormous contribution to Freemasonry, his name is Brian Tilley.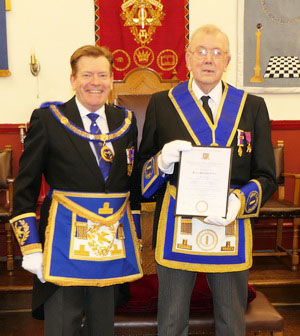 One of the really exciting things about attending a 50th celebration is discovering a whole host of new things about someone that you thought you knew quite well. Goodwill Lodge No 3896 was privileged to be able to celebrate the special occasion with Dr Brian Patterson Tilley, as he is otherwise or more formally known.
The lodge was opened by the WM John Horn, following which, the lodge was honoured by the presence of Assistant Provincial Grand Master Kevin Poynton. Kevin was offered the gavel of the lodge, which he accepted. On accepting the gavel Kevin then occupied the master's chair for the most important part of the ceremony, delivering a rendition of Brian's life story. Kevin made sure that Brian was seated comfortably for what was about to follow – the Masonic version of 'This is your life'.
It was in his grandmother's home in Bootle in 1937 that Brian was born.  His father, Thomas, was a turner operating lathes and milling equipment, his mother May Edna was a secretary.  Brian has two sisters, Hazel and Pat who live opposite each other in Rainhill.
Brian's first school was Rainhill Junior where he studied until he reached the age of 11 and then followed by Wade Deacon in Widnes; his secondary school where Brian achieved 7 'O' levels, the majority being science-based subjects.
Upon leaving school Brian's first job was with McKechnie Chemicals in Widnes, which later became a smelting company refining copper and silver. At the age of 16 years Brian was indentured by the company.  That meant he was 'tied in' to the company preventing him from leaving to do National Service.  The company looked after Brian by giving him day-release, which enabled him to continue his studies.
Like many young chemists, Brian was aware that fine powder was a dangerous substance and quite volatile too, but ideal for making fireworks and small explosions.  After some experimenting Brian's friends thought that he had constructed the best firework ever. This view was not shared by the local fire brigade who came round and put an end to Brian's exciting leisure activities!
When the indenture expired Brian was 20 years old and his next employer was Pilkington's Glass in St Helens.  Brian worked as an analytical chemist and at the age of 21 he attained the qualification of 'Graduate of the Institute of Chemistry'. That was not the end of his studies though, Manchester University beckoned shortly after where Brian achieved a PhD in Chemistry.
Brian met a young lady called Beryl and they got married in 1969. Those who are mathematically astute will have realised that another 50th celebration must be due, it is of course Brian and Beryl's golden jubilee! Brian is the proud father of three children; Ruth, Andrew and David.  He also has four grandchildren ranging from six years to 20.
Pilkington Glass remained Brian's employer until retirement, which means that Brian now has the time to pursue his hobbies. These days these hobbies or 'special interests' include fishing and also sampling the various beverages served at his local, the Wellington.  A perfect hobby for a retired chemist! But Brian's career was not just in the sciences, he also had an impressive career in Freemasonry too.
Brian was initiated into Bold Lodge No 7583 in February 1969.  He was proposed by his father Tom Tilley and seconded by Tom's best friend Edward Hughes senior.  Having spent the next few years working through the offices to become WM Brian installed his brother-in-law Bill Isherwood into the chair in 1989. Brian then took on the secretarial role until 2014, which is when Bold Lodge surrendered its warrant.  At that point Brian joined Goodwill Lodge where is very happy and settled.
During the years Brian has held many senior positions in the Royal Arch as well as in several side orders.  He is well respected and is considered a fountain of knowledge wherever he goes.
The celebration concluded with the Widnes Group Chairman Neil Pedder reading a personalised certificate marking 50 years of Brian's years in Freemasonry issued by the Province which was then presented to Brian by Kevin.
The festive board followed shortly after where several toasts and responses were made. The whole evening was a very special occasion for Brian and everyone who was there to celebrate his life with him. The special occasion will be fondly remembered, as will the extraordinary life of Brian Tilley.