The year 1939 was the start of something new. In 1939 some very famous people were born in the persons of Tina Turner the singer, Ian McKellen the actor, George Lazenby the actor, Lee Harvey Oswald the assassin of President Kennedy, Marvin Gaye the singer, John Cleese the comedian, Phil Spector the music producer, Ralph Lauren the fashion designer and of course maybe the most famous of them all Bryan Humphries in March 1939 at 5 Honeys Green Lane, West Derby, Liverpool.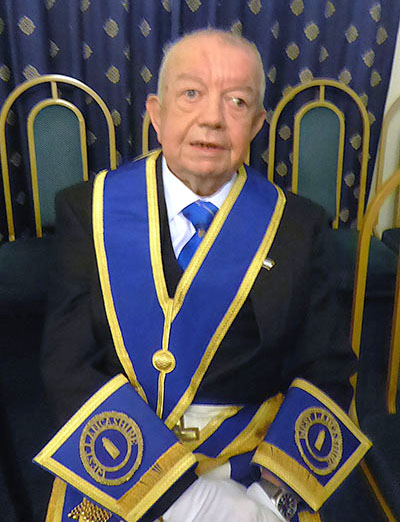 Bryan attended Wellesbourne Road County Primary School in Norris Green between 1944 and 1950 before attending Old Swan Technical College, Liverpool on its conversion to grammar status between 1950 and 1956.
HIs first job was at the Metal Box Company in Speke as an apprentice and adopted as a trainee technician in the electronics department. As a result, he attended Riversdale Technical College between 1955 and 1959, followed by a year at Byrom Street Polytechnic in 1960 ensuring that he qualified with the requisite qualification in electronics and electrical engineering. Bryan spent two and a half years in the electrician's department before he returned to the electronics department at the request of the supervisor. As a result of the demand on his services Bryan did not undertake national service.
Bryan said that the COVID-19 pandemic brings back memories for him of contracting Asian Flu in 1957 and then Hong Kong Flu in 1968, thankfully both of which he recovered from.
In October 1961 Bryan met the love of his life Brenda and, after a whirlwind romance and courtship, they were married in March 1962. In May 1963 they moved to their own home at Isabel Grove, Liverpool. Bryan and Brenda have been blessed with two daughters Gaynor and Hazel.
Gaynor after leaving school, moved to Isleworth, London to train as a nurse at West Middlesex General Hospital, eventually retiring as a theatre sister in October 2020. Retirement did not suit her however and she returned part-time as an intensive care nurse.
Hazel studied for a ceramic's degree at Harrogate in Yorkshire and Cambourne in Cornwall. Hazel eventually moved and settled in Exeter in Devon taking a post with the Foreign Ministry and worked for a month in Hong Kong sorting out the Gurkha's pay and pensions, before subsequently moving to the Department for Environment, Food and Rural Affairs (DEFRA) as part of the civil service reorganisation. Hazel has risen to be a departmental supervisor and is due to retire in 2023.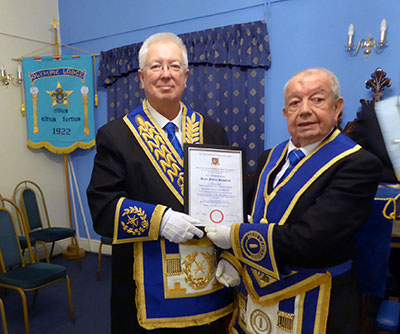 Bryan recalls that in relation to his working life, once he realised that he was looking at shift working ad infinitum at Metal Box, he applied for and obtained a post as an electronics technician with the NHS in the Medical Engineering Department at Broadgreen Hospital in March 1971. At that time Bryan was also expected to cover Alder Hey Children's Hospital, Belmont Road General Hospital, Mill Road Maternity Hospital and various other small hospitals in the local area.
He also recalls that with hard work and dedication he received several promotions which each came with ever increasing volumes of work and the expectation that he would look after and repair ever more complex medical equipment.
In the 1990's Bryan remembers well the various re-organisations within the NHS; these saw the amalgamation of the management functions of both the Broadgreen Hospital University NHS Trust and the Royal Liverpool University NHS Trust. This amalgamation had the implied consequence of the absorption of the Medical Engineering Department and potential redundancies. However, negotiations to transfer the Medical Engineering functions to the Liverpool Cardiothoracic Centre, which is known today as the Liverpool Heart and Lung Hospital, were successful and so as the future was more secure.
Bryan remained with the NHS until he retired on the 16 March 1999 and settled into retirement and an easier life. He was eventually joined by Brenda when she retired in 2003.
Bryan and Brenda have special memories of their golden wedding anniversary in 2012, when their two daughters invited them to London to celebrate the special occasion. The trip included a DUKW tour of London, an executive ride on the London Eye and a special evening meal at the Floor 57 Restaurant at the Heinz building on the South Bank of the River Thames and the couple used the opportunity to have a week's holiday in the 'smoke'.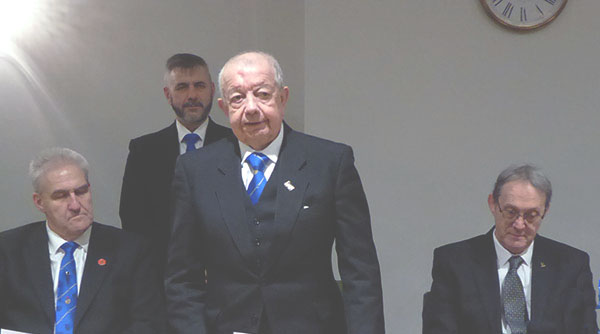 Bryan has been looking forward to two special occasions, the first being his 50th anniversary as a Craft Freemason and the other event is his diamond wedding anniversary to Brenda in March 2022.
25 March 1971 saw him initiated into Olympic Lodge No 4461, being passed on 22 April 1971 and raised on 23 September 1971. Following the usual pattern of fulfilling all the progressive offices in the lodge he became WM on 23 October 1978 for the first time and went back into the chair for a second time on the 24 October 1994.
Over the years Bryan has held many offices in the lodge including assistant director of ceremonies for four years and director of ceremonies for five years; secretary for eight years and treasurer for six years; a total of 23 years after coming out of the WM's chair for the first time. Bryan also compiled the complete ritual workings of the Olympic Lodge which was first printed in 1984 and is still used by the lodge today.
Bryan joined Donna Conferentes Lodge No 9392 in 1999 and remained a member until 2019, serving as WM in 2016 and as assistant director of ceremonies for several years.
At a group level, Bryan was the bowls secretary of the Liverpool No 5 Group from 1991 to 1997, the bowls secretary for the Woolton Group from 1997 to 2010 and the secretary for the WLMCBT (Liverpool area) from 1998 to 2010.
Bryan received his first appointment to Provincial grand rank in West Lancashire as Past Provincial Junior Grand Deacon in May 1992, and promoted to present very high rank of Past Provincial Junior Grand Warden in May 1995.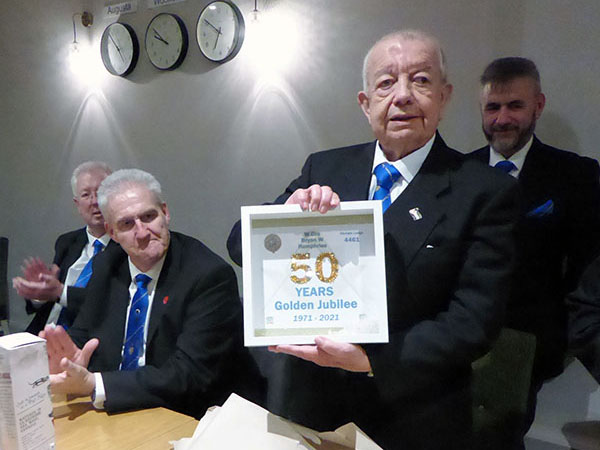 He was exalted into the Royal Arch in Grassendale Chapter No 4808 on 10 December 1982, becoming its first principal on 14 October 1988. Over the years he has held the office of assistant director of ceremonies on two separate occasions for a total of nine years and was the director of ceremonies for seven years. Bryan also compiled the complete ritual workings of the Grassendale Chapter between 2000 and 2002 and it is still used by the chapter today.
Bryan received his first appointment to Provincial grand rank as a Past Provincial Assistant Grand Sojourner in 1994 and promoted to his current rank of Past Provincial Grand Scribe Nehemiah in 2003. Bryan has also been a member of three other Masonic Orders which he enjoyed immensely and attained high ranks in them.
Assistant Provincial Grand Master Andy Whittle concluded by saying: "I'm sure I speak on behalf of everybody present that we are absolutely delighted to see you here this evening to celebrate your 50 years anniversary and even more so that you have allowed us to celebrate your special evening with you and I call upon group chairman John Murphy to read your certificate." Bryan received rapturous applause from the brethren and guests of Olympic Lodge on receiving his certificate from Andy Whittle. The lodge then presented Andy with a cheque for £100 for the West Lancashire Freemasons' Charity.
At the festive board, Fred Hulse proposed the toast to Bryan, reminding brethren of the time he was initiated into the lodge under Bryan's watchful eye. The lodge was pleased to present Bryan with several gifts and he presented a personal cheque to Andy for the West Lancashire Freemasons' Charity for £200.

Article and pictures by Colin Roberts.