Just one of the many joys of Freemasonry is the opportunity of sharing the celebrations of a brother's anniversary of 60 years as a member of the Craft and that joy cannot be sweeter than when the celebrant is a most respected and revered true gentleman.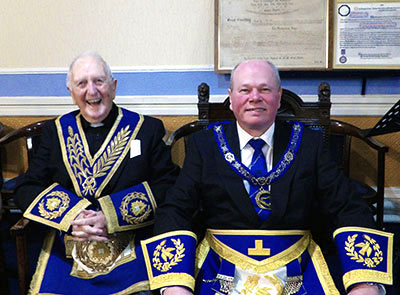 And a truer gentleman cannot be found than the Reverend Canon Geoffrey B Moore who celebrated his 60 years anniversary at Brotherhood Lodge No 3967. In fact, the celebration was for 61 years in Freemasonry, the original festivity having been postponed due to the COVID pandemic restrictions.
Master of Brotherhood Lodge, Geoffrey Birkwood warmly welcomed Assistant Provincial Grand Master Duncan Smith to the lodge in order to conduct the celebrations. Joining Duncan to show their admiration and affection for Geoffrey Moore were grand officers David Randerson, Stuart Thornber and fellow man of the cloth Reverend Canon Godfrey Hirst. Supporting them were Provincial grand officer Michael Tax and Provincial Deputy Grand Director of Ceremonies Robbie Fitzsimmons. Adding further weight to the entourage were Blackpool Group Chairman David Cook and his Vice Chairman Steve Jelly.
On taking the master's chair, Duncan immediately thanked Reverend Canon Geoffrey Moore, Past Assistant Grand Chaplain of the United Grand Lodge of England for allowing him the opportunity to join in the celebrations and he hoped that Geoffrey would enjoy his special evening, along with the members of Brotherhood Lodge and their guests.
Geoffrey Moore was born in Barrow in Furness in May 1927 when times were much different to the present day. Russian revolutionary Leon Trotsky was dismissed from the Soviet Communist Party, which paved the way for Joseph Stalin to achieve full power within the party. Oops! Perhaps times were not that much different to the present day!
In that year, aviator Charles Lindbergh landed in Paris in his plane 'The Spirit of St Louis' after the first solo air crossing of the Atlantic. Henry Ford and the Ford Motor Company produced the last (and 15,000,000th) Model T Ford. It was replaced by the Model A Ford which sold for $325, equal to $4,782.71 today. Yes! Things were very different then.
Geoffrey was the youngest son of Kenneth and Clare Moore. He had two siblings, a younger sister by the name of Joyce and an elder brother called Kenneth who he greatly admired as, being five years older, was always on hand to cast a protective fraternal eye over Geoffrey.
In 1914, and at the age of 22, Geoffrey's father enlisted with the Scots Guards, only to be captured in 1915 as a prisoner of war. However, he was fortunate to spend the duration of the war working on a farm where he was well treated, and which he always appreciated.
At the cessation of hostilities in 1918, he returned to a secure job, having as a young man embarked on a career in the Inland Revenue, with the added bonus of discovering that, as a prisoner of war, and as a result of a successful court case, he had become entitled to three years back pay of £100 which, in those days, was an appreciative sum, and certainly sufficient to fund the purchase of a Morris Oxford.
Geoffrey's mother Clare was born in Burnley into a family steeped in the cotton industry. She met his father on holiday in the Isle of Man and they were married in 1920.
In those early days, it was the policy of the Inland Revenue to move their more promising personnel from area to area on a regular basis and so, at the age of three, Geoffrey and his family moved to St Austell in Cornwall, where they stayed for five happy years.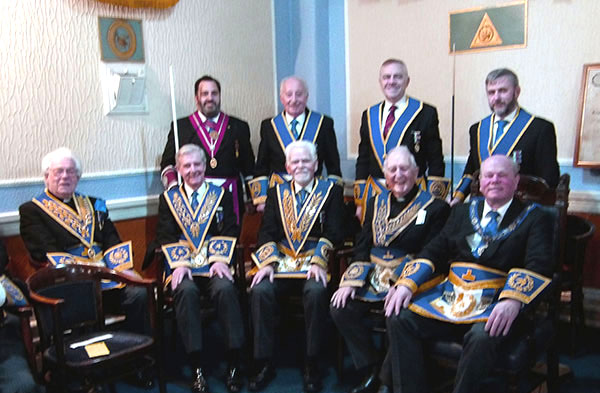 Due to the peripatetic nature of his father's occupation Geoffrey's early education was haphazard to say the least, for in the space of just three years after leaving St Austell he attended no fewer than six other schools before finally arriving at Burnley Grammar School in 1938.
He greatly enjoyed his studies; leaning ever towards the arts, with history and Latin. He also enjoyed sports, particularly cricket and athletics. He also enjoyed football and made the school team as goalkeeper; that was until one day the school played Queen Elizabeth Grammar School in Blackburn when he let in 10 goals in a 10 – nil defeat. Whether or not his services were retained is not recorded!
Then in 1944, following in his brother's footsteps, Geoffrey went up to New College, Oxford, where he read History. After his first year however he was advised to change direction to study Law. World War II ended in 1945 so he was able to continue his studies and complete his degree. But he chose never to put it to use as, during his third year at Oxford, he experienced the first notion that he might seek to be ordained, a concept encouraged by the college chaplain and friends.
But first came two years of National Service when, in 1947, he was called up to join the East Lancashire Regiment. After basic training at Fulwood Barracks he was transferred to the First Kings Own, stationed in Trieste, charged with keeping apart the Italians and the Yugoslavs, who seemed to be forever locked in a perpetual state of tension.
During that period Geoffrey had been promoted to the dizzy heights of Lance Corporal which brought about a pay rise from four shillings to four shillings and sixpence per week – that is from 20 to 22½ pence per week to the younger readers of these chronicles.
Then in 1949, sponsored by the Bishop of Blackburn, Geoffrey entered Ely Theological College, Cambridge in order to prepare for ordination. There he felt lucky to be so happy and at peace in such wonderful ethereal surroundings, despite the strict routine which he happily embraced, for the Army had taught him the benefits of structure and discipline.
In 1951 Geoffrey was ordained Deacon and sent for one year to St Peters Church in Chorley, after which he continued for two more years as a curate until September 1954, when he spent a one year attachment with Bishop Walter Baddeley, the then Bishop of Blackburn.
It was at that time that the council estates of Mereside and Grange Park were being built in Blackpool. St Mark's Church in Layton had started a Sunday school in Grange Park and thus there became a need for an unmarried priest, there being no vicarage. Having secured admirable lodgings in Bispham Road, Geoffrey proceeded to cycle round Grange Park for the next couple of years until the Church bought land on Dinmore Avenue on which they erected a dual purpose building, a church and hall combined, which opened in September 1957. And so, for 12 very happy years Geoffrey combined the responsibilities of the new church, St Michael and All Angels in Calvert Place, St Luke's Church in Staining and, significantly, Victoria Hospital.
In 1967 he moved to the Parish of St Barnabas in Morecambe where he stayed until 1981 before becoming Rector of Standish, a substantial and very busy Parish where he was also Rural Dean of the Chorley Deanery. It was at this time in 1986 that, happily, he became the Reverend Canon Geoffrey Moore.
With retirement in view and in response to his wish for something modest and more peaceful, he became Vicar at Charnock Richard where he stayed for four years until his retirement in 1992; then moving to Exeter to be near his wife Ann's aged parents. Geoffrey had met Ann in 1954 during a hiking holiday in Ambleside and they were married in August 1958. They have been blessed with four children, Andrew, David, Richard and Sarah, all of whom they are justifiably proud. Their children have in turn presented them with nine grandchildren, who manage effortlessly to bring great joy and sunshine into their lives.
It was during Geoffrey's time at Charnock Richard that the Province of West Lancashire agreed to provide a sum in excess of £30,000 for a wonderful new Scout and Guide headquarters to be erected in Charter Lane, Standish, which is still extensively used and greatly valued.
Retirement however brought about an unexpected and unsolicited bonus; a new lease of life one might say, for he learnt that the Diocese in Europe needed locums from time to time to relieve other clergy stationed in various exotic parts of Europe, and Geoffrey very soon found yourself Chaplain in Lisbon where, given the benefit of the use of a car, he was able to travel extensively throughout Portugal.
Over the next eight years he not only had the good fortune to spend a month in Lisbon every year but, thereafter, he subsequently succumbed to other demanding spells in Helsinki (three times), which included three days in St Petersburg; thrice in Utrecht, twice in Madeira, and once each in Valencia, Florence and Venice.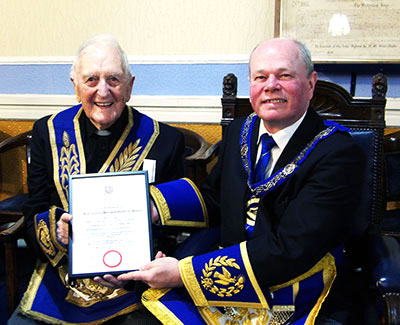 During his early years in Grange Park, Geoffrey became close friends with a couple of parishioners called Robert and Agnes Harrison and a local Councillor called Raymond Jacobs, from whom he received tremendous support in the development of St Michaels as a Parish. It was Robert who first stimulated his interest in Freemasonry and who ultimately became his proposer into Brotherhood Lodge; his seconder being Raymond Jacobs. Geoffrey was initiated at the age of 33 by Jim Booth on 12 January 1961.
After progressing through the various offices of the lodge he was installed as WM in 1973 by Eric Parsons in the presence of the then Provincial Grand Master Sir Knowles Edge, Baronet, the Assistant Provincial Grand Master William Foster and the Provincial Senior Grand Warden Derrick Fairclough in the presence of 86 brethren.
He served the lodge as chaplain for 12 years from 1976 to 1988, which brought about his first Provincial appointment in 1986 to the rank of Provincial Assistant Grand Chaplain; promotion to Provincial Deputy Grand Chaplain in 1987 and finally to Provincial Grand Chaplain in 1988. That however was not the end of his rise in the order for in 1992 he was appointed to grand rank as Past Assistant Grand Chaplain.
Although Geoffrey lived in Exeter since 1992 and more recently in Windermere, he has continued to attend the meetings of Brotherhood Lodge whenever possible and in recognition of a lifetime of service in 2009 the lodge conferred upon him honorary membership, an honour which he greatly treasures.
In closing the presentation, Duncan praised Geoffrey by stating: "Geoffrey, your Masonic life has been dedicated to Brotherhood Lodge, during which time your kindness, generosity of spirit, and wise counsel has endeared you to all. Throughout, your membership of Brotherhood Lodge has been exemplified by loyalty and commitment, and I feel privileged to be able to play some small part in the celebration of the life of a man who has been, amongst other things, a fine Clerk in Holy Orders, an equally fine citizen, husband, parent and above all, in the context of this evening, a wonderful Freemason who has always been a great ambassador for our order."
At this juncture, group chairman David Cook read a certificate from the Provincial Grand Master Tony Harrison as a special celebration of Geoffrey's 60 years contribution to Freemasonry, which was duly presented to Geoffrey by Duncan.
This was followed by a further presentation. This time in the form of a special 60 years celebratory lapel badge, presented by Reverend Canon Godfrey Hirst who, in Godfrey's inimitable humorous and emotive manner reminisced on his and Geoffrey's cricketing days together.
The formal element of the evening being concluded, the congregation decanted themselves into the dining suite to continue the revelry and get on the outside of a superb dinner before further enlightening and witty discourses provided the perfect ending to an already fascinating and most enjoyable evening.