Lodge of Triumph No 1061 is renowned for collecting retired police officers amongst its growing membership. The lodge has three such members in particular who have been connected outside of Masonry for many years.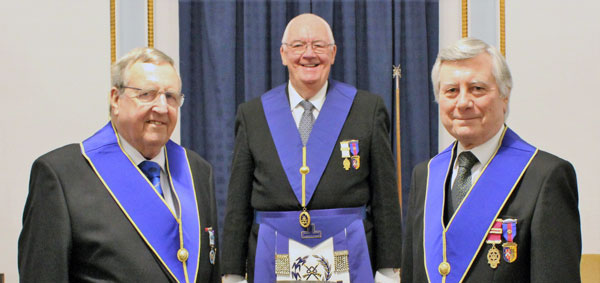 Having reconvened after the lockdown recess, the brethren discovered that the Provincial Grand Master Tony Harrison had promoted two of these members, leading to an unusual coincidence.
The rank of Provincial Grand Sword Bearer was granted to lodge secretary Brian Horrocks for 2021. The Provincial Deputy Grand Sword Bearer for 2020 was the Lodge of Triumph almoner Graham Smith, who is also the Blackpool and South Fylde Care officer. Graham's privileges attaching to his 2020 Provincial rank were kindly extended for a further year. Back in 1995, the Provincial Grand Sword Bearer was Ted Rhodes, the current Regional Charity Steward.
All three Lodge of Triumph brethren served together in Lancashire Constabulary for over 30 years each. They all reached the rank of Uniformed Inspector with Ted achieving the higher position of Chief Inspector. The trio served together at the old Blackpool Central Police station together at various times and ranks.