In a previous article on this website it was noted that a certain George Barry Lee was installed as master of Mereside Lodge No 6360 for a second time. Why would the lodge want Barry going into the master's chair for a second time? Well the reason became evident as Barry celebrated his 50 years in Freemasonry from the master's chair, a special honour indeed showing the high regard that the members of the lodge have for Barry.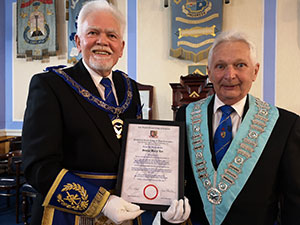 Gathered in the upper lodge room of the Masonic hall, Barry's friends and colleagues shared in the celebration officiated over by Assistant Provincial Grand Master David Randerson on his first official outing after being appointed in April. Joining David were fellow grand officers Peter Elmore, Geoff Pritchard and Chairman of Blackpool Group John Turpin, along with acting Provincial grand officers Ian Halsall, Jim Finnegan, Graham Kenyon and John Pitches.
After opening the lodge in an exemplary manner as would be expected from an experienced master taking his second turn in the chair of King Solomon, the grand and acting officers entered the lodge and Barry handed the gavel to David Randerson who then provided an enlightening and surprising insight into Barry's life and Masonic career.
Barry was born in Little Thornton on 29 November 1938 to Cicely and George Lee. Mum was born in Singleton and lived opposite the fire station where her father was the Fire Chief and he used to have to round up the horses to get the fire tender out when a call came. Dad came from Yorkshire and worked as a gardener at Nostell Priory. The eldest of four children having a brother, Roland and two sisters, Susan and Amanda. Barrie's brother still lives in Little Thornton and Mandy continues to live in the area too, but Susan moved away to live in South Africa.
Barry's first schooldays were at Baines Endowed Junior School followed by Baines Grammar School where he achieved the equivalent of 6 GCE subjects. Barry enjoyed those schooldays, particularly sports where he played for the first 11 football team and the school's athletics team. After one year in the sixth form, things were a little tight financially at home so Barry left school and went to work for British Rail at Thornton, travelling around Lancashire on relief. In 1958 Barry was called up for National Service in Catterick and then Bovington and served in the Tank Regiment – but never actually went in a tank. As a clerk Barry had a good little number filling out forms and playing sport. Barry's military sporting career ended in December 1960 after 'serving' in the 17/21st Lancers, the 4/7th Dragoon Guards and the 3rd Tank Regiment. Upon hanging up his battledress and football boots Barry came to work for the National Assistance board in offices in Preston, Blackpool and Blackburn. In 1967 a new computer centre opened at Hesketh House and Barry took the opportunity to move back there. The computer was a great big block of a machine housed in huge building and with the massive memory of 32Kbs, using paper tapes, cards etc. Barry worked in operations and a certain John Turpin came to work there, although on a different shift. If John Turpin wasn't enough a certain David Cook also worked there as a computer programmer. Barry eventually took retirement in March 1994 nearly 25 years ago.
Barry first met his future wife Yvonne on a train to Blackpool where she worked in the Executive Council and was eventually to work with a certain Peter Elmore. Barry married Yvonne on 3 October 1964 and had a son John who now lives in Canada with his wife and two children Jacob and Rohan. Dr John Lee has a PhD in Chemistry and works at the Chemistry Department in Camosun College in Victoria British Columbia. He has obviously inherited some of his dad's sporting genes enjoying cricket and particularly cycling around the wonderful Canadian lakes there.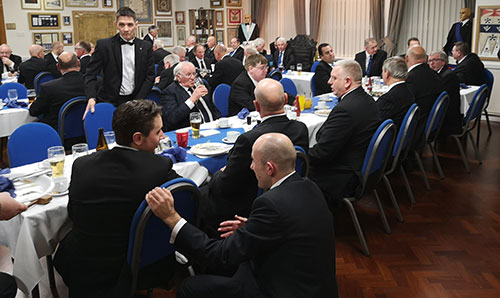 If John inherited his father's sporting genes, the gardening genes skipped over Barry and it is Yvonne who is the keen gardener. On Barry's 25th anniversary he treated himself to a motorhome, which he still enjoys using and which always seems to turn left when he reaches the M6 heading north to the Lakes or Scotland. For many years, since 1984 to be exact Barry has been the treasurer at St Mark's Church in Layton where he was married and in 2016 Barry also took over as treasurer at St Luke's in Staining so Sunday and Mondays are always busy sorting out the finances.
In 1968 the euphoria of winning the World Cup had just about subsided, Harold Wilson was Prime Minister, the 'I'm Backing Britain Campaign' began encouraging workers to work extra time without pay and the new five and 10 pence coins were introduced in readiness for decimalisation. There were no mobile phones, no social media – except for a chat over the neighbour's garden fence or down at the pub. The only take away was fish and chips with a few scraps thrown in down at the local chippy. But the big event in Barry's Masonic life began when he was proposed into Freemasonry by his father-in-law, Bill Brown and on 7 October 1968 Barry was initiated into Mereside Lodge. At this point David requested that the secretary of the lodge Richard Gosling read a précis of the minutes of that meeting. Barry progressed steadily through the various offices and became WM for the first time in 1980.
The installation ceremony was rather memorable in the fact that Cecil Henriques was the representative that day – a character indeed and the father of Sir Richard Henriques QC who is still a member in Melita Lodge 6783 in St Annes. By coincidence Sir Richard was to be the lead prosecutor on the James Bulger case for which Barry served his jury duty on. A little-known fact is that Barry in his 50 years has never missed an installation in the lodge. Barry served as treasurer of the lodge for 24 years until 2007 and in 2012 became almoner of the lodge receiving his first Provincial appointment as Past Provincial Senior Grand Deacon in 1990 and this was to be followed by a promotion to the very high rank of Past Provincial Junior Grand Warden in 1998. Barry also became the first joining member of Senatores Lodge of Installed Masters No 8966 after attending the consecration of the lodge and a joining member of Dona Conferentes Lodge No 9392.
David thanked Barry for his commitment over the years to Freemasonry, to the community and to the church. To celebrate the occasion, David invited Blackpool Group Chairman and former work colleague John Turpin to read a commemorative certificate from the Provincial Grand Master Tony Harrison, prior to David presenting it to Barry. The Blackpool Vice Chairman and former work colleague David Cook then presented Barry with commemorative lapel pin which he will wear with pride.
The assembled gathering then adjourned to the festive board to continue the celebrations of the evening. The toast to Barry was delivered briefly by John Turpin who commented that his very first visit to a lodge after being initiated was to Mereside Lodge and Barry was in the chair and it was great to see him in the chair again celebrating his 50 years in Masonry.  In response to the toast Barry answered a mystery in that earlier in the preceding's the lodge presented Barry with a gift which looked at first glance a spike with a name plaque. This was causing concerning until it was explained by Barry that is was only part of the gift as the other part was a tree that was already planted and doing well, and it was hoped that it would grow for 50 years.