Gordon Amos was born in 1930, his father was a police constable who had just moved to Warrington, which unfortunately, meant that school brought teasing for the incomer, the copper's son who was also 'tall and gangly'. It did also mean that Gordon was naturally drawn to the scouts, joining St John's Scouts and starting a memorable association with the movement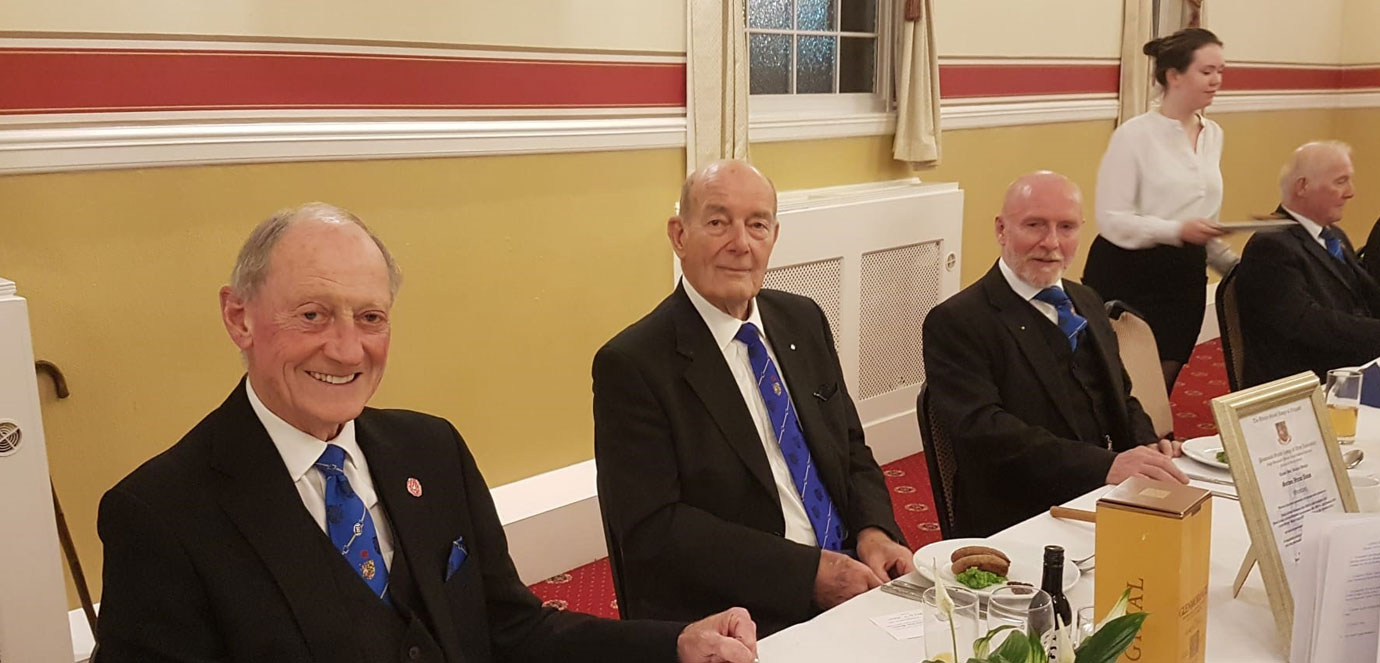 In 1944, after leaving school, Gordon became an apprentice electrician at Boulting's in Warrington. Gordon remembers that his first wages were 11s 2d per week. (56p in today's money). Also, in 1944 Gordon was made a Scout Leader, due to the fact all the older boys had been enlisted for the war effort.
A couple of years later, Gordon joined the Youth Hostel Association and spent all his spare time cycling around the country. He even rode from Land's End to John O'Groats. During holidays he loved to take part in cycle racing and events, and it was during this time that Gordon heard about a young girl cyclist from Warrington who rode a Stellard handmade bicycle, which had an all-chrome frame. So, when on one of his regular rides with his group of friends, and they told him that the girl who was riding it was at the front of the group, he chased after this chrome bicycle, speeding past it and shouting back: "Take your brakes off." Not only did Gordon like her bike, but he very much liked the girl riding it. They became good friends and started going out together. She never did forgive him for the comment, because she was a good cyclist. Of course, that young lady riding the bike was his future wife, Betty.
When he completed his apprenticeship in 1951, he was immediately called up for his National Service. Gordon joined the Royal Electrical and Mechanical Engineers and was posted to Egypt. The young couple continued their romance, albeit at a distance. However, Gordon describes his National Service as an 'excellent, two-year, paid holiday'.
On demob, Gordon returned to work at Boulting's, married Betty and they bought their first house for the princely sum of £1,750. At the time Gordon was paid only £9 10s 0d and Betty £4 10s 0d per week. (In today's money £9.80p and £4.50p). It was in 1961 that Betty gave birth to their son Geoffrey.
Gordon and Betty became members of the Camping Club and over the next 60 years became very serious members, progressing from tents to caravans. They travelled extensively all-over Great Britain and Europe.
Gordon joined Crossfields and soon after, Laporte Chemicals. He was to work there for the next 33 years, and during that time he became Chairman of the Works Committee and was the founder member of the Motor Club. Gordon was also the secretary of the golf section and was the main organizer of the social works dances and annual works trip. Gordon eventually took redundancy in 1990. Newly retired and happy to be so, it was a great time for Gordon and Betty. They travelled, they took dancing lessons and they danced at Masonic functions.
Freemasonry has been a big part of Gordon's life. His father, grandfather and great-grandfather before him were all members of the Craft. After a few false starts (ironically, not joining Travelers' Lodge No 4679), Gordon was helping Betty with catering, and went to a Masonic Hall in Croft – and that was the start of his 50 plus years as a Freemason. In 1983, Gordon was a founder member of the Mersey Valley Lodge of Installed Masters No 9057 and as WM of the lodge he gave a demonstration of Emulation Ritual to the All-Ireland and Dublin Lodge.
Gordon has an impeccable Masonic pedigree; Warrington Group Charity Representative, member of the West Lancashire Charity Liaison Committee, 1997 Festival Group Representative for the Warrington (for 10 years), acting rank of Provincial Grand Superintendent of Works, Past Assistant Grand Director of Ceremonies in the Province of Cheshire, appointment to the rank of Past Provincial Grand Standard Bearer, representative at the installation of a Warrington Mason, Alan Murray, into the chair of Bulgaria's Black Sea Anchor Lodge No 57, member of multiple Chapters (and Past Provincial Grand Sojourner), Mark Mason and master of many lodges, many times.
Betty sadly died after 64 years of wonderful marriage, but Gordon's son Geoffrey continued the family tradition and was initiated into Old Castle Lodge No 4646 in Macclesfield. Gordon delivered the charge on that special occasion. Geoffrey's work took him to the United States of America, where he settled and joined Oak Wood Lodge No 1444 in Texas. Some years later Gordon had the pleasure of installing Geoffrey as WM of that Lodge. Gordon visits his son on a regular basis and together they visit many lodges in Texas.

Story by Andrew Whittle and Eric Miller, Photos by Andy Barton.