Brethren and companions,
I could not let my retirement as your Provincial Grand Master pass without expressing my heartfelt thanks to you all for the friendship and most generous hospitality afforded to both Maureen and I during the eight years that I have been in office.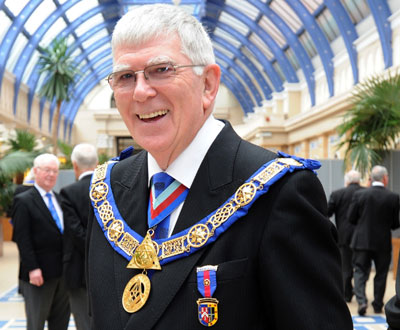 It has, without any doubt whatsoever, been a great honour and a huge privilege to have served this Province and we both have many happy and long-lasting memories of the wonderful times spent in your company.
For Maureen and I, Freemasonry has taken on a new aspect in our lives, one in which you all have become part of and, can I say, you will be sadly missed.  But I do look forward to the good times ahead when I can once again visit your lodges and chapters.
Now we must all look to the future and it is my sincere hope that you will continue to enjoy your Freemasonry and offer the same unqualified support to my successor, in just the same way as you supported me.
May God Bless you all.
Tony Harrison.

Over the past eight years that Tony has been the Provincial Grand Master and Grand Superintendent, he has been to 100s of meetings and met countless people. Many of these have a story to tell about the time they shared in his company. It is the intention to collect these stories along with any messages of best wishes and present them to Tony and Maureen for them to look back on in their retirement.
Please click the button below to share your thoughts, stories and messages.