There are a number of small chapters within the Ormskirk and Bootle Group, with Fermor Hesketh Chapter No 1350 being one of them. The companions and visitors of the chapter gathered at Litherland Masonic Hall to witness John Hanna being installed as first principal. The chapter was honoured by the presence of Provincial Grand Scribe Nehemiah Tim Burgess as the principal guest and as the representative of the Grand Superintendent Tony Harrison. Supporting Tim was the group chairman Graham Chambers in the company of vice chairman Malcolm Alexander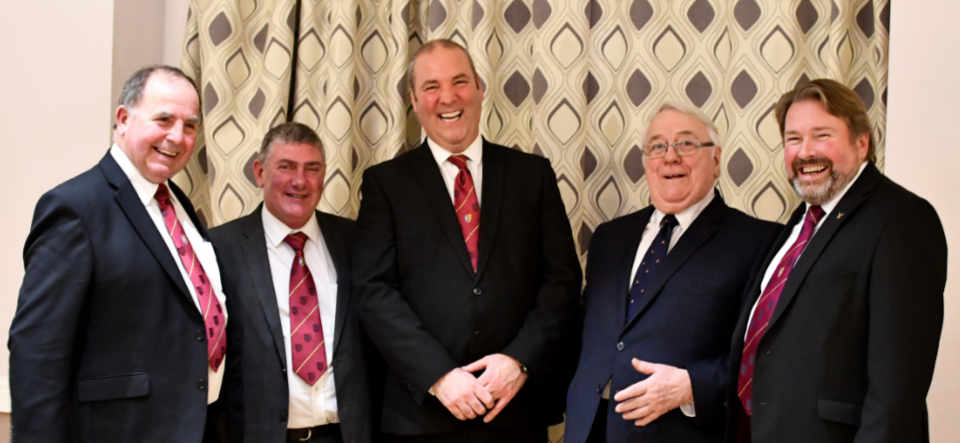 As soon as the normal business of the chapter had been completed the director of ceremonies, Brian Davies, announced the presence of the principal guest, who then entered the temple accompanied by his companions. Once the guests were seated the installation ceremony commenced, with John Hanna being installed as first principal, David Maher as second principal and David Smith as third principal.
At the conclusion of the ceremony Tim brought greetings from the Grand Superintendent, congratulating the three principals and all the companions of the chapter for their excellent work and for their enjoyable ceremony. John then presented Tim with a £300 cheque on behalf of the chapter for the 2021 MCF Festival. Tim thanked the companions for their generous donation, commenting on the wonderfully large amount from a chapter with only a small number of members.
During the evening the guests and visitors of the chapter had the pleasure of witnessing, throughout the whole ceremony, a very friendly and enjoyable installation, with every chapter member present being involved in at least some part of the ritual. Some of the members were even involved in several roles during the evening. Notwithstanding their paucity of members, Fermor Hesketh Chapter members worked well together as a team throughout the proceedings, thus ensuring a memorable evening for all to witness.