After over two years as master of Longton Lodge 6237, Michael Shuttleworth was delighted to hand over the reins at the annual installation meeting to another Michael, in the person of Michael Frankland. It certainly made the evening a tale of two Michaels.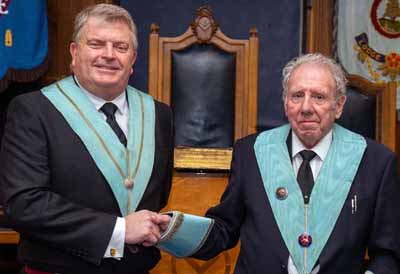 The initial orders of business being completed, the director of ceremonies retired and, after a brief interlude, returned to announce that Stephen Gregory, the representative of the Provincial Grand Master Tony Harrison, along with David Bishop, Vice Chairman of Chorley and Leyland Group, together with other grand and Provincial grand officers requested admission.
After the WM had welcomed the visitors, the main order of business commenced, with Neal Atkinson taking the chair as installing master and completing the formalities for the installation of Michael Frankland into the WM's chair.
Having taken the chair, Michael Frankland was pleased to invest his predecessor as immediate past master following which he appointed his officers for the year to come.
Michael has been a Freemason for 15 years and has twice before been master of Cuerden Lodge No 6018. He joined Longton Lodge seven years ago and in 2020 received Provincial honours as Acting Provincial Grand Steward. This coincided with his retirement from the Fire Service in which he had served for many years in several roles.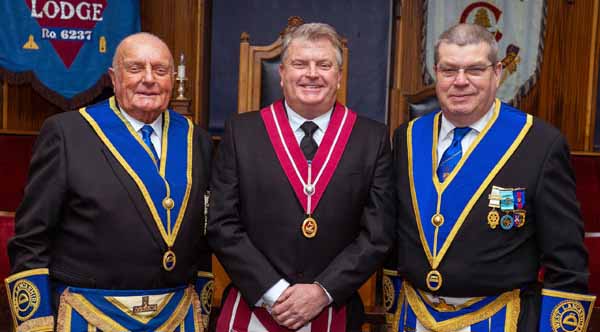 For many years Michael has been part of Operation Florian. This is a charity to which Fire Service personal donate their time and equipment in assisting less developed countries in building their firefighting expertise. The Florian work along with Masonic activity keeps him busy but he still finds time to enjoy skiing holidays and walking in the Yorkshire Dales.
At the completion of the ceremony Stephen Gregory congratulated Michael and brought the greetings of the Provincial Grand Master. At this point Michael was delighted to present a list of donations totalling £2,796 that the members of the lodge had made during the previous year. The donations included £500 to the Alzheimer's Society, £500 to Motor Neurone Disease Association and £750 to the Blood Bike Appeal.
The remaining business of the lodge was concluded after which everyone retired to enjoy a sumptuous five course meal courtesy of the excellent facilities and staff at Preston Masonic Hall.