Harmonic Lodge No 216 of the Gladstone Group welcomed brethren and visitors to the Adelphi Hotel, Liverpool for its 227th consecutive installation ceremony – and what an occasion it was too.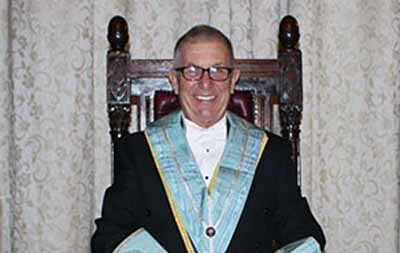 The WM Terence Croker, being unable to attend, was very ably deputised by Ian Elsby, assisted by senior warden Robert Cain, junior warden Geoffrey Holly, senior deacon Harry Kinney, junior deacon Michael Porter and inner guard Thomas Murphy. All performed their duties with aplomb as the lodge was opened in fine form.
Director of ceremonies James Murphy then announced that the chairman of Woolton and Garston Group John P Murphy, accompanied by Gladstone Group Chairman John James and grand officer Keith Dowell, stood without. Ian remarked that he would be delighted to receive them and formally welcomed all to the lodge.
Keith Dowell then presented James Murphy as master elect of Harmonic Lodge for the ensuing year and Ian, having opened a board of installed masters, proceeded to install James into the chair of King Solomon with a ceremony that was a delight to observe, James having last served as master of the lodge back in 2003, nearly 20 years previously.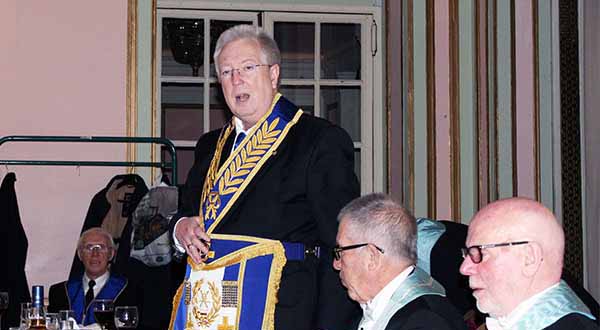 Assistant director of ceremonies John Donnelly continued the installation ceremony and welcomed in turn master Masons, fellow crafts and entered apprentices into the lodge, with Phil Marshall demonstrating to the brethren the correct salutations in each instance.
Visitor Paul Shirley of Adelphi Lodge No 6819 gave the address to the newly-installed WM and then promptly followed with an equally faultless performance to the wardens Robert and Geoffrey, who remained in their respective offices.
John Murphy then gave the address to the brethren of the lodge, which was delivered in a heartfelt and sincere manner and with the conclusion of the ceremony, then rose to offer on behalf of the Provincial Grand Master his congratulations to the lodge. He also gave his personal thanks for the manner in which the ceremony was conducted, congratulating both Ian Elsby and John Donnelly for their roles in the installation, as well as all of the other brethren who had taken part.
As is customary, master of the lodge James rose to thank John and presented him with cheques for charity totalling £1,100, an impressive amount split between West Lancashire Freemasons' Charity of £300, and a number of local charities; Maghull Young Adults Social Club (MYASC0, Clare House, Halton Haven, Stick and Step, each receiving £200. John congratulated all the brethren for raising such a fantastic amount and that he was sure it would be appreciated by all charities concerned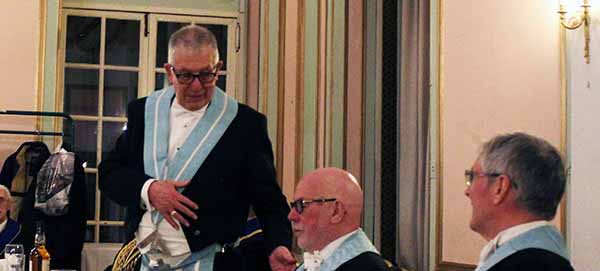 The secretary of University Lodge of Liverpool No 4274 Alan Moore announced that the master of his lodge, Liam Buchanan, had a pleasant duty to perform, explaining that recently documents had been discovered within University Lodge of Liverpool archive which shed new light on its founding.
It has always been common knowledge that it had been sponsored and founded with the backing of St George's Lodge of Harmony No 32. It appears however that a founding member Professor Buchanan had submitted to Grand Lodge that the sponsor was in fact Harmonic Lodge. To that end Liam presented James with the discovered minutes for those to be rightly added to the archives for Harmonic Lodge. James commented that he was delighted to receive this news, and that ties with the University Lodge of Liverpool had always been strong and this would only serve to cement those further.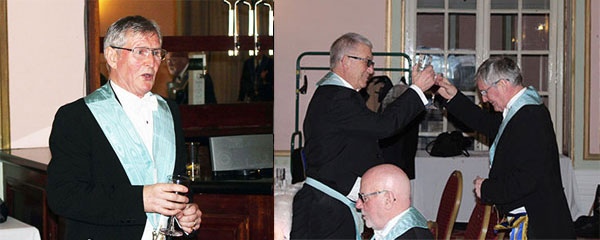 The formal business of the evening being concluded the brethren retired to the Crosby Suite to enjoy a festive board and continue the celebrations.
Harmonic is a very friendly lodge and this shows throughout the festive board and good natured conversations around the table. John Murphy commented that he had really enjoyed his time at Harmonic Lodge and that he wished it many happy years for the future.
James Murphy responded that he thanked all those who had taken part in the ceremony and that he was looking forward to the year ahead. This was the cue for John Donnelly to ask the brethren to rise and sing together the 'master's song' – a very fitting and harmonious end to a tale of Murphy's.