On a night that would ordinarily have been simply, 'a great initiation ceremony', instead members of Blainscough Lodge No 8532 and their visitors were extremely entertained by what unfolded after their new made brother had been initiated.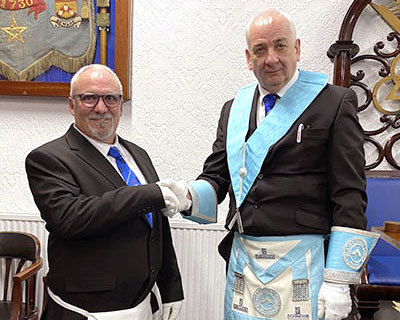 It was clear that the evening was going to be a good one from the number of gentlemen piling through the door to get ready for the initiation ceremony of Stephen Jones. The ritual was delivered very well with a number of members stepping in to do different parts of the first degree ceremony.
Special mention must be given to Anthony Slater who gave the charge after initiation. His timing and proficiency of the charge was perfect, and it was clear it made the right impression on the initiate.
With the initiation ceremony completed and Stephen welcomed most splendidly into Blainscough Lodge things were about to get heated, in a friendly Freemasonry sort of way.
As the master of the lodge Paul Wilkinson rose to greet his visiting brethren he had to pause as Keith Bennett had also risen and stated: "WM, I bring greetings from Rivington Lodge No 8013 and in accordance with the rules, I claim the gavel that travels from you."
The claim was followed by Terry Cunningham, master of Prospect Lodge No 7880, who also stood up and stated: "I claim the gavel that travels." Daniel Grime, master of St James Lodge No 8910 rose after hearing both claims, smiled and stated: "I claim the gavel that travels."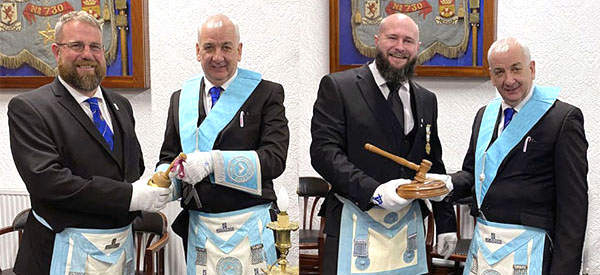 It was clear that Rivington Lodge had come out in force with visually more members all sat together. The gavel was theirs, or so they thought. As in the rules of the gavel that travels, the master with the most members with him can claim the gavel for their own lodge. Let the battle commence!
Rivington members stood first with nine members. Prospect Lodge followed with four members. Finally, it was St James Lodge to present their members and in a sort of Mexican wave all their members rose, stretching from one side of the lodge to the other. 10 members counted and St James was announced the winner in a thrilling battle.
Just as the dust was settling, and the master of Blainscough Lodge rose again to greet his visitors he was interrupted again, this time by David Robinson who stood and made his way to the master's chair. "I, master of Carnarvon Lodge No 2376, along with members of my lodge, present you with the giving gavel. Different from the gavel that travels, the Leyland gavel is given as appose to being taken."
The evening was topped off with a lively and brotherly festive board, accompanied with an entertaining 'Chorley raffle' which had members battling for an expensive bottle of port with the last bid. "What a great evening" were the words shared by many as the night closed.