Lancaster Masonic Hall was almost full to capacity when members of Lune Lodge No 4724, together with a whole host of visitors, gathered to celebrate Douglas (Doug) Willoughby's 50 years in Craft Freemasonry. The principal guest for the evening was Assistant Provincial Grand Master Keith Kemp. Keith was accompanied on this special occasion by grand officers Malcolm Worsley, Jim Wilson, Christopher Butterfield, Peter Mason, Robin Pearson and John Holt, together with Lancaster and District Group Chairman Neil McGill, group vice chairman Scott Devine, group secretary Chris Larder and acting Provincial grand officers Paul Mason, Norman Lay and Ben Yates. Guiding this august assembly was Provincial Deputy Grand Director of Ceremonies Ian Halsall, who on this event was assisted by Assistant to PrDGDC Ryan Modlin.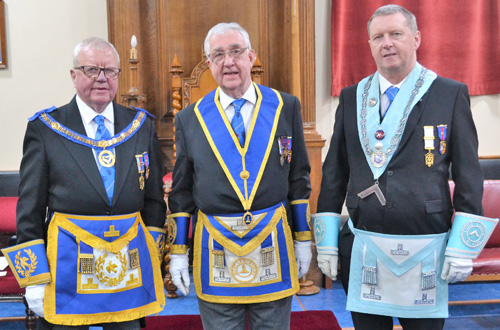 The WM of Lune Lodge David Shaw welcomed Keith into the lodge room and offered him the gavel, which on this occasion he politely accepted whilst thanking everyone for their warm welcome.
Keith began his address by outlining the reason for the evening's celebratory event, together with some of the events that were happening in 1969 when Doug took his first steps in Freemasonry. On conclusion, Keith asked the PrDGDC to place the celebrant before him so that he may continue his address.
After making sure Doug was sitting comfortably, Keith embarked on a fascinating and enlightening reflection on Doug's personal, professional and Masonic life. A transcript of Keith's address can be found by clicking here.
On the conclusion of his address Keith asked the group chairman Neil McGill to read the commemorative certificate which the Provincial Grand Master Tony Harrison had caused to be issued, after which Keith presented the certificate to Doug and wished him the health to enjoy many more years in Freemasonry.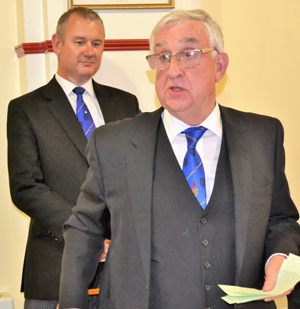 Once the WM had regained his chair in the lodge, he rose to present to Keith, on behalf of Lune lodge, a cheque for £100 made payable to the Masonic Fishing Charity West Lancashire Branch, of which Keith is the chairman. Keith thanked the lodge and promised it would be put to good use.
During the festive board, the toast to the celebrant was given by a long-standing friend of Doug's, John Heaton. John has been a friend of Doug's for over 50 years and in a sometimes-emotional tribute he shared many of his and Doug's personal memories together. This was backed up by a musical tribute, which was given by George Fox, with accompaniment by David Tattersall
Doug's reply was appropriate to the occasion and was on occasion very humorous. However, he started by sharing with his audience how very blessed he felt that Masonry has been in his life and how rewarding and stimulating an experience he had found it, adding "the more we understand ritual the better we will enjoy it". Masonry, Doug said, had given him an opportunity to meet many wonderful people.
As Doug ended his address, he was presented, in memory of his 50th anniversary in Craft Masonry, with a pictorial history of Everton Football Club, a couples of bottles of fine wine and a 50th lapel badge. Without a doubt, it had been a wonderful evening for Doug and his many friends and colleagues.
During the evening a charity raffle had raised the brilliant sum of £430.

Article and photographs by Paul Thompson.