The opening of Abbey Chapter No 1225 installation convocation was perfect and the rest of the convocation did not drop from the high standards set by the outgoing first principal Gordon Evans.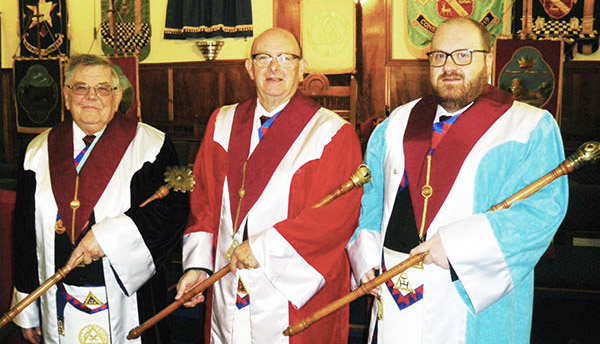 Gordon, along with the companions of Abbey Chapter, congratulated Anthony Cassells on his recent well-deserved promotion within Royal Arch Masonry and later the companions of the chapter happily proposed, balloted and were able to vote for Les Gardner to be their newest honorary member.
The director of ceremonies Tony Nevinson retired and, on his return, announced that Provincial Grand Scribe Nehemiah Harry Chatfield, and on this occasion, the representative of the Grand Superintendent Tony Harrison, sought admission to the chapter.
Harry, accompanied by grand officer Roly Saunders and acting Provincial grand officer Alan Hilton, along with the vice chairman and secretary Alan Pattinson and Chris Gray of the Furness and South Lakeland Group, were warmly and generously welcomed by Gordon, who hoped they would enjoy the special convocation and the festive board that followed.
Barrie Bray took the position of the principal sojourner, as Tony Cassells and Tony Nevinson remained in office for the ceremony, which allowed Tony Nevinson to beautifully present the three principals to the installing principal. Paul Musgrave who had only been in the position as the new scribe of the chapter since half way through the year conducted his duties with confidence, clarity and as Harry put it later: "As if he'd been in the position for five years!"
Steve Renney could not have been in safer hands as he was installed into the third principal's chair by Derek Forrest, which must have inspired Steve to recite his obligation with a perfect and clear sense of understanding. Andre Lawrence, having already been installed into the second principal's chair on a previous occasion, only had to reaffirm his obligation, whereas Peter While was superbly installed as first principal by Gordon in a fluent and emotional style.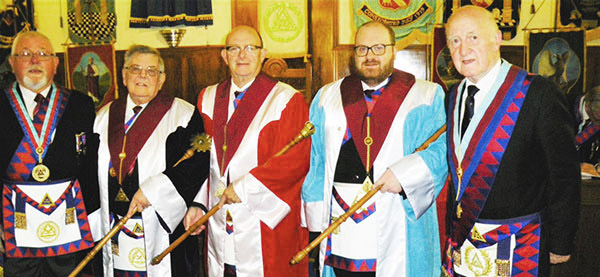 The robe addresses were orated by Tony Cassells, Colin Clark and Doug Smith to the first, second and third principals respectively. Each explanation was solemnly and gracefully delivered by all three. Tony Nevinson presented the warrant of the chapter to the principals; Derek Leviston addressed the principals fluently, and Harry continued the high standard with an excellent and word perfect delivery to the companions of the chapter.
Having brought the warm, hearty congratulations from the Grand Superintendent and having congratulated all who had taken part in the ceremony, Harry received three cheques, each of £250, to the West Lancashire Freemasons' Charity, Barrow Masonic Hall Building Fund and the Guide Dogs for the Blind Association. Harry remarked that all the recipients would benefit from the kind and generous donations from the companions of the Abbey Chapter.
An excellent and convivial meeting ended for the 40 plus companions, with a delicious festive board and another £225 collected for charity. The future for Abbey Chapter once again looks bright and safe in the hands of Peter While.