Member of West Derby Castle Lodge No 5821 David Boyle has become the newest member of Grassendale Chapter No 4808 in a dignified and sincere exaltation ceremony. This was a special night for David as he was joining his father and uncle in the chapter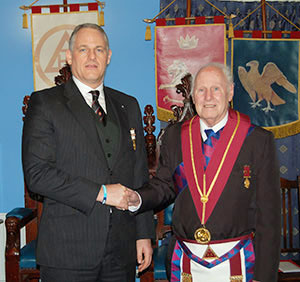 The chapter was opened in the usual manner by the three principals, first principal John Leisk, second principal Stephen Cornwell and third principal Fred Hulse. Once the initial business of the chapter had been conducted, a ballot took place for the candidate David Boyle and the ballot proved in favour of David.
John asked principal sojourner John Jackson to retire and entrust the candidate. John re-entered the chapter with David and the ceremony proceeded. John led David through the exaltation in a dignified and sincere manner.
On completion of the ceremony David was then taken to a position in the west where John Leisk explained the signs. The ceremony of exaltation being completed the three principals congratulated David and formally welcomed him into the chapter, hoping he would have many happy years of companionship in the chapter.
John thanked everyone that took part in the ceremony and gave a special mention to John Jackson for his part in the ceremony. The companions had clearly worked hard to make it a significant experience for David. After the remaining business of the evening was completed, the chapter was closed and the companions retired to the festive board for a very enjoyable meal and good company.
It was during the festive board that David's father and proposer, Brian Boyle had the pleasure of proposing the toast to his son. Brian congratulated David and welcomed him into the chapter and a toast was made to the new companion, who responded with a genuine 'from the heart' response. Everyone raised their glasses to him and wished him well. It was good to see several Masons from other chapters who had gone along to support and celebrate with the companions of Grassendale Chapter. All in all, it was a very special evening.
Article and photographs by Doug Lace.