What a great evening at Phoenix Lodge of Installed Masters No 9206. A fantastic display of experience, respect and brotherly love was on show for all to see and enjoy.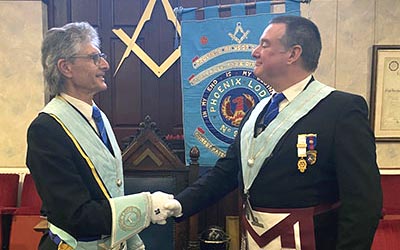 It is a popular misconception that you must be a master or member to visit Phoenix Lodge. Thankfully, any Mason can visit by speaking to the lodge secretary to enjoy a great evening.
With the attendance of so many esteemed guests it was great to see so many Masons at different stages of their journey come together to enjoy Freemasonry.
The master elect Stephen Grimshaw was installed into the master's chair in fine fashion, with a total of 50 Masons attending the meeting, including seven grand officers, amongst whom was the principal guest, Deputy Provincial Grand Master Philip Gunning.
Chris Jones delivered a superb performance in installing Stephen into the chair of King Solomon, where he continued the level of quality in investing his officers to assist him in his year as master of Phoenix Lodge of Installed Masters.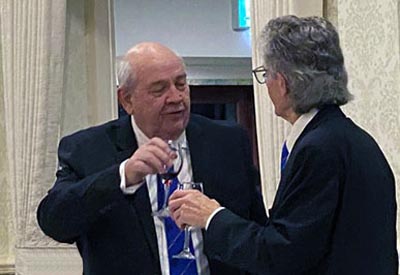 A key part of any installation is the explanation of the working tools and the addresses to the master, wardens, and brethren. They are lovely pieces of ritual which on this occasion were delivered by Aaron Beaver who presented the third degree tools, Gary Fisher who delivered the second degree tools and Ian Smith those of the first degree. David Bishop provided the address to the master, Colin Preston gave the address to the wardens and Philip Gunning gave the address to the brethren of the lodge.
At the conclusion of the installation ceremony, Philip Gunning was presented with cheques for charity totalling £850. The lodge gifted £250 to the West Lancashire Freemasons' Charity, £250 to Derian House Children's Hospice, £250 to St Catherine's Hospice and £100 to Northwest Blood Bikes.
Other esteemed guests were Peter Lockett, Stewart Seddon, Paul Renton, Chris Blackwell, Ken Shaw, group chairman Peter Allen, group vice chairman David Bishop, group treasurer Colin Preston and other Provincial grand officers.
The festive board was full of brotherly love and appreciation for each other as Freemasons. It's safe to say that Phoenix Lodge of Installed Masters is a well-attended and loved lodge by those who visit.