The brethren and guests of Lodge of Tranquillity No 3877 gathered in the Geoffrey Hirst Masonic Suite within Woolton Golf Club to celebrate the golden jubilee of William Martin.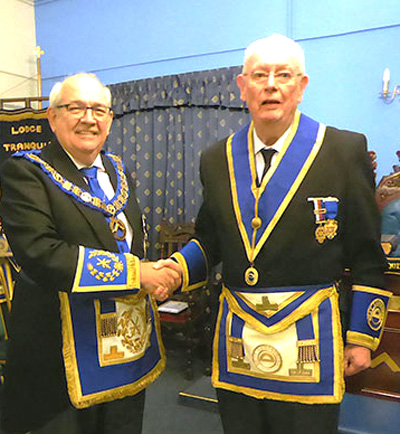 There were some last-minute changes as Assistant Provincial Grand Master Andy Whittle was unable to attend and had, at very short notice, asked the Deputy Provincial Grand Master Philip Gunning to deputise for him.
WM Alan Routledge opened the lodge in due form and then proceeded upwards to the third degree so that the Deputy Provincial Grand Master Philip Gunning could be admitted, accompanied by group chairman John Murphy, Provincial Deputy Grand Director of Ceremonies Arthur Cregeen, Provincial Assistant Grand Director of Ceremonies David Boyes and other acting Provincial grand officers.
Philip was warmly welcomed by the WM who offered Philip the gavel of the lodge. On this occasion Philip warmly welcomed receiving the gavel and took the chair of King Solomon so that the celebrations could continue. Philip closed the lodge to the first degree and requested that the tyler be invited to tyle from inside the lodge.
Once Bill Martin had been seated on a chair placed in the floor of the lodge and been made comfortable Philip started to recount some of Bill's life story to the brethren. It all began in Liverpool in April 1936 when Bill was born at the Royal Hospital, Oxford Street; the family were living in Forfar Road in Tuebrook at the time. Bill's father was a captain in the Merchant Navy and sailed out of Swansea.

1936 was the year that saw the completion of the Hoover Dam; King George VI died and was succeeded by King Edward VIII; Billy Butlin opened his first holiday camp in Skegness and storm clouds were gathering over Europe when Hitler began increasing his political and military might. Some very famous people were born that year; the singers Buddy Holly, Englebert Humperdinck and Roy Orbison; Burt Reynolds the actor, Mary Tyler Moore the actress and, most importantly of all, William Martin in April 1936 in the Royal Hospital, Oxford Street, Liverpool.
The family eventually moved to Swansea but Bill and his brother were only there a short time before they were evacuated to a very small village in South Wales called Llanpumsaint. Bill recalls that the village was so small it only had one shop but had a church and a chapel. Bill was billeted at a small farm run by a lovely lady whilst his brother was at another farm just up the road. The brethren were amazed to discover that Bill spoke Welsh.
At the end of the war the family moved back to Liverpool where Bill continued his schooling and he remembers that he was not readily accepted by the other children because he spoke Welsh; Bill's fiery red hair however saw him and his brother through.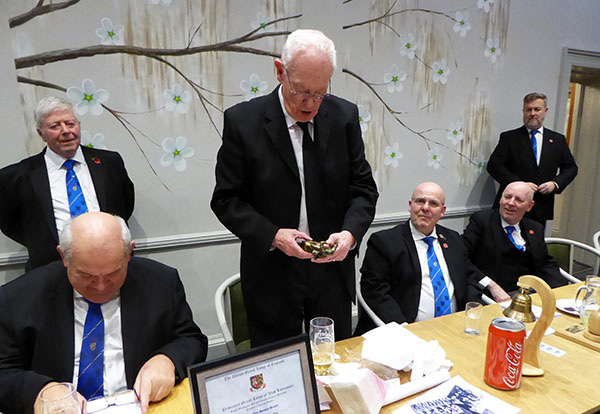 Unfortunately Bill's father was killed in a motor bike accident while on leave only months after returning from Swansea. This saw the family moving to Knotty Ash and Bill continuing his education at Maidford Road Junior School before moving to Finch Hall Seniors.
Bill openly admits that he was not the brightest lad at school but he managed to secure a job in a stockbrokers' office in Liverpool where he soon managed to calculate share prices. Bill was called to National Service in 1952 and joined the Royal Army Medical Corps as a regimental policeman, then the fire NCO at the Royal Victoria Hospital in Southampton. On leaving National Service Bill resumed his employment with a previous employer and soon he moved on to work with R P Houston & Co, shipping freight.
In 1959 Bill married Rose who he had met while attending Billy Martin's Dance School and they achieved the gold medal whilst also performing in formation dancing. Following their marriage they moved to Aigburth where they had two children and now have four grandchildren.
After the firm closed, Bill worked for the Cunard Line prior to joining the Harrison Line and later Head Line where he met Alan Henry who later joined Lodge of Tranquillity.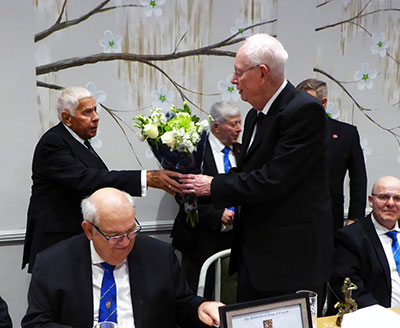 In 1967 Bill moved the family to Ormskirk and upon retiring in 1999, Rose and Bill joined Westhead Bridge Club and still play every week. Bill won the President's Golf Trophy; he sang in the Aughton Male Voice Choir which took him to Germany, France, Belgium and Holland.
Bill's Masonic career began in April 1970, being initiated into Lodge of Tranquillity, passed in March 1971 and raised in December 1971. He became WM in October 1981 and went back into the chair again in 1993. Over the years Bill held many offices within the lodge and received his first Provincial appointment to Past Provincial Senior Grand Deacon in May 1992 and then promoted to Past Provincial Grand Superintendent of Works in 2000. He was exalted into Ormskirk Priory Chapter No 4007 in November 1985, becoming first principal in 1996.
This is only a snapshot of a family man who enjoys his Freemasonry. The Provincial Grand Master Tony Harrison caused a certificate to be struck to mark the momentous occasion and John Murphy had the pleasure of reading it to the lodge prior to Philip handing it to Bill.
The WM was asked to resume his chair and then presented a cheque to Philip for £100 for the West Lancashire Freemasons' Charity. After the lodge had been duly closed, the brethren retired to the dining room to continue the celebrations where Alan Sale had the privilege of delivering the toast to Bill and then presenting him with a gift from the lodge – a bronze statue of a golfer.