After not being able to meet for some time due to the lockdown, the members and guests of Lodge of Tranquillity No 3877 met at the Geoffrey Hirst Suite within Woolton Golf Club to hold their installation meeting, their first meeting since the lockdown restrictions had been lifted
The director of ceremonies David Boyes requested the brethren to stand to receive the WM Alan Routledge and his wardens.

After the lodge was opened in the first degree, the secretary read the dispensation for a change of date for the meeting, along with the dispensation from the Provincial Grand Master Tony Harrison to allow Alan to remain as WM for a further year.
The director of ceremonies retired from the lodge and on his return announced that Howard Griffiths and other grand officers and the two vice chairmen of the group stood outside and sought admission. Howard was warmly welcomed to the lodge.
David Boyes then declared Alan Routledge as master for the ensuing year, along with Stan Povall as treasurer and Tommy Lunt as tyler.
In a very short but dignified ceremony, it continued with Alan appointing and investing his officers. Ian McGovern delivered the address to the senior warden and David Boyes delivered the working tools, a new boxed set which had been purchased after a bequest from Bill Walton who had been the lodge's master in 2007. Les Cutting delivered the address to the wardens and Howard Griffiths gave the address to the brethren.
David Boyes informed Alan that the ceremony of installation was concluded, which prompted Howard to rise and convey the greetings and best wishes from the Provincial Grand Master.
Alan had great pleasure in presenting a cheque for £200 to Howard who thanked the lodge members for their generosity, saying that those who we will never know will benefit greatly from the charity.
The director of ceremonies formed the procession for the guests to retire, after which the lodge conducted some private business and the brethren then adjourned to the dining room for the festive board, during which a raffle was held raising the sum of £120.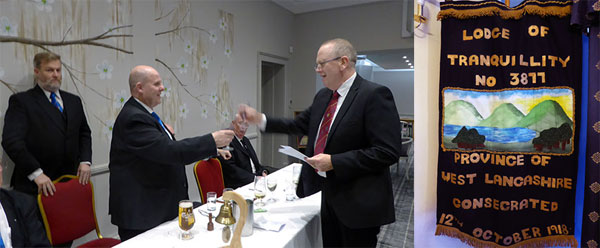 After an excellent meal Howard responded to the toast to his health and informed the brethren that there were a couple of messages from Tony Harrison. The first was to inform everyone that over 250 men were awaiting their initiation and this was a positive step forward for the Province. Howard, again, congratulated the WM and those who had assisted in the ceremony and went on to inform the brethren that the director of ceremonies David Boyes was to be made an Assistant Provincial Grand Director of Ceremonies.
David Woods sang the 'master's song' with relish and a thoroughly enjoyable evening was had by all.
Article and pictures by Colin Roberts.