The brethren of Leyland Hesketh Lodge No 986 decided that Jonathan Measures had done such a good job in his first year as master of the lodge that he should be asked to complete a second term. So it was that at the 2023 annual ceremony of installation, Jonathan was proclaimed master for the coming year.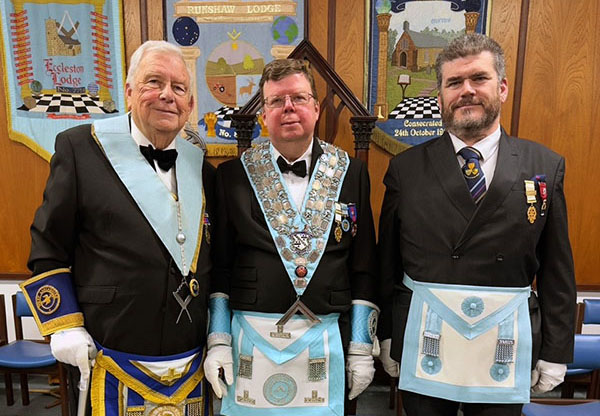 Before this however, Jonathan conducted the usual opening business of the lodge, after which it was announced that the representative of the Provincial Grand Master Mark Matthews sought admission to the lodge.
The brethren were pleased to welcome Provincial Senior Grand Warden Chris Taylor who was accompanied by the Vice Chairman of the Chorley and Leyland Group Dave Bishop and Treasurer of the Chorley and Leyland Group Colin Preston.
Also in attendance was a visitor from 'out of town' in the person of Bryan Harvey, Provincial Senior Warden in the Province of Stirlingshire and master of Lodge Ancient Stirling No 30. Bryan was accompanied on his visit from north of the border by his son Colin, also from Lodge Ancient Stirling and Stuart Brown from Lodge Kilsyth St John No 39, a frequent visitor in the past.
Another guest from further afield which made Jonathan's evening even more special was the presence of his cousin David Escott-Price of Old Monktonians' Lodge No 8938 in the Province of South Wales.
Once the principal guest had given greetings and all were comfortably seated, the director of ceremonies, Derek Alty proceeded with the main order of business and proclaimed Jonathan master for the ensuing year. This was followed by three excellent presentations of the working tools by members of the lodge. Jonathan then proceeded to appoint his officers, after which he was delighted to ask Chris if he would accept on behalf of the recipients, two charity donations made by the lodge of £250 each in favour of St Catherine's Hospice and Teddies for Loving Care.
The remaining business was then concluded and everyone retired to the less formal surroundings of the dining room to receive an excellent meal.  Responding to the toast to his health, Chris treated everyone to a selection of his best jokes before Jonathan was regaled with the master's song by Brian Flynn of Farington Lodge No 7277. As always, during the festive board old friends were able to catch up and new friendships were made.