Hesketh Chapter No 986 began life in their temporary home at Chorley Masonic Hall in celebratory style by recognising Jon Measures reaching his golden jubilee in Royal Arch Masonry. The chapter has relocated to Chorley following the closure of Wellington Park in Leyland and the companions were delighted to mark the occasion with a convocation whose business centred around Jon completing 50 years in chapter. The chapter was opened in due and solemn form by the three principals, Neal Atkinson, David Topping with Derek Alty deputising for Jon for the evening.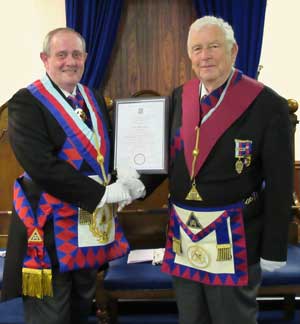 With routine business swiftly dispatched, Bert Bracegirdle the director of ceremonies retired from the chapter and after a short absence returned and announced that Assistant to the Provincial Grand Principals Tony Hall, accompanied by Chris Blackwell, Chairman of the Leyland and District Group of Lodges and Chapters, demanded admission. Tony was welcomed to the chapter by the first principal Neal Atkinson, who promptly offered him the sceptre and chair of the first principal, which Tony was more than happy to accept.
Asking that the janitor be invited into the chapter and with Jon now sat comfortably before him, Tony asked all the companions: "Are you sitting comfortably? Then I'll begin." In reference to a radio programme that would be fondly remembered by many of the older companions.
Tony began by recounting some notable events from the year of Jon's birth, 1936. Edward VIII becomes Great Britain's ruling Monarch in January until his abdication in December. The Queen Mary leaves Southampton on her maiden voyage across the Atlantic. Billy Butlin opens his first holiday camp at Skegness.  A list of famous people born the same year, included, Burt Reynolds, Ursulla Andress, Buddy Holly, Roy Orbison, Tommy Steele and Alan Alda. But the most important birthday of that year took place in Selhurst, Croydon on 2 May, when Connie and John Measures became the proud parents of a bouncing baby boy whom they named Jon.
Jon was brought up with two sisters, both of whom are sadly no longer with us. War came to Britain in 1939 resulting in Jon's education becoming somewhat fragmented, with most schools in and around London being requisitioned for military and other essential services. When the air raids started the family moved to West Molesey where Jon resumed school – but not for long. He was evacuated to Leicestershire where he lived with his grandparents.
When the war ended in 1945 Jon moved to Catford where he finished primary education and moved on to secondary school coming away with six school certificates. On leaving school at the age of 16 he started work as a Junior Audit Clerk with Peat, Marwick and Mitchell (now KPMG). Jon had told Tony that he did a fair bit of fetching and carrying, delivering letters and generally being at the beck and call of Sir Harry Peat and his son, Henry.
There were benefits though and on one occasion Jon was given a writ to deliver and was allowed to do so in the company Rolls Royce. Every three months he also had to do the 'Diamond Count' in Hatton Garden! Jon eventually moved into the audit department and one day the manager of that department took him to the Savoy so that he could observe and understand the protocol. He subsequently discovered later on that his host was in fact a Scottish Mason.
In 1954 Jon was called up for National Service and joined the Royal Air Force, training to become an Air Radar Mechanic on the Meteor fighter jet. He was a member of 25 and 153 Squadrons, based at RAF West Malling near Maidstone in Kent. Jon ended his service career by being transferred to Washington Hall in Chorley, where he was trained as a pump operator and ended up driving a 'Green Goddess' fire engine.
Whilst he was based at Chorley Jon had a great time and would often go camping in Blackpool. He enjoyed going dancing at the Winter Gardens and one night in 1960, he met a young lady called Jean Birch. This meeting was to change his life in more ways than one! Jean introduced Jon to a National Cash Register salesman and an interview for a vacant post soon followed. Jon got the job and by pure coincidence, the regional director was the very same person that he had got to know so well during his time at Peat, Marwick and Mitchell.
Jon and Jean were married on 30 March 1963 and had three children, Jonathan, Paul and Jane. In those days there was great competition between salesmen in large companies with significant rewards for the most successful. In 1965 Jon won his first annual sales contest and his reward was a trip to Athens. Over the years he won numerous annual sales contests and visited many places throughout the world – Santiago, Yucatan, Mexico City, Columbia, Peru (twice), America, Hawaii, Zagreb, Dubrovnik and Belgrade to name but a few.
1966 was another important date in Jon's story as it was the year in which he transferred, through work, to Jamaica and in 1968, whilst in Jamaica, Jon was initiated into Phoenix Lodge No 914. having been referred by Queen Alexandra Lodge No 2932. He was passed to the second degree on 15 October 1968 and raised to the degree of Master Mason on 20 May 1969. Jon joined Croydon Lodge of Achievement No 8554 (Surrey) in 1975 and was installed as WM of that Lodge for the first time in 1985. He was installed as WM of that lodge on three further occasions, the last being in 2017.
Jon joined Richard, Earl of Shannon Lodge No 8297 (Surrey) in 1993, Leyland Hesketh Lodge No 986 in 2002 and Phoenix Lodge of Installed Masters No 9206 in 2007. He was installed as WM of Leyland Hesketh Lodge in 2011. Jon's service and commitment to the Craft was recognised in the Province of Surrey in 1993 when he was appointed to the acting rank of PrGStwd. In 1995 Jon was promoted to PPrAGReg, with a further promotion to PPrDepGReg in 2002. He was subsequently promoted to PPrGReg in 2010 and in June 2018 was further promoted to the very high rank of PPrJGW.
In the Province of West Lancashire Jon was appointed to the Care Team in 2017 as the Administration and Public Relations Care Officer with special responsibility of monitoring widows from other Provinces, the compilation of a list of all West Lancashire widows and the Provincial Supply Officer. Jon was appointed to the rank of PPrSGD at the meeting of Provincial Grand Lodge in April 2019. Jon's celebration of 50 years in the Craft took place in 2018.
Moving on to the Royal Arch, Jon was exalted into Phoenix Chapter No 914 in Jamaica on 16 May 1969. He joined Croydon Commemoration Chapter No 5578 (Surrey) on 24 November 1982 and was installed as first principal of that chapter for the first time in 1991. Jon was installed as first principal of that chapter on two further occasions, in 2001 and in 2006.
Jon was appointed to the office of ADC of the Chapter in 2008, an office which he still holds. He became a member of Surrey Provincial Stewards' Chapter No 8297 on 19 November 1993 and was installed as third principal in 1998, second principal in 1999 and first principal in 2000. Jon joined East Surrey First Principals' Chapter No 5888 on 29 April 1995 and became a member of Hesketh Chapter No 986 on 8 March 2005. Jon was appointed to the office of ADC of the chapter in 2018.
Tony remarked that he had the pleasure of seeing Jon installed as third principal in January 2019. Jon's service and commitment to the Royal Arch was recognised in the Province of Surrey in 1997 when Jon was appointed to the rank of PPrAGSoj. In 2002 Jon was promoted to the rank of PPrDepGReg, with a further promotion to the very high Rank of PPrGSN in 2007. Jon is also are a member of a number of other Masonic Orders.
Tony concluded by remarking that Jon has been to places and done things in his life that most people can only dream of, and thoroughly enjoyed it all! He went on to advise Jon that the Grand Superintendent Tony Harrison was aware that he was celebrating 50 years as a Royal Arch Mason this evening and that he had asked him to convey his very warmest congratulations and good wishes. Tony said that he felt sure that every companion present at the celebration would agree that as a husband, a father, a man and a Mason, Jon is an example to all. That his life's work both inside and outside of Freemasonry are a testament to a Freemason in the truest sense, a gentleman in the truest sense and a gentle man in the truest sense.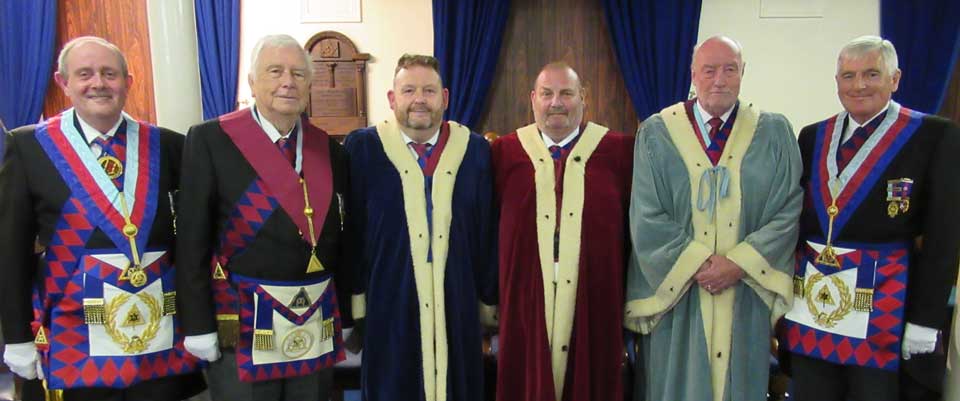 Following Tony's address, the Leyland Group Chairman, Chris Blackwell, presented Jon with a commemorative certificate in recognition of his 50-year milestone. With the principle order of business concluded, the remaining chapter business was duly executed in efficient style before everyone retired to a most enjoyable festive board to continue to share stories and memories with Jon and round off a memorable and most enjoyable evening.