In every lodge and chapter there are moments of sadness when one of their number passes to higher service. For Ashton Trinity Chapter No 8821 it was especially poignant when that passing was of its first principal's, Geoffrey Sheppard. Geoff, as he was known, had his difficulties over the last years, and had been in and out of hospital, but he never lost faith, or his ambition to take his place at the head of this prestigious chapter. It was, therefore, a very special event at the Bryn Masonic Hall, 12 months ago, when, against the odds, Geoff was installed as first principal.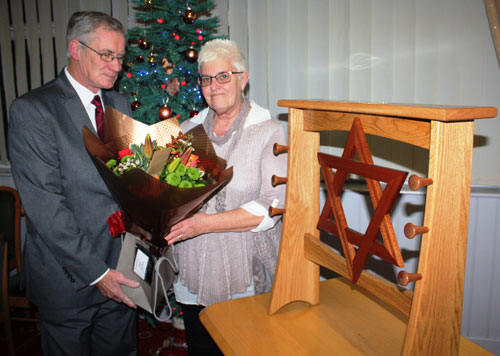 Geoff had served every office following several years as a steward. That installation was the last Masonic meeting that Geoff was to attend as his condition got the better of him. Following his retirement, Geoff had taken up woodworking as a hobby. His pet hate in chapter was seeing the sceptres placed on the floor at the closing and being unceremoniously pushed or kicked out of the way. He always said that, using his newfound hobby, he would make a suitable stand so that the sceptres could be securely stored away with dignity at the end of proceedings.
Unfortunately, time wouldn't allow it, so it was decided that the chapter would commission the construction of a suitable piece of furniture. It was in a chance conversation by the DC with David Harrison following the Supreme Grand Chapter meeting that it was discovered that he had previously constructed such a stand, and he duly obliged.
Next came the installation meeting of the chapter. Before proceedings commenced Geoff's, widow Evelyn was invited to Bryn Masonic Hall for a short presentation and to see the sceptre stand, together with the its plate in memory of her husband. Evelyn was delighted by the gesture, and before being taken for a meal by some of the members' partners, she was given a bouquet of flowers. Although emotional, it was reassuring to her to know that would be a lasting memorial to Geoff in the chapter he loved so much.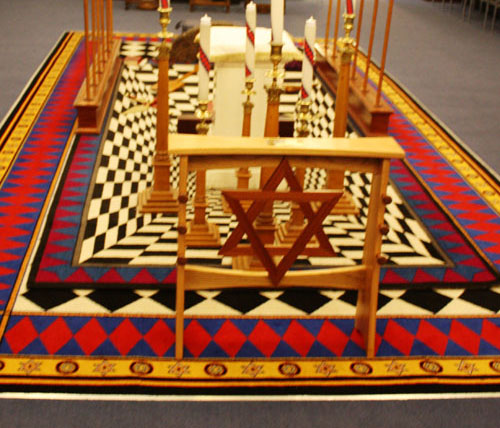 The installation then took place. The chapter was honoured by the presence of Barry Jameson, Past Second Provincial Grand Principal, as the principal guest. Barry had been due to attend as Second Provincial Grand Principal, but despite his retirement to take the post of Assistant Provincial Grand Master in Craft, he was keen to attend. Barry witnessed a wonderful ceremony.
Ashton Trinity is a very strong chapter, with over 60 members, a healthy stewards list, and progression through all the offices before reaching the chairs. It was, therefore, a full installation ceremony, led by Tony Simms, who has covered the duties of first principal as a stand in all year. Tony installed Bill Petterson into the first principal's chair, who then went on to promote David Brogan to second principal. David, assisted by ever helpful Kelvin Taylor, then went on to install Andrew Dobie as third principal. As is normal in Ashton Trinity Chapter, all three Principals have progressed through each and every office in chapter to reach their current status, and on every occasion, have performed their duties in what can only be described as an excellent manner.
Junior members of the chapter also took part in the ceremony, with readings and prayers by Garry Rowland, Geoff Whittle, Darran Gandy, Chris Williams, Arthur Brewer and John Tabern. The more experienced John Parrott, David Ogden and John Murphy delivered the three robe addresses. Bill went on to appoint and invest the officers for the ensuing year, with Tony Simms at long last out of the chair, continuing the role of charity steward and Festival representative.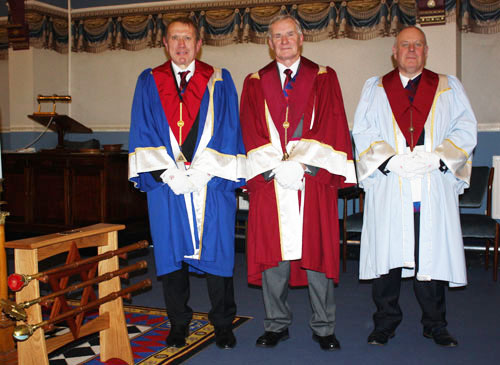 Following the ceremony, Barry was delighted to bring greetings from the Grand Superintendent Tony Harrison and commented on the excellence of the installation ceremony. He congratulated all those who had taken part, and thanked those taking office, particularly Tony Simms for the manner in which he had installed Bill and for his hard work over the last few years. It is at this point that Barry was pleased to receive from Bill, donations firstly in favour of the Masonic Hall for £200 and a donation to the MCF Festival for £800. The chapter is already a Grand Patron of the festival, but are keen to keep the momentum going and contribute as much as possible to that worthy cause.
A wonderful festive board followed held in a very friendly atmosphere, with the usual wine taking and toasts. One of the traditions of the chapter is to honour the founders, one of whom, Alan Slater, was present and received acclamation with enthusiasm from the companions, who had been treated to a very enjoyable evening. At the appropriate time, Barry responded to the toast to Supreme Grand Chapter, and brought his own personal congratulations to the principals, and to all the officers and companions that took part.
He spoke with a smile on his face as he expressed his gratitude for being able to witness a good ceremony totally enhanced by the happy nature of the event both in the chapter and at the festive board. He also took time to thank the scribe Ezra David Whitmore, DC Barry Dickinson and acting Provincial grand officers Alan Johnston, Bernard Snape and Tony Simms.
The companions kicked off this year's charitable efforts with a Dutch auction for whisky, raising over £200. At the end of the evening, and as the distinguished guests were about to retire, Bill had the pleasant task of presenting Barry with a bouquet of flowers. A great time was had by all, who are looking forward to supporting Bill Petterson, in his new office, with what will be another busy year with already a list of candidates for exaltation.