The brethren of Carnforth Lodge No 4951 were honoured by the presence of the Assistant Provincial Grand Master Keith Kemp for the propitious occasion of celebrating Maurice Townley's 60 years as a Freemason. Keith was joined by the Lancaster and District Group Chairman Neil McGill as well as group vice chairman Scott Devine and group secretary Chris Larder. In addition grand officer Jim Wilson and Provincial Junior Grand Deacon Paul Mason were also present, the whole ensemble being skilfully orchestrated by Assistant to the Provincial Grand Director of Ceremonies Ryan Modlin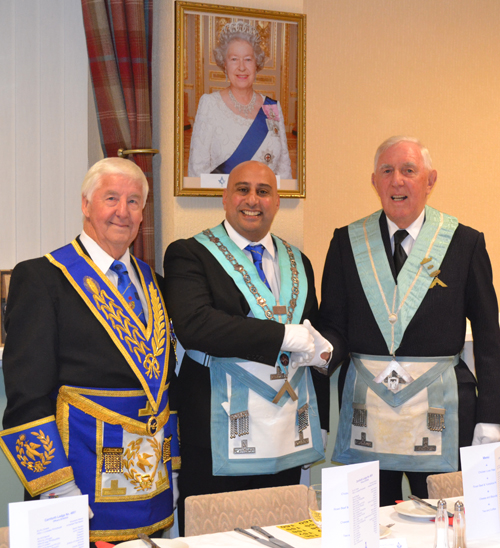 Having accepted the gavel of the lodge from the WM Matt Kneale, Keith began his address by outlining the historical events of 1959, the year Maurice was initiated into Carnforth Lodge. In 1959 the average cost of a house in the North West was £2077, the average salary £535, the price of an average car £780. The price of a loaf of bread was £0.07p and the price of a pint of milk was £0.13p.
A huge step was taken towards world peace in 1959 when Russia's President, Nikita Khrushchev agreed to reopen diplomatic relationships with the United States. He toured the country and met with President Eisenhower at Camp David.
Meanwhile, with the addition of Hawaii and Alaska, the number of US states swelled from 48 to the current 50 and West Germany became the first country to introduce a five-day working week.
Having completed this section of his address Keith asked for the celebrant to be placed before him. After making sure Maurice was sitting comfortable and could hear him clearly, Keith embarked on an absorbing and informative reflection on Maurice's personal, professional and Masonic life. A transcript of Keith's address can be found by clicking here.
On the conclusion of his address Keith asked the group chairman Neil McGill to read the commemorative certificate which the Provincial Grand Master Tony Harrison had caused to be issued, after which Keith presented the certificate to Maurice.
On conclusion, Keith thanked Maurice for all that he had done and wished him good health, saying that 'yours is a story of commitment to Carnforth Lodge' and you truly deserve this honour.
In reply, Maurice revealed that the PrGM Tony Harrison had phoned him this morning at home to wish him a happy evening. Maurice ended by saying 'and yes I certainly have'.
Before retiring from the lodge room, Jim Wilson rose to say how delighted he was to witness the events this evening and revealed that Maurice's father had been his proposer into Masonry.
The lodge being duly closed, the brethren retired to the festive board held at Carnforth Masonic Hall.

Article and photographs by Paul Thompson.