Our Grand Master, HRH the Duke of Kent, was so impressed with the way Freemasons had so selflessly gone out of their way during the COVID-19 pandemic to help and support local communities that he decided to recognise individual efforts by the presentation of a special commendation certificate.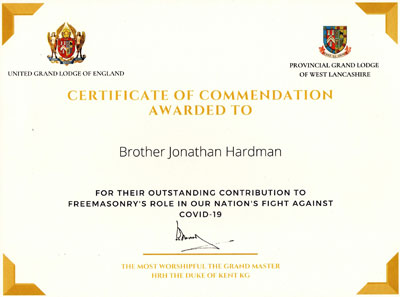 Many Freemasons across the Province have done many wonderful things, but nine of our number were singled out for this special award. Ezra McGowan, Wayne Devlin, James Corcoran, Darren Busby, Keith Schmechel, Liam Hayward, Adam Lindop, Jonathan Boriss and Jonathan Hardman were the proud recipients of a letter and certificate from the Grand Master, which came as a great surprise, arriving without any clue or warning, through the letterbox, just like 'those' unannounced letters from Province.
In his letter, the Grand Master recognised the challenge that the pandemic had raised with many of our members and the people in our communities, needing extra assistance and support. Freemasonry had played its part, and he sent his personal appreciation to each of our nine brethren for their contribution. Symbolic of the good deeds around the Province, each of these awards exemplify individuals who display the qualities of all that is good in Freemasonry.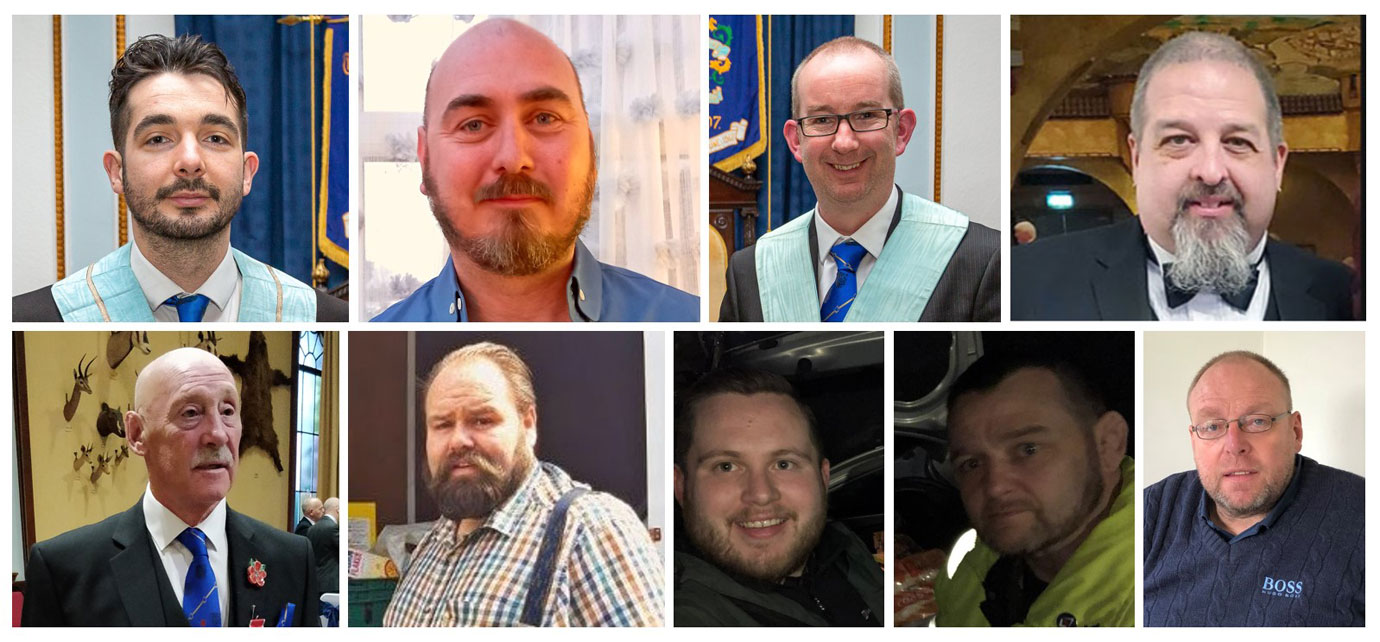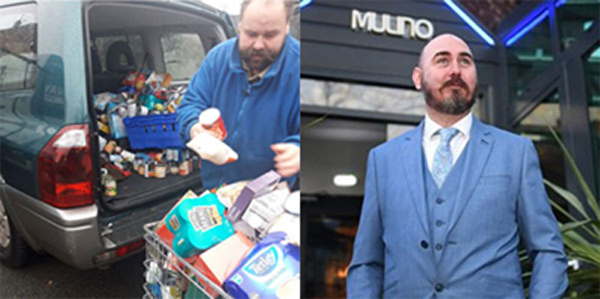 Ezra McGowan from Hand and Heart Lodge No 4109 and Wayne Devlin of Flixton Lodge No 4869 are no strangers to awards, having previously been recognised for their work in and around the Urmston area by the certificate from Sheriff of Manchester. Collecting food and supplying food banks has only been part of their efforts. Ezra has worked tirelessly for the Rainbow Trust, a charity he founded for the homeless and vulnerable and Wayne has also used his talents as an entertainer to cheer up the isolated and vulnerable, as well as raising a staggering amount for charity through a 24-hour 'Swing-a-thon'.
James Corcoran, of Lodge of Harmony No 220 is the Festival Representative for the Woolton and Garston Group. He has this uncanny knack for obtaining signed football memorabilia and other valuable gems guaranteed to raise a few bob which he generously donates to fundraising events throughout the Province. His sterling contribution during the pandemic was to help our NHS by sponsoring a group of ladies to make over 1,500 sets of scrubs,1,500 scrub bags,1,000 theatre gowns and head bands, at a time when these were really at a premium and so much needed. Hospitals at Warrington, Whiston, Aintree, the Walton Trauma Centre as well as care homes and hospices throughout our region were all beneficiaries.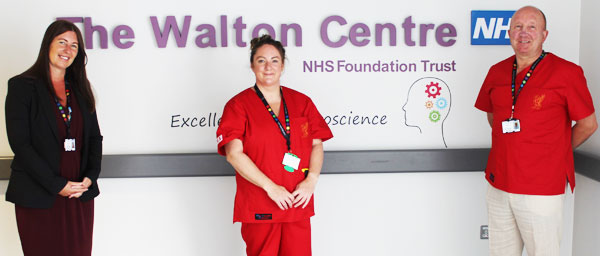 Adam Lindop and Liam Hayward are young members of the University Lodge of Liverpool No 4274. They were founders of the Masonic Assistance Team, a multi-lodge team set up to assist vulnerable people in the community with shopping, prescriptions and other tasks during the period of the COVID-19 lockdowns. Adam went on to introduce the Homeless Initiative with Liam as a volunteer, which is the current focus of the Masonic Assistance Team. It involves cooking food and delivering it homeless people in Liverpool, taking to the streets finding the homeless and vulnerable, and feeding them.
Jonathan Hardman from Ansdell Lodge No 3607 is a professional photographer and lockdown 2020 saw him initially taking 'doorstep photos' of families in the local community. All for free, but in exchange for a donation to the local food banks. This proved very popular, and they collected enough food for almost 250 family meals. Along with Jonathan Boriss of Quadrant Lodge No 8044 they also worked with local primary schools producing 'virtual' leavers photos for those children leaving primary school that year.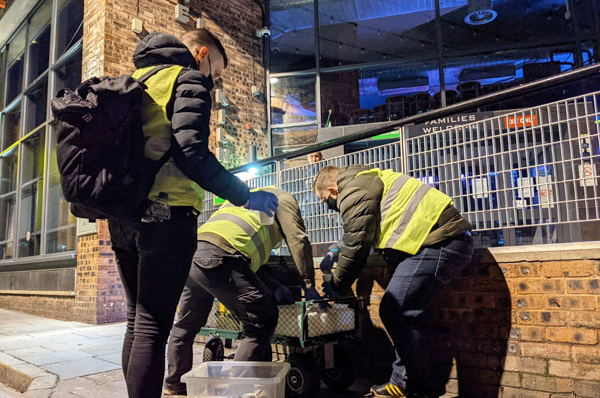 They photographed each child individually and stitched the images together to create something special and unique for them. Again, proving ridiculously popular, and saw them in dozens of schools across the Fylde. They also started orchestrating and hosting online events for brethren around West Lancashire and pushed hard to create as many interesting events as they could, (and called in as many favours as they could to get the best raffle prizes), which involved quiz nights, raffles etc, all in aid of the MCF and Blue Skies Hospital.
The generosity was amazing, with over £1,500 being raised initially. The online events continued though with the grand total to date far more. Both were also active members of the South Fylde Group COVID-19 Task Force, running errands and generally helping brethren across the South Fylde with anything they needed.
When Darren Busby, of Brotherhood Lodge No 3967, together with a group of friends, learned of the shortage of personal protection equipment (PPE) following the outbreak of the coronavirus, they decided to do something about it. Darren, a graphic designer by profession, rather than make a donation, bought himself a 3D printer and started to produce face visors. In those early stages of the pandemic, there was a real urgency for PPE. Together, they used their newly acquired 3D printers to make face shields for frontline workers including NHS workers, care home staff and shop workers and those unable to isolate due to work commitments. Throughout the pandemic, Darren and his friends have manufactured almost 4,000 face shields, donating them free of charge to those requesting them throughout the North West.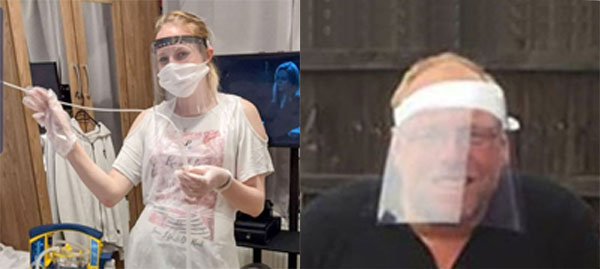 Keith Schmechel from Orrell Lodge No 8371 was already working from his converted double garage at his home in Wigan on a not-for-profit basis producing products which he gifted to various charities. When the unprecedented demand for face masks and visors appeared overnight at the beginning of April 2020, it didn't take Keith long to design and begin production of 100s of them to distribute to the NHS. Both Keith and his wife Sue wanted to help and it was fortunate that they were in a position to use his laser cutter and embroidery machines to assist to meet the urgent demand. Keith provided both visors and scrubs and expanded his production to protective screens, in fact, anything that local NHS and carers required.