Celebrations recognising either 50 or 60 years in Freemasonry are quite rare but celebrating 60 years as a Royal Arch companion is the rarest event of them all.  It is therefore quite fitting that Anthony Tallon's celebration was one that was meticulously planned and quite unique in presentation; a celebration to remember for a long time to come.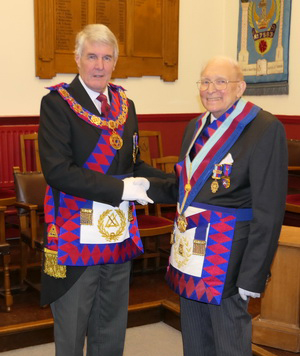 As everyone made their way into the chapter room the first thing they noticed was that the layout was different: on the south side was a large screen and projector so clearly this meeting was going to be one with a difference.
The meeting started with the appointment of officers for the ensuing year. At this point Barrie Crossley who was acting Provincial Grand Director of Ceremonies entered. He announced that waiting outside was the Deputy Grand Superintendent Paul Renton who was demanding admission. Paul was admitted and made welcome and he accepted the sceptre and occupied the first principal's chair.
Paul was accompanied by several distinguished guests including Paul's assistant Colin Rowling who took his place in the south, conveniently placing himself next to the projector. Tony (as Anthony Tallon prefers to be called) was made comfortable and, with everyone in place, the celebration began.  What followed was a combination of PowerPoint slides, music and a commentary provided by Paul.
It was in July 1934 that Tony entered this world. His parents William and Milly had three children of whom Tony was the youngest. His elder brother Frank and sister Audrey lived in the family home in Washway Road, Sale. Also born in that year were Giorgio Armani, Tom Baker (Dr Who), Dame Judi Dench, Marty Feldman (who shared Tony's birthday), Yuri Gagarin (first person in space), Sophia Loren and Dame Maggie Smith.
At this point Paul played snippets from 10 songs that were popular in 1934, with Colin revealing the artists one at a time on the screen.  Names included Benny Goodman (Moon Glow), Duke Ellington (Cocktails for Two) and Bing Crosby (June in January). He also gave us some interesting insights into what things were worth in 1934: The average house cost £486, the average price of a car was £300, a loaf of bread £0.01, a pint of milk £0.05 and a pint of beer £0.05.  As Paul with some pleasure eloquently explained: "You could get 20 pints of beer for a £1 or indeed get well-oiled for just a 10-bob note in 1934!"
Two years later the family returned to Widnes where Tony's father ran his own building firm. Tony's early school years were completed at Warrington Road Primary School before moving to Fairfield Secondary School in 1945. His parents were blessed with another child, a sister for Tony, and she was named Susan Margaret. One year later the family all moved abroad to Singapore where Tony's father was supervising rebuilding work following the surrender of the Japanese army. He continued his education for two years on the RAF station at Changi, now better known as Singapore International Airport. In 1948 he returned to his home in Widnes to finish his schooling before getting his first job, a Junior Clerk with British Rail in Widnes.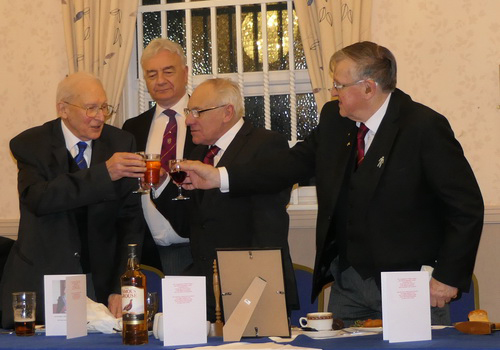 In 1952 Tony was called up to complete his National Service and, on returning to civvy street, studied hard before taking a career change and joining the National Health Service in 1959.  This career lasted 40 years with Tony finishing as a fully qualified Personnel Manager at Whiston Hospital.
Not wishing to remain idle after retirement he became the Manager of St Bartholomew's Court Nursing Home, remaining on the Board as Company Secretary until 2016.  He also became a Magistrate in 1990 and served until his retirement from the Bench at 70.
Tony's Masonic career started in November 1956 when both he and his brother Frank were initiated into Victoria Lodge No 4629, in the presence of their father. Some three years later Tony was exalted in a double exaltation ceremony in the Widnes Chapter No 2819. That was the start of a long, varied and successful Masonic career.
Paul then went back to 1959, the start of Tony's professional life in the NHS. He gave everyone a glimpse of the past by playing tunes from that year and at that point the celebration turned into a musical participation session!  This time a lot more of the songs were recognised with the guests singing along to most of the music clips which included Mac the Knife (Bobby Darin), Living Doll (Cliff Richard), Oh Carol (Neil Sedaka). The testing of memories did not stop there, next followed some quiz-type questions on 1959 TV theme tunes; these included Juke Box Jury and Bonanza.
The cost of living in 1959 meant that the average house price was £2,077 (£486 in 1934). The average car cost £780 (£300 in 1934), a litre of petrol cost £0.05 (£0.02 in 1934), a loaf of bread £0.05 (£0.01 in 1934), a pint of milk £0.13 (£0.05 in 1934) and a pint of beer £0.07½ (£0.05 in 1934). This time one could only buy 13.5 pints for a pound!
In May 1978 Tony became the first principal of Widnes Chapter, also serving the chapter as their charity representative for over 20 years.  This was an opportunity for Paul and Colin to treat the chapter with yet more tunes to guess. This time everyone was singing along at full volume!  Songs from 1978 included Rivers of Babylon (Boney M), Night Fever (Bee Gees), Love is in the Air (John Paul Young), If I Can't Have You (Yvonne Elliman) and Let's All Chant (The Michael Zager Band).
Then a few 1978 facts were presented. For example, that year Notts Forest won the Football League first division, Liverpool Cathedral was completed (the foundation stone having been laid in 1904), Anna Ford became the first female newsreader on ITV and inflation reached a six-year low of 8.3%

We then saw how the prices fared in 1978: The average house price was now £11,710 (£2,077 in 1959), the average car cost £2,760 (£780 in 1959), a litre of petrol £0.16 (£0.05 in 1959), a loaf of bread £0.28 (£0.05 in 1959), a pint of milk £0.52 (£0.13 in 1959) and a pint of beer £0.43 (£0.07½ in 1959).  Tragically that meant now only just over two pints of beer could be bought for a pound!
It should be mentioned at this point that all the tunes, the cost of living items and historic facts were revealed in the presentation one line at a time making it great fun for everyone who wanted a few seconds to guess the tunes.
Since 1978 Tony has served in many positions within Freemasonry and its associated other Masonic Orders and gained many promotions as a result of his tireless dedication and good work.  When he was asked what his proudest moments were, without a second thought, said marrying Brenda in St Paul's Church in 1962 and the two sons, John and Peter that followed.
Following the presentation, Widnes Group Chairman Neil Pedder presented Tony with a certificate that reflected his commitment to the Royal Arch over the years. Tony thanked Neil then he thanked Paul Renton and Colin Rowling for bringing the whole presentation to life by way of the interactive media presentation that they had complied. The formal part of the meeting was now concluded and everyone retired to the dining hall to continue the celebration at a very enjoyable festive board.
At the beginning of this report, it was mentioned that Tony Tallon's celebration was one that was meticulously planned and quite unique in presentation; a celebration to remember for a long time to come, and indeed it was.  A lot of effort by a lot of people was put into making the evening a very special occasion for a very special man. Paul and Colin must be congratulated for what by many was perceived to be the presentation of the year; they have set a very high standard for others to follow. Thanks must also go to Neil Pedder and all the members of Widnes Chapter for their involvement, contribution and support. The final thanks must of course go to Tony for all the years of commitment, dedication and hard work that he has put into Freemasonry over the years.