The members of Red Rose of Lancashire Lodge No 9640 came together at Brookfield Hall, Westhoughton to celebrate 50 years in the Craft for one of their brethren, John Waring.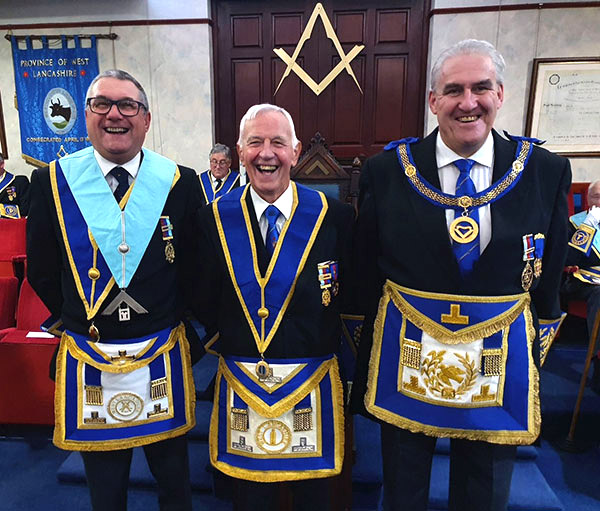 The master's chair was occupied on the occasion by the immediate past master Andy Denton who opened the lodge and welcomed all the visitors. After the initial business matters were completed, the lodge was opened in the second, then third degree, after which it was reported that the Assistant Provincial Grand Master Andy Whittle demanded admission.
Andy, who was accompanied by numerous grand and Provincial grand officers, was greeted by Andy Denton and, as is customary, was offered the master's gavel, which he graciously accepted and proceeded with the next order of business.
With John comfortably seated before the master's chair, Andy began what was an enjoyable and comprehensive review of the celebrant's life story. Andy commenced his address by reminding everyone of the notable events that occurred in 1943 which was of course in the midst of World War II. The US Armed Forces HQ the Pentagon was completed, General Dwight Eisenhower became Supreme Allied Commander, Italy surrendered to the Allies, the Dam Busters raids took place and it was the year of the Battle of Bamber Bridge.
On this last point, Andy then treated everyone to a brief summary of the story of this lesser-known battle, which was an outbreak of racial violence between black and white American servicemen stationed in Bamber Bridge. For more details about the Battle of Bamber Bridge,  you can read about it by

Andy then gave details of some very notable public figures who were born in 1943, such as actors Chevy Chase, Christopher Walken, Ben Kingsley, and Blythe Danner; tennis stars Billie Jean King and Arthur Ashe and chess grand master Bobby Fischer. Of course, this year was also the year that John Waring was born in January in Southport, Lancashire.
John was the second child of Jim and Eileen Waring, his father being a dairyman and his mother a bookkeeper. John had an older sister, Jean who was two when he was born. He started school in 1948 at Norwood Road Primary followed by Meols Cop Secondary and finally Southport Technical College.
From an early age, John had a strong desire to be a police officer and at the age of 16 he joined the Police Cadets at Lancashire Constabulary before, at the age of 18, he signed up as a regular officer. Whilst as a cadet John worked in the plan drawing office, pay office, criminal records office and the accidents department. In 1959 he was fully sworn in and warranted as a police officer and commenced his training at the Police Training Centre at Bruche, Warrington. On completion of his training, he was posted to Seaforth.
John's sporting interests included swimming and water polo and he was soon called up by the Constabulary to play for them. Unfortunately, while representing the force playing water polo he suffered injuries to both his nose and lungs which forced an early retirement from the police on the grounds of ill health. Lancashire Constabulary looked after John though and after he had recovered from his injuries, they employed him in a civilian role working at Headquarters as a draughtsman. After some time, John was considered fit enough to re-join the service and so was sworn in, warranted and trained for a second time.
John met and married his wife Jonne in 1966 and they had two sons, Jan and Jason born in 1969 and 1970.
While working at Widnes Police Station he met the training sergeant Tommy Atkinson. Andy was delighted to mention that Tommy's son David Atkinson was amongst those present for John's celebration.
During the 1970s John was one of the first officers to drive the newly introduced Panda Cars and could often be seen in his Ford Anglia around the streets of Widnes and St Helens. He was promoted to sergeant in 1974 and posted to Halewood and after two years was successful in securing a position at the Lancashire Constabulary Training School as a uniform police duties instructor. This change meant relocation to a police house at Hutton Hall where a third son James was born. James was also amongst those on the night celebrating his Dad's 50 years in Freemasonry.
Promotion to Inspector followed in 1978 in the role of Inspector of Emergency Planning at Constabulary HQ and his responsibilities, amongst others, included control of the overtime budget and planning the visits of political party conferences in Blackpool. During his time at HQ John became acquainted with Inspector Philip Harry Gunning, who was also present and is of course the Deputy Provincial Grand Master.
After a period in charge of the Fulwood section of the Preston division, further promotion to Chief Inspector followed in 1983 with a return to HQ and then another move to front line policing in charge of the St Annes sub division. In 1989 he was seconded to the Department for Trade and Industry as leader of the Preston Crime Prevention Project which ran for two years and saw a substantial decrease in housebreaking and crime in the target areas of the project. In 1992 John took over command of the Preston Division as Acting Superintendent before retiring in 1995 having completed 30 years of service.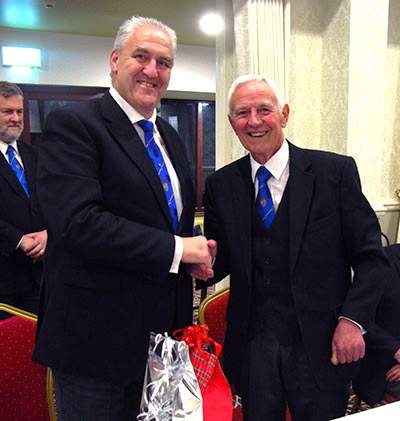 In concluding his detailed account of John's police career, Andy remarked: "There are several members here tonight who served alongside or for John during his police career, and I have not heard a bad report or word said about him. In fact many have said that he was one of the good bosses to work for and a true gentleman."
Retirement brought John the opportunity of travelling extensively and, until the pandemic, he and his partner Doreen would enjoy walking many of the long distance trails in Northern Spain. He is also looking forward to once again being able to visit his eldest son who now lives in Western Australia.
John's love of walking led him to join 'The Bog Trotters', a group of former police officers, and he has completed several of the long-distance national trails around the UK. He is also an accomplished artist and has completed many paintings to such a standard that he has been asked to produce commissions for friends.
Andy then turned to John's Masonic career. John was initiated into Victoria Lodge No 4629 at Widnes Masonic Hall on 18 May 1972 and was raised to master Mason on 20 December 1973. John became master of his lodge in 1983, after which he took on the role of lodge secretary from 1985 until 1994. John also joined Leyland Lodge No 4249 in 1984 and was master in 1994 and again in 2003. The lodge amalgamated with Hesketh Lodge No 986 in 2014 and became Leyland Hesketh Lodge No 986.
In 1987 John was one of the founder members of the Red Rose of Lancashire Lodge No 9640 which was created for members of the Lancashire Constabulary. He served as master of the lodge in 2002 and as lodge almoner from 2013 to 2018. He joined Phoenix Lodge of Installed Masters No 9206 and also served as the Leyland Group Captain of Stewards when the group hosted both Provincial Grand Lodge and Provincial Grand Chapter. He was also group mentor from 2008 to 2015 and group membership officer from 2010 to 2015.
John was recognised by the Province of West Lancashire on 15 October 1992 when he was appointed to the rank of Past Provincial Senior Grand Deacon; then on 23 October 2003 he was promoted to the rank of Past Provincial Grand Superintendent of Works. On 3 April 2019 he was promoted to his current very high rank of Past Provincial Junior Grand Warden.
In the Royal Arch John was exalted into Leyland Chapter No 4249 in 1982 and became first principal in 1996. He served as assistant director of ceremonies for eight years and then a further eight years as director of ceremonies. John was also a founding member of Red Rose of Lancashire Chapter No 9640 in 2003 which is in the Province of East Lancashire. He became first principal in 2004 and is currently serving as the chapter mentor. He also joined Setantia Chapter of First Principals No 7755 in 2006.
John was recognised by the Province of West Lancashire on 20 April 2004 when he was appointed to the rank of Past Provincial Assistant Grand Sojourner; then on 7 April 2010 he was promoted to his current very high rank of Past Provincial Scribe Nehemiah.
In the Province of East Lancashire, he was recognised on 29 March 2007 when he was appointed to the acting rank of Provincial First Assistant Grand Sojourner, an office he held until 2012, when he became a past Provincial First Assistant Grand Sojourner.
After detailing John's Craft and Royal Arch Masonry careers, Andy covered John's progress in other Masonic orders.
Andy concluded by saying: "John, I'm sure I speak on behalf of everybody present that we are absolutely delighted to see you here this evening to celebrate your 50th anniversary as a Freemason and even more so that you have allowed us to celebrate your special evening with you. John, such is the importance of your own golden jubilee that our Provincial Grand Master Tony Harrison has caused a certificate to be struck to mark this wonderful achievement which I shall now ask the Chorley and Leyland Group Vice Chairman David Bishop to read."
After the reading and presentation of the certificate, the remaining business of the lodge was concluded and everyone retired to the relaxed surroundings of the dining room to continue the celebration and share many stories of times recalled from their collective acquaintance of both John and each other. There can be no doubt that the occasion has left John with many lasting happy memories of a wonderful evening in which he was rightly the centre of attention.