Freemasonry includes many professions including phycologists, firemen, tax inspectors, builders along with many more! At the installation meeting of Minerva Lodge No 4002, Iain Beckett a former tax inspector was installed as the WM of Minerva Lodge by Arnold (Arnie) Neale in a delightful ceremony held at Litherland Masonic Hall.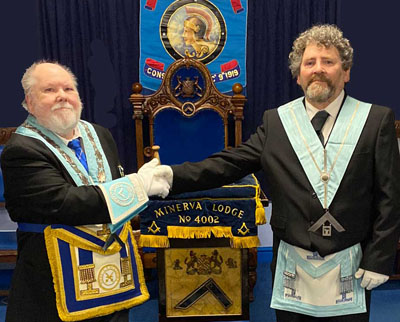 Iain was first installed in the chair of King Solomon in Eureka Lodge No 3763 in 2004, in January 2018 he was installed as WM in King's Lodge No 3101, in 2019 he was installed into the chair of St Luke's Lodge No 6006 and in April 2022 he was installed as WM in Lathom Lodge No 2229.
The lodge meeting and proceedings were considerably enlivened by the presence of a number of guests. The ceremony commenced with the arrival into the temple of the principal guest, Chairman of Mersey Valley Group John Murphy, the representative of the Provincial Grand Master Mark Matthews.
John was accompanied by Graham Chambers, Chairman of the Ormskirk and Bootle Group. He was preceded by deacons of the lodge and accompanied by Derek Midgley, Ormskirk and Bootle Group Vice Chairman and Stephen Dunn, Provincial Senior Grand Deacon.
The installation ceremony was conducted by Arnie in a sincere manner. Before Iain was presented, Arnie asked Colin Berrington to remain as senior warden, Justin Lewis took the office of installing junior warden and Robert Farmer remained as inner guard.
Notable highlights of the ceremony included the presentation of the second degree working tools, given word perfectly by Liam Thomas. Gordon Farmer presented the third and first degree working tools. The address to the stewards was given by Gary Thornhill. The address to the WM was given by Colin Berrington in a most sincere and confident manner. The address to the wardens was given by Martin Farmer and to the brethren of the lodge by John Murphy.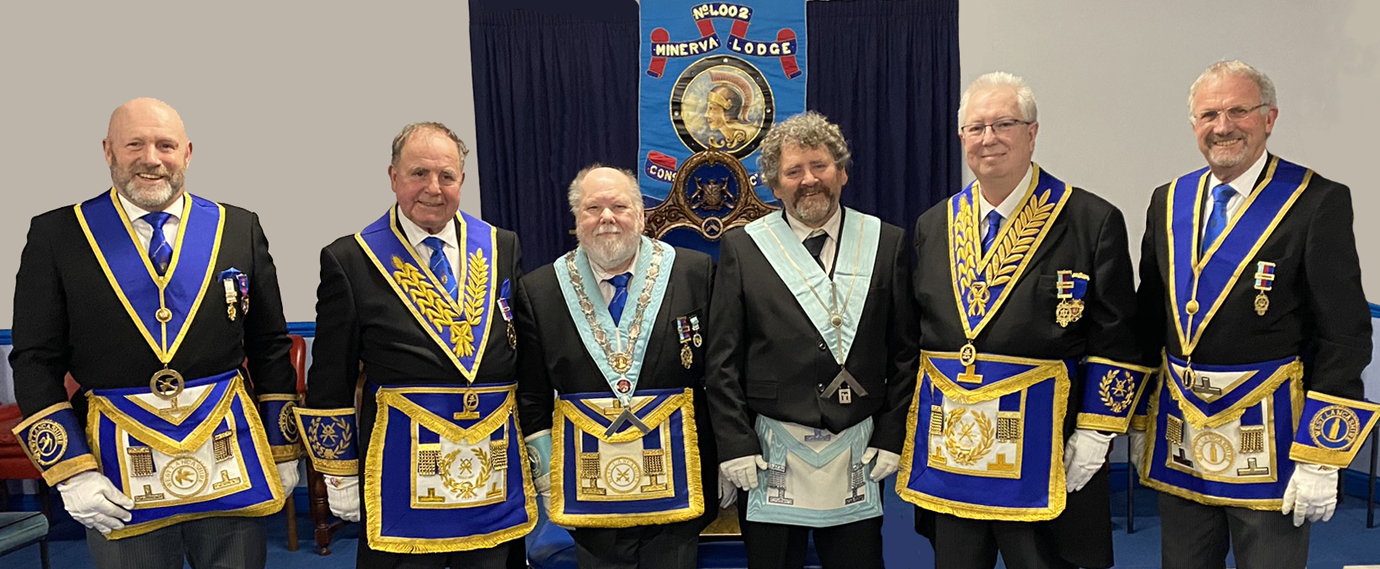 At the conclusion of the ceremony, John rose and congratulated Iain on his ascension to the chair for the fifth time on behalf of the ProvGM. He also congratulated Arnie on the way he worked the ceremony and the DC Gordon Farmer who had clearly spent a lot of time preparing the brethren for the ceremony.
After the ceremony, Iain presented John with a cheque for Tithebarn in the sum of £250, John thanked the lodge for the donation.
The ceremony concluded, the members and guests adjourned to the festive board which was a very jolly affair enhanced by the presence of a number of visitors.