Brethren and visitors to the Lodge of Grace No 6418 were well met at the Adelphi Hotel, Liverpool for the occasion of the installation of their WM.

The lodge being duly opened in due form, director of ceremonies Robert Menzies announced that Assistant Provincial Grand Master Mark Matthews, accompanied by Gladstone Group Chairman John James, vice chairman Ian Sanderson and group secretary Paul Storrar stood without.
With distinguished guests admitted and all salutations attended to, the installation of the WM began. Master Daniel Senneck had graciously agreed to continue in his position and so was proclaimed as the WM for the ensuring year.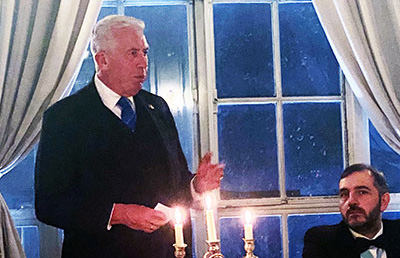 Senior warden Kieran Senneck also agreed to continue in his office and was very ably assisted by junior warden Alan Morris who also remained in his post. The investment of officers in the lodge soon marked the conclusion of the installation ceremony.
Mark Matthews rose to congratulate the master, wardens and brethren of Lodge of Grace, wishing them well for the season ahead and commented on how pleasing it was to be able to attend the lodge meeting.
Having all retired to the festive board, Mark again congratulated Daniel and offered his thanks to the brethren for their very generous donation of £1,000 to the West Lancashire Freemasons' Charity. There was also a special mention to Robert Menzies and David Rushworth for their recent promotions, the lodge firing glasses being used for tremendous effect in response to the speeches and toasts.
All too soon however the Lodge of Grace bell was sounded, bringing to an end a very enjoyable evening for all in attendance.