New Sanctuary Lodge No 6604 has a unique history. The plans to form a new lodge would have started during the Second World War.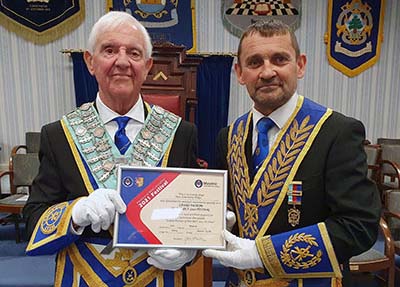 The years that followed saw a massive increase in membership in Freemasonry among the 1,000s of young men who had been involved in the conflict for six long years, in very difficult circumstances. They had enjoyed the camaraderie and support in their brothers-in-arms and they had found the same support in their brothers in Masonic lodges.
Many new lodges were consecrated in the years after the war. In fact 1,200 new lodges were formed. The move of the Ministry of Pensions to Cleveleys meant that the members of Burton Court Lodge No 3864 needed to find a new Masonic home and, with the help of Thornton and Cleveleys Lodge No 3854, New Sanctuary Lodge was formed.
A highlight in every Mason's journey is his progression to the master's chair and for Chris Williams his journey has seen him return to the chair of New Sanctuary Lodge.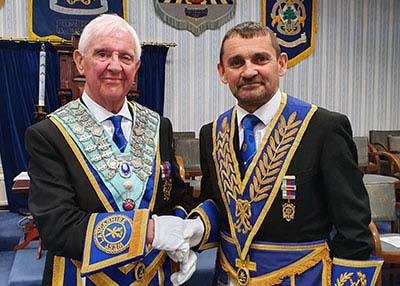 On this auspicious occasion the representative of the Provincial Grand Master was David Thomas, a well-known face throughout the Province, as in his usual guise he is the Provincial Grand Director of Ceremonies for the Royal Arch. Accompanying David was David Randerson and the North Fylde Group Assistant Chairman Tony Farrah.
In a first-rate ceremony of installation conducted by Barry Seddon, Chris was presented by Alan Dean, his proposer into Freemasonry. Barry was assisted in the ceremony by installing officers Damien Davenport, Steve Willingham and Mike Gibbons. The working tools were most eloquently presented by Jon Davis of Thornton and Cleveleys Lodge, Del Hernen and Keith Carter. Neil Scott gave the presentation to the wardens and finally the address to the brethren of the lodge was given by David Thomas.
Once the ceremony was complete, David brought the greetings of the Provincial Grand Master Tony Harrison to the newly installed master Chris and congratulated the installing master, Barry.
In return, Chris's first duty was to present cheques and charitable payments of £400 to Brian House, £100 to Prostate Cancer Charities, £100 to the Graham Ottaway Challenge, Burton Court Lodge, London and £15,000 in payments to the Masonic Charitable Foundation 2021 Festival. David had much pleasure in presenting Chris with a Grand Patrons certificate in recognition of the lodge's generosity.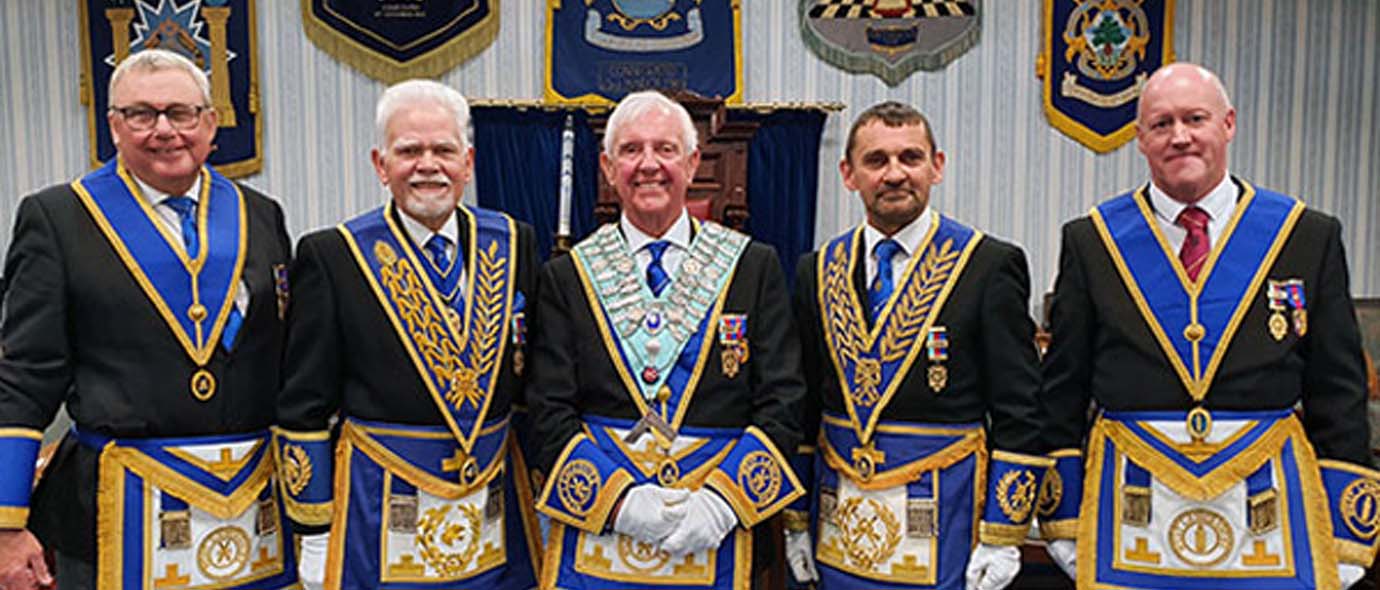 The festive board that followed was no less of a splendid feast with Shaun Haynes providing the master's song and a raffle raising £264 for the lodge's future charitable donations.