The Lodge of Chivalry No 3974, held its 2023 annual Olde English meeting at Ormskirk Masonic Hall. The past masters of the lodge took office and performed a second degree ceremony for Craig Kitts who was initiated in December 2022.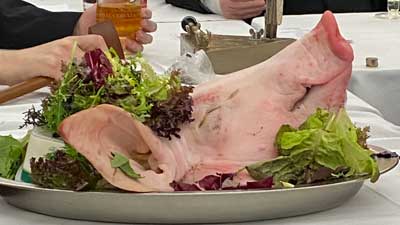 The ceremony was carried out by Martin Stewart, who acted as the WM in a nearly word-perfect ceremony, the other officers were Andrew Bradshaw (senior warden), Brian Wilson (junior warden) David Dugdale (senior deacon) Michael Atherton (junior deacon) and Paul Kay (inner guard).
After the meeting, 29 Masons and six gentlemen enjoyed the festive board which was a five course feast of: pea and ham soup followed by grilled black pudding, crispy potato cake a soft poached egg with a creamy whole grain mustard sauce. The main course was steak, ale and stilton suet pudding, served with hand cut chips and minted garden peas, followed by sherry trifle, which was then followed with cheese and biscuits.
During the meal the lodge secretary Mark Holloway acted as the fines master, he was assisted by younger members in the lodge who acted as fines stewards, who as part of their duties sang the Stewards' Song, which bought several offers to pay larger fines to stop them singing!

After everyone had purchased an immunity badge to save them from further fines, Mark did a Westhoughton swindle (raffle) that had 10 prizes including the traditional pig's head! Everyone who attended the meeting said they had a great time and they raised over £400 for charity.