Swiftly following on from their successful centenary celebration, members and guests of Liverpool Mercantile Lodge No 4319 attended the Adelphi Hotel, Liverpool for its installation number 101 – whichever way you look at it!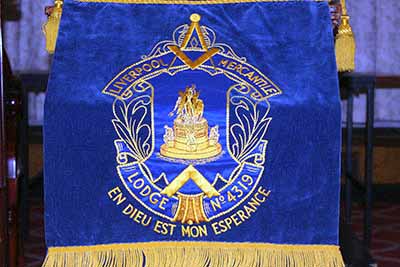 A drinks reception was held outside the Empire Suite to chat and enjoy a glass of champagne and nibble on ample trays of Lochmuir smoked salmon and soft cheese.

Malcolm Hodgson stood in for the master Michael Collins, who was unable to attend, and opened the meeting. He very warmly welcomed the representative of the Provincial Grand Master Paul Hesketh as principal guest, who had also stepped in at very short notice, as Gladstone Group Chairman John James was also unable to attend. Paul responded that he was delighted to be invited and that he looked forward to a most enjoyable time amongst friends old and new.
The brethren attended to the business of the lodge before the installation got underway and proposed Rev John Lynn and David Blaquière to be made honorary members. This was balloted unanimously in favour. In addition, a ballot for the initiation of a candidate was also held and unanimously passed – a busy year ahead for the new master!
The installation ceremony then began in earnest. Senior and junior wardens Mike Jones and John McKay remained in their chairs and Ian Elsby acted as inner guard.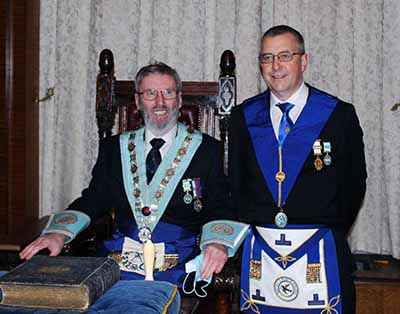 Master elect David Hilliard was presented to Malcolm who called David's attention to the necessary qualifications of every candidate to the master's chair. David knelt in front of the pedestal and faultlessly recited his obligation.
Having declared a board of installed masters, Malcolm proceeded to present David with the badge and jewel of a master and installed him into the chair of King Solomon in a perfect ceremony. Being a very experienced airline pilot, Malcolm installed David in what could only be described as business class.
David was proclaimed as master and saluted in turn by past masters, master Masons, fellow crafts and entered apprentices. The address to the master was perfectly delivered by Paul Shepherd and address to the to the brethren of the lodge by Paul Hesketh. Both were no less than perfect, given with obvious sincerity. 
On conclusion of the installation ceremony, Paul rose to congratulate David and convey to him the best wishes of the Provincial Grand Master Tony Harrison. Paul also congratulated the installing master Malcolm and the director of ceremonies Paul Shepherd for such an excellent ceremony.
The lodge being closed in due form, members and guests made their way to the Crosby Suite to chat and congratulate David on his achievement. An excellent meal then followed with ample refreshments served by the stewards.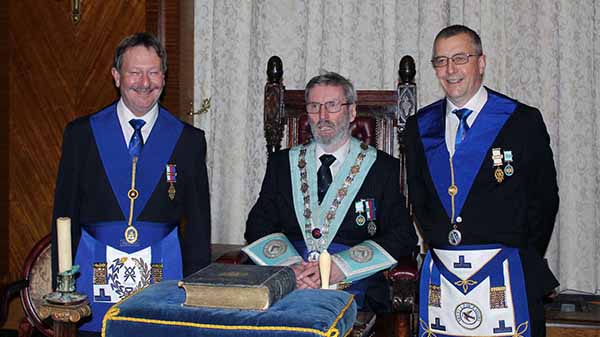 Paul Hesketh, in response to the toast to grand officers again congratulated David by saying how much he had enjoyed his visit.
Senior warden John McKay gave a sincere toast to the master David, recalling their time in business where they first met many years ago. David responded and thanked John and in turn coupled his response with a toast to the installing master Malcolm, thanking him for a wonderful ceremony. 
Finally, it was time for the last toast of the evening, given by the lodge tyler Paul Harford. It was the end of a very memorable evening for all the members and guests of Liverpool Mercantile Lodge, and only a decade to wait for the next palindromic installation.