The relaxing of COVID restrictions will be remembered by a lucky handful of South Fylde Masons and their partners for two reasons.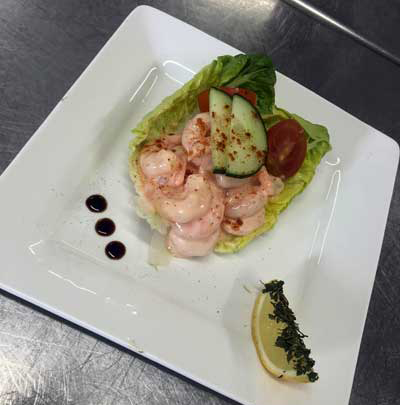 Those memories being, that they were the first to step through the doors of the magnificently refurbished St Annes Masonic Hall since lockdown began and secondly, that they were treated to an absolutely mouth-watering palatial Sunday lunch, worthy of comparison to an award-winning restaurant.
Palace stewards, John and Pamela Nicholls, together with their much-acclaimed chef, Lee Munro, opened the doors of St Annes Palace as a preview event to showcase the redecoration of the bar and Blue Room and the Palace's significant investment in modern, restaurant standard porcelain table ware.
This combination proved to be a huge success with social media lighting up afterwards with messages of congratulations and compliments on the quality and impressive presentation of the food.
The event was strictly controlled in terms of current legislation with just 30 patrons and no more than two households represented on each table.
Encouragingly for future Masonic social events, the lunch was sold out before it was even advertised, which proves there is an appetite for these gatherings.
"When we had the idea" said John, "we decided to send out two or three emails to gauge interest, and by word of mouth alone. It was completely sold out in four days with a reserve list. This could definitely become a regular fixture at The Palace"
John, Pamela and Lee are currently planning a repeat of this triumphal afternoon in the months to come, which will be advertised on the South Fylde Group Facebook page on a first come, first served basis. To visit the South Fylde Group Facebook page, click here
Don't miss it!