Friends and brethren attended the regular meeting of Radio Millennium Lodge No 9709 to celebrate the occasion of 50 years in Freemasonry of Bill Eaton PPrJGW (East Lancs) held at Urmston Masonic Hall.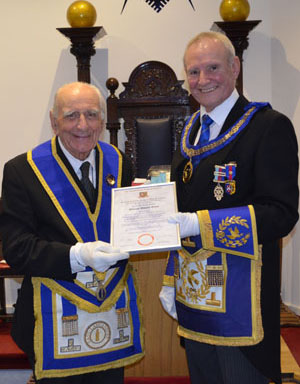 WM Michael Hindle opened the lodge and dispersed with the early business of the lodge which was followed with a report. On entering the lodge PrDepGDC designate Gary Smith announced the attendance of APrGM Dave Walmsley accompanied by grand officers Brian Heyes, Gareth Jones, David Durling South Eastern Group Chairman and acting Provincial grand officer Darren Gregory.
Michael formally welcomed Dave and the brethren were seated, Michael announced that the next business on the summons was to commemorate the jubilee of William Eaton known as Bill. Michael then offered Dave the gavel, who on this occasion was pleased to accept and occupied the master's chair. Dave asked Gary to place the celebrant Bill in a comfortable chair before him.
Dave began by saying: 'It's always a delight to visit this distinguished lodge but none more so than on the occasion of a special celebration and of course this evening we celebrate 50 years of service to Freemasonry by William Edward Eaton PPrJGW, known to many as Bill.
Bill was born in Ulverston on 12 January 1930 to Alice and Charles who was a bank manager, and also a Mason. He was the middle child between older sister Dorothy and young brother Philip. Bill has just celebrated his 89th birthday.
Ulverston is well known for a number of other reasons, being the birth place of Frank Jefferson who was awarded the Victoria Cross for his actions during the Battle of Monte Cassino in the Second World War. The famous British comedian, actor and writer Stan Laurel was born there and as many know the town also houses a museum to his and his partner Oliver Hardy's memory. Incidentally, in 2009 a statue to their memory was unveiled in the town by the late comedian, Sir Ken Dodd, also in the same year Ulverston was hit by an earthquake with a magnitude of 3.7, thankfully with no reported casualties.
1930 was an interesting and eventful year, King George V was on the throne and Ramsey McDonald was the Labour Prime Minister. We also saw the birth of Princess Margaret, actor Sean Connery, Ray Charles and Formula 1's Bernie Ecclestone. Also born that year was Political Statesman Gerald Kaufman, the renowned SDP Politician Baroness Shirley Williams and perhaps the not so politically correct, Bernard Manning.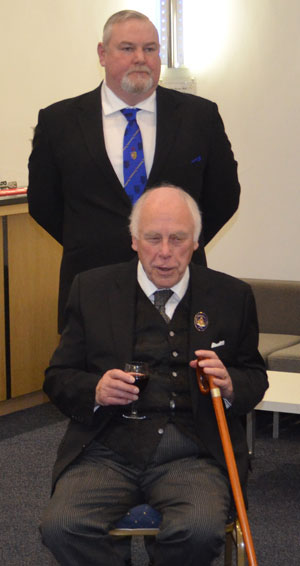 But, more about Bill himself. Bill recalls many times running up the staircase as a boy, but as recently as four years ago he again ascended the stairs vowing to do it again when he reaches 90, he is currently in training doing a little more cycling when possible.
Bill was educated at the local elementary school, but on passing the entrance exam he attended Ulverston Grammar School. He has fond memories of his times in Ulverston, particularly during the school holidays when he would be up early, cycling some distance to a dairy farm to assist in the early morning milking, working in the bottling plant and ultimately helping with the delivery of the milk. This first taste of industry without doubt whetted Bills early ambitions to become a farmer.
Following words of advice from his father against farming, Bill eventually began a career in engineering and took up employment with Taylor Woodrow, this was relatively short lived as in 1948 duty called and National Service saw him joining the Royal Engineers at Elgin, Scotland. His talents were quickly identified and rose to the rank of Sergeant in the No 8 Training Regiment, rendering Bill only one of the few achieving that rank from National Service personnel.
On completion of his National Service Bill joined the well-established company Laing Civil Engineering. One of his early contracts was being part of a team at RAF Lakenheath reinforcing and extending runways for the use of the American Air Force, he was also involved in the construction of protected nuclear bunkers and bomb stores.
It was whilst he was located there that one of his colleagues returned from a stint in hospital at Cambridge, he mentioned to Bill the number of pretty nurses who worked there and as Bill says: "As any red-blooded male would agree, it did of course require further investigation." Hence the motor bike trips to Cambridge began and by way of a blind date he met a beautiful blonde, Frances, whose father incidentally was also a Mason. They subsequently married in 1954 at St Botolph's Church Boston, Lincolnshire, also known as the 'Boston Stump' It was a large church used as a navigation point for the German Bombers during the Second World War.
Their marriage was later blessed by the birth of their two daughters Judith and Helen. Judith a school secretary has 2 daughters, April, a gifted musician and chartered accountant and Michelle a Metropolitan Police Officer. Helen a school teacher has 3 sons, one of whom works for the Treasury and the other two being post graduates. In total Bill and Frances, who sadly passed away in 2012, have four great grandchildren, doubtlessly making them extremely proud parents, grandparents and great grandparents.
As Bill's family grew so did his responsibilities with his employers, spending time in Edinburgh, London and many other areas in the UK and north west. He was site engineer on the Mottram Street development in Stockport constructing four large residential towers, low rise development and car parks. He became a Member of the Chartered Institute of Building (MCIB). Bill was appointed Chief Site Engineer on Construction of the flagship CIS Tower CWS Headquarters building in Manchester. He became site manager in the North West Region and ultimately manager of the Manchester Office before his retirement. Bill remained with the same company virtually the whole of his working life, which in itself is most unusual, not only does it evidence the great value they placed upon his work but also displays his immense loyalty.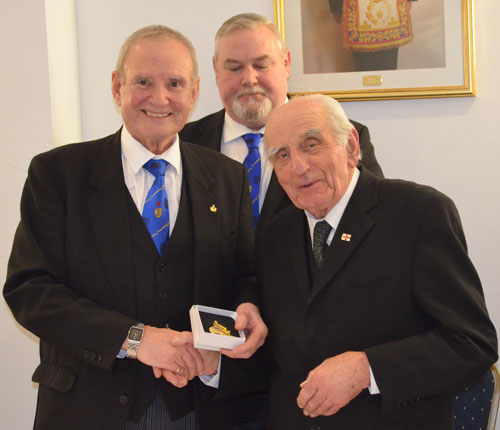 Moving on to his Masonic career, Bill was initiated on 24 January 1969 into Manchester Engineers Lodge No 4082 in the Province of East Lancashire, proposed by a colleague Jack Stokes and seconded by Arthur Booth. Bill has vivid memories of the master that evening, Arthur Baugh who became a lifelong friend. Normally at this point an extract of the minutes of that meeting are read out but unfortunately the lodge was erased on the 13 December 2000 and the records are no longer accessible.
But before the sad ending of the lodge, Bill worked extremely hard, serving in many offices, in September 1976 he occupied the WM's chair for the first time during which he conducted first, second and third degree ceremonies. He again occupied the chair in September 1988. He also occupied the office of warden on two other occasions, treasurer for 18 years from 1982 -2000 and secretary for 3 years from 1997 – 2000.
Clearly Bill's hard work did not go unnoticed, because in November 1988 the then PrGM Frederick W Townes appointed him PPrJGD, a high rank for a first appointment and 8 years later Bill was elevated to the very high rank of PPrJGW by the then PrGM James D Helmsley.
Bill's mother lodge closed, but his commitment and loyalty to Freemasonry didn't. Living in West Lancashire he contacted the Provincial Grand Secretary for details of local lodges and after studying all the details he wrote to the secretary of Social Lodge No 3472 at Urmston and after a brief meeting with the committee quickly became a much-valued member. Bill supported the lodge for some 12 years until regretfully it met with a similar demise to Manchester Engineers Lodge and closed for the final time in December 2012.
Thanks to a number of members of Social Lodge, Bill was introduced to their daughter Lodge, Radio Millennium Lodge. Since joining Radio Millennium Lodge, Bill may not have occupied any permanent offices, but he has always been there to stand in and most importantly, support, advise and gently guide less experienced brethren. Clearly Bill recognises that the future of Freemasonry is in the hands of the younger brethren and they must be given the right support and guidance to enable them to do so, this has proved to be so valuable.
Dave said: "Brethren it is more than evident that no matter which Province, district or droup William Edward Eaton PPrJGW has served, he has always been held in the highest regard and has supported Freemasonry in a most committed and commendable manner. Bill's devoted service has indeed been recognised and appreciated by our PrGM Tony Harrison who has issued a personal commemorative certificate which I will now invite group chairman David Durling to read out".
David read out the contents of the certificate in recognition of Bill's service to Freemasonry and Dave was pleased to present the said certificate to Bill.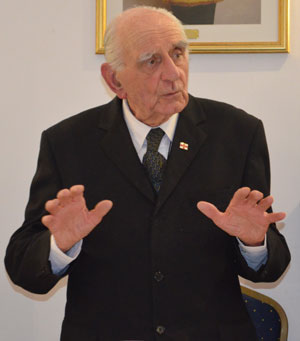 Dave said that given Bill's contributions to both Provinces, he had recently contacted the East Lancashire Provincial Office and advised them of the evening's special occasion, and in response Dave was exceptionally pleased to present Bill with yet another certificate and covering letter from the PrGM of East Lancashire Sir David Trippier in recognition of his service to the East Lancashire Province.
The formal business completed, Bill was chaperoned to his rightful place in the lodge and Dave handed the gavel back to the WM Michael Hindle who reoccupied his chair. Dave invited the celebrant Bill to join him on the retirement from to the lodge.
The business part of the evening concluded all the brethren assembled at the festive board. Following the meal Dave rose in response to the grand officers and conveyed his personal congratulations to Bill and said that it had been a pleasure and a privilege to conduct the celebration in the lodge. Dave then had the pleasure of presenting Bill with an engraved gold fob watch on behalf of the brethren of Radio Millennium Lodge.
A good friend of Bill's, Colin Driver gave a sincere eulogy to Bill in thanking him for his friendship and loyalty to the lodge and wished him health and happiness.
Well known for his talks, Bill was eager to respond and spoke in great length about his synopsis from growing up and the use of mathematical instruments from childhood throughout his professional career and Masonic career and the relevance of the comparison to that of the working tools of a Mason.
Bill confessed that throughout his 50 years in Masonry, he had never attended a Masonic celebration and was completely oblivious as to what was going to happen at his celebration which was a reflection of when he was initiated 50 years ago.
Concluding, Bill thanked the APrGM Dave Walmsley for his research on his life and the wonderful way that he had relayed it to him in the lodge. He also thanked the brethren of Radio Millennium Lodge for their kind gift that he will treasure and also to all the brethren who had attended his celebration saying that it was a night that will remember.
Article and pictures by Tom Fredrickson.