It was a night of memories at Earl of Lathom Chapter No 730 as the chapter celebrated Tom Jackson's 50 years in the Royal Arch. Assistant to the Provincial Grand Principals Malcolm Alexander, the group chairman Peter Allen and many other senior and distinguished grand and Provincial grand officers joined the companions and their guests to honour Tom on his special night.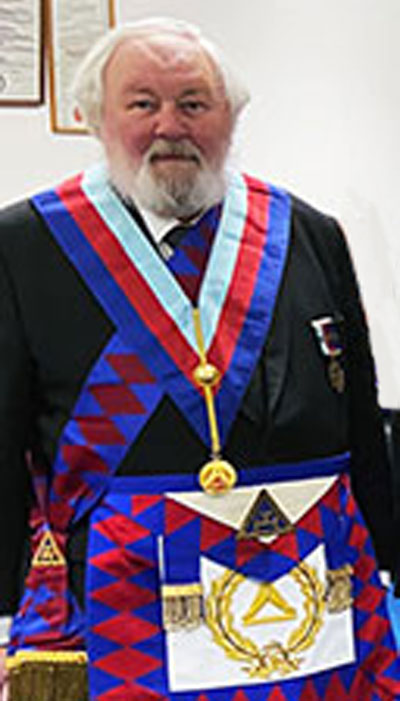 Due to the coronavirus pandemic and the suspension of Freemasonry for some 18 months from March 2020 had been delayed by two years. It was hoped to have a grand and well-deserved celebration in 2020 for Tom but unfortunately the opportunity was lost and Tom had decided not to hold a celebration, but everyone was delighted that he had now agreed to celebrate this fine achievement. The evening's cerebration was, at the request of Tom, somewhat low key, but nevertheless it was a justifiable homage to this very distinguished companion.
The companions learnt that Tom has had a very full and busy life as a Freemason and is a member of at least 15 different Masonic Orders and attained a high rank in most of them. Within those orders he is a member of numerous lodges, chapters and side degrees within each of them.
Tom was initiated into St George's Lodge of Chorley No 7161 on 17 September 1968 and celebrated his 50-year anniversary as a Freemason in 2018 which was led by the Provincial Grand Master Tony Harrison. He became master of St George's Lodge in 1982, nearly 14 years after his initiation and he marked 40 years since becoming the master of the lodge in March of this year.
14 years was the norm in those days to reach the master's chair. Along the way Tom held all the offices on the ladder until becoming senior warden prior to his installation in 1982. Tom is also a member of Uter Pendragon Lodge No 3481 which is in the Province of Cumberland and Westmorland. Tom's late father Charles was a member of that lodge which meets in Kirkby Stephen, which is on the border of the Lake District. Tom was born in Kirkby Stephen in 1944 and therefore the lodge and its location has a special place in Tom's heart.
Tom received the Provincial rank of Past Provincial Junior Grand Warden in 1997 and received his first grand rank of Past Assistant Grand Director of Ceremonies in 2000 and was promoted to his present rank of Past Senior Grand Deacon in 2012. This high honour of senior grand deacon is usually reserved and conferred on Assistant Provincial Grand Masters, so it was indeed a great honour and a testament to the high regard that Tom is held that he received this recognition.
In 1997 Tom was appointed the secretary of the Chorley Group and succeeded in becoming its vice chairman in 2000 until his many other Masonic commitments forced him to step down from group office in 2005. Most importantly, Tom is 'the boss' of one of his other Masonic Orders. As the Grand Master of this Order, it has resulted in extensive travel across the United Kingdom and many other countries around the world. Before becoming the Grand Master, Tom served as the Grand Prefect of the West Lancashire District.
In the Royal Arch, Tom Jackson was exalted into Earl of Lathom Chapter on 27 April 1970. This was just 18 months after he had been initiated into Freemasonry, having been told by his proposer to complete the Royal Arch form P as he was joining the chapter the following month.
From October 1972 Tom was appointed as a steward of the chapter, a position he held for three years before being appointed second assistant sojourner in 1975. Due to various circumstances outside of Tom's control, it wasn't until 1983 that Tom became third principal of the chapter. During the year of 1984 the chapter celebrated its centenary with a very special convocation, during which Tom was actively involved as a principal. Tom went on to become first principal of the chapter in October 1985
Tom became the assistant director of ceremonies of the chapter in 1988, before becoming scribe Ezra from 1991 until 1997 when he was appointed assistant scribe Ezra, a position he held until 2000. Due to Tom's many other Masonic commitments he has not officially held office in the chapter since 2000. As the members all know Tom has remained and still is a regular attendee of his chapter. His very busy Masonic schedule has meant that it has not been possible for Tom to justify holding office in the chapter but he has remained an active member.
In Royal Arch, Tom's Provincial honours began on 16 May 1989 when he was appointed as acting Provincial Grand Steward. The rank of acting steward is a clear sign of the high regard in which you are held when receiving this great honour. What foresight our then leaders had in recognising a very promising and upcoming Freemason. In 1993 Tom was promoted to Past Provincial Principal Grand Sojourner and received his final promotion in the Province of West Lancashire to Past Provincial Grand Scribe Nehemiah in 1998.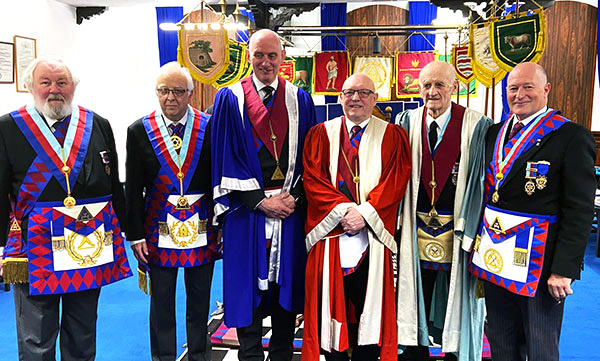 Tom received his first grand rank in the Royal Arch in 2001 when he was appointed Past Grand Standard Bearer and received promotion in 2012 to the very high rank, which he holds to this day, of Past Assistant Grand Sojourner.
Tom is also a subscribing member of his late father's Royal Arch chapter, Winder Chapter No 3984 in the Province of Cumberland and Westmorland. Tom is also a member of Setantia Chapter of First Principals No 7755 and was elected its first principal in 2010.
As Malcolm Alexander said when presenting Tom with a certificate to mark his 50-year anniversary as a Royal Arch companion, it had been a great honour not only to pay homage to his remarkable Masonic career, especially his services to the Royal Arch and Earl of Lathom Chapter in particular, but also to present a special certificate to mark his 50 years as a Royal Arch Freemason and to congratulate him on behalf of all present on his jubilee as a Royal Arch companion.
The convocation was followed by a festive board, during which Geoff Thomas, a former teaching colleague of Tom's, paid a personal tribute before proposing a toast to his health. He told the companions that Tom was of farming stock coming from Kirkby Stephen. This was very useful for Tom when he built a dry-stone wall for Geoff when he first moved into Chorley. And the wall is still standing to this day!
Tom moved to Chorley when he started as a teacher at St Michael's, living first in a bed and breakfast room over the Townley Arms which always smelt of beer but the perfect place to enjoy last orders, and then moving to his own house in which he still lives today. To round off his toast, Geoff presented Tom with a gift from the chapter of two books of interest. Tom responded to the toast in an amusing and genuine expression of thanks and pride in his membership of the Earl of Lathom Chapter.
All too soon a night of memories for Tom and the companions of Earl of Lathom Chapter came to an end with everyone agreeing that it had been a night to remember.