In the absence of the WM, Phil Gambrill opened Yachtsman's Lodge No 3698 at Woolton Golf Club in due form and asked the brethren to stand to order in respect of departed merit. The usual opening business was quickly despatched so that a ballot could be taken for the candidate.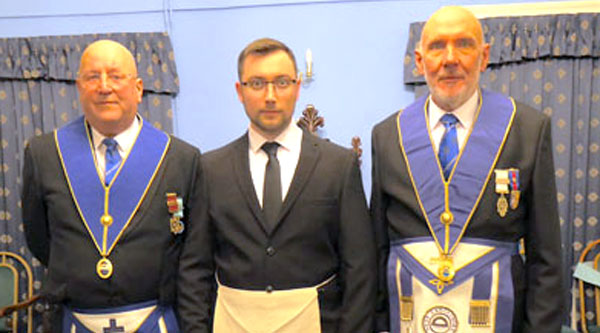 Phil read out the details of the candidate, a young man, 30 years of age who works as a biomedical scientist. The ballot proved in favour and the secretary retired from the lodge to attend upon him. The candidate, Peter Reid whose family have had close links to Masonry for many years, was regularly announced and accompanied on his journey into Freemasonry by the junior deacon Steve Lyon and acting senior deacon Stan Merrill.
Peter answered all the questions with confidence and although he had little prior knowledge of Freemasonry even though his family had been involved, his curiosity got the better of him and he applied through the Pathway Project. The working tools of an entered apprentice Freemason were explained to Peter by Jim Campbell and the ancient charge was delivered in fine form by senior warden Daniel Crichton.
After Peter had retired to restore himself to his former comforts, he re-entered the lodge and Phil Gambrill explained the significance of the wearing of white gloves and then presented a pair to Peter. The ceremony was beautifully conducted throughout, with each member of the lodge playing their part.
After the usual communications the lodge was closed and the brethren retired to the festive board where Phil Gambrill resumed his DC duties and secretary Andrew Jones stood in for the WM.
Chris Lyons, group membership officer, was tasked with proposing the toast to Peter and said that on behalf of the group and his own behalf he welcomed Peter into the Mersey Valley Group of Masons and hoped he would enjoy his Freemasonry and he had joined a suitable lodge as one of Peter's enjoyments was that of sailing.

The junior deacon also enjoyed sailing and Phil Gambrill is the Past Commodore of the Liverpool Sailing Club. So, it was no surprise that much of the dinner conversation centred around power boats!
In his reply to the toast, Peter thanked everyone for their warm welcome. Jim Campbell read the entered apprentice's poem which he hoped would help to explain some of the ceremony to Peter. Gary Devlin led the singing of the entered apprentice's song. The final toast of the evening was given by the tyler John Hibbert.

Story and pictures by Colin Roberts.