It is always a special occasion when a man is initiated into a Masonic lodge and on this occasion, Shaun Dumbell was that man. Shaun has always had an interest in Masonry since reading a book many years ago which stimulated his interest and when the WM of Derby Lodge No 724 Stephen White and Albert Hogg met with him, they said it was obvious that his interest was genuine and he was very keen to be made a Mason.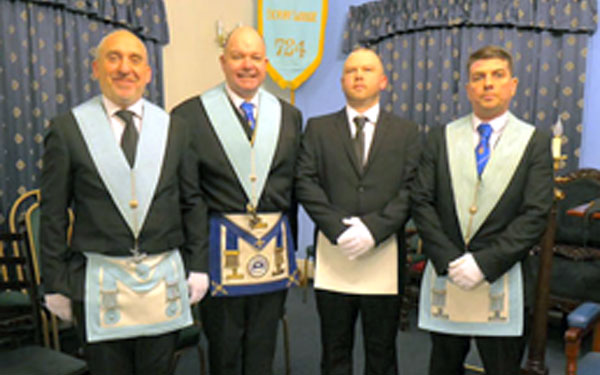 There were several guest and members present to witness this event who had gathered at Woolton Golf Club for the Derby Lodge meeting to initiate Shaun. Derby Lodge is an amalgamation of Dingle Lodge No 4610, Duke of Devonshire Lodge No 6735 and Rodney Lodge No 4625. The WM Stephen White opened the lodge in the first degree having processed into the lodge with his wardens and deacons to the singing of the opening ode.
Once the minutes of the last regular meeting had been confirmed the secretary and treasurer retired from the lodge to attend upon the candidate and on their return informed the master that Shaun had signed the declaration book and paid the required dues.
The candidate was regularly announced and guided throughout his journey into Freemasonry by the junior deacon, for his first time on the floor, Andy Barr, accompanied by senior deacon Barry Mault, who was Shaun's proposer. Shaun's seconder was Keith Lindsay.
Shaun was initiated with sincerity and confidence. Having received the explanation of the working tools, Shaun then received the ancient charge from senior warden Albert Hogg. The ceremony of initiation being completed the WM congratulated Shaun and welcomed him to the lodge.

The lodge was closed in due form and the brethren retired to the festive board. The charity steward John Smith proposed the toast to the charities and in so doing provided Shaun with an explanation of how the monies were raised and distributed. Lodge secretary Adam Kennaugh and tyler Tommy Lunt led the singing of the Entered Apprentice Song after Andy Barr had proposed the toast to Shaun. During the evening a raffle was held which raised £125.
Shaun responded to his toast by saying that he had always had a fascination about Freemasonry and although the evening had been a bit of a blur, he thanked his proposer and seconder and was looked forward to enjoying his Freemasonry.
Story and pictures by Colin Roberts.