The installation at Earl of Lathom Chapter No 730 was a unique occasion as lots of firsts came together. It was the first meeting of the chapter for over 18 months following lockdown.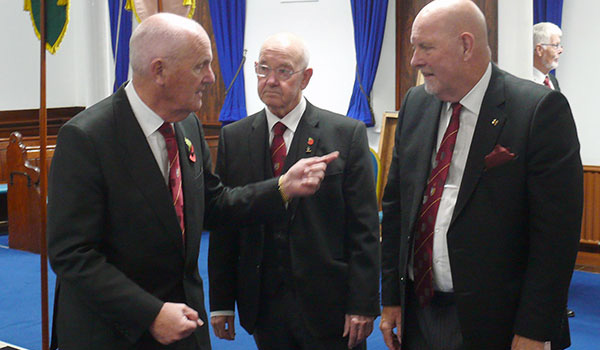 Some companions were still concerned about mixing but those that did venture out enjoyed meeting up with their friends in the chapter. By the very nature of Royal Arch Masonry, the companions came from many different chapters so this was the first occasion that they had all seen each other.
It was the first visit that Malcolm Alexander, a new Assistant to the Provincial Grand Principals, had made in his new office and it was his first visit to Earl of Lathom Chapter. He was joined by Chorley and Leyland Group Vice Chairman Dave Bishop who was also making his first visit to the chapter. Dave said: "I had a thoroughly enjoyable evening. The installation of the three principals was great to see. It was my first visit to Earl of Lathom but it won't be my last."
It was first time in the chair of first principal for Terry Ford, a retired police community support officer, who has been in the chapter for over 15 years and first time in the chair of second principal for Ray Thain, a project manager. They were joined by Alan Scott to make up the three principals for the coming year. Alan had already been through the chair.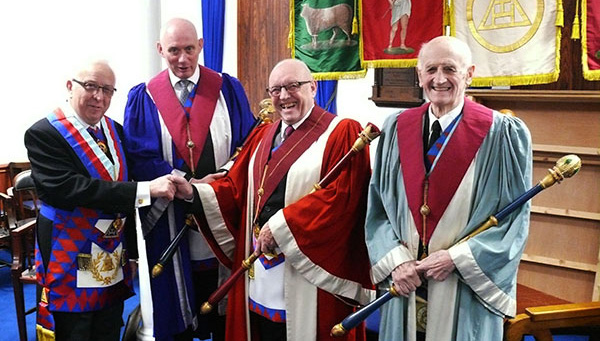 It was the first time at the scribe Ezra's desk for Steve Williams, as he stood in until the new scribe Ezra Bryan Hoarty was appointed for the first time in that office as soon as he handed the reigns as first principal to Terry. Some commented he was only stepping out of the fat into the fire.
Another first was for Paul Vernazza and Maurice Sewter who very ably read the readings and prayers, despite it being their first times for the tasks.
It might have been a first for a number of the companions but it wasn't the first time that Earl of Lathom Chapter produced a high-quality installation that was enjoyed by everybody who attended. The new principals, Terry Ford, Ray Thain and Alan Scott enjoyed an installation which kept the tradition of Earl of Lathom Chapter for high quality ritual.
After the installation ceremony, the companions turned their attention to the social board where they enjoyed the traditional installation fayre produced by Sharon, the hall caterer. The principal guest, in his response to the toast to his health, told the companions that he hoped that we would never experience another lockdown and that all companions should be happy and communicate happiness.

The companions and their guests had certainly started to bring his wishes into reality as they truly were very happy with the whole evening and they certainly communicated that happiness to each other.